I served 31 years in the United States Army. Every moment of my service was guided by a sacred commitment I made the moment I began, when I raised my right hand and took an oath to defend the Constitution of the United States.
Hillary Clinton has taken and honored that same oath, various times, in various seats of high public office. Meanwhile, Donald Trump has made a mockery of that oath, denigrating not just those of us who hold it sacred, but the values embodied by it.
It's not my nature to take a public stance in an election. But the stakes are just too high for me not to speak out. My experience in the United States Army tells me one thing is certain: a Trump presidency could do irreparable damage to our military and our standing in the world. In the United States, we have an all volunteer force. The bravest 1 percent among us step forward to defend the rest of us. The courage it takes to serve, fight, and pay the ultimate price without reservation is a form of courage unlike any other on earth. Make no mistake, the United States military derives strength, cohesion, and resilience from that oath. And to those of us who've sworn by it, it's not just words. And it certainly can't be relegated to a reality TV show punchline or a frivolous tweet. Indeed, by every measure, Trump has proven his utter lack of respect for the very oath of office he seeks.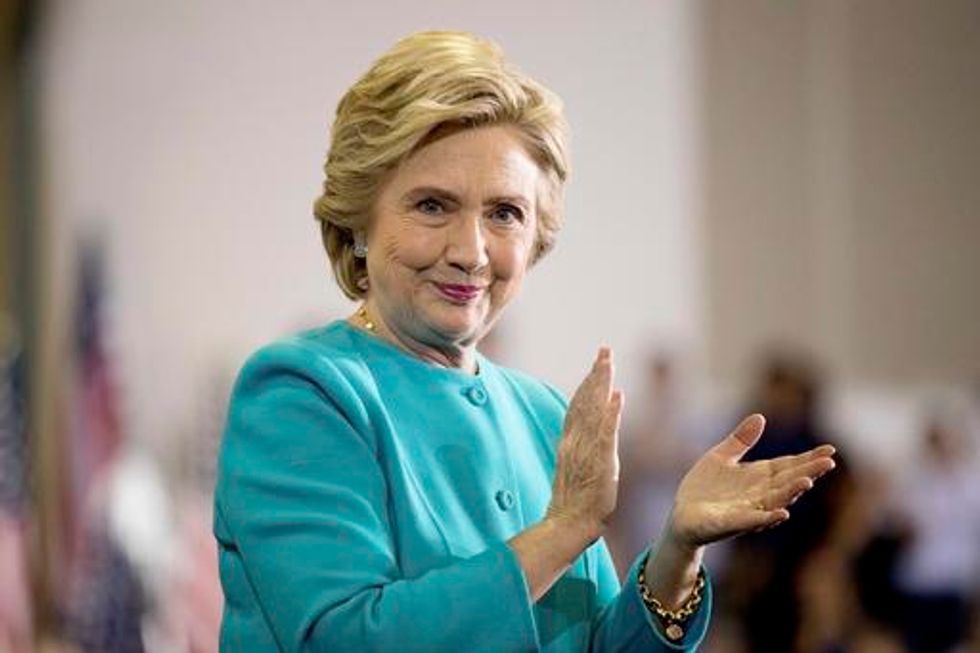 Democratic presidential candidate Hillary Clinton claps as she finishes speaking at a rally at Palm Beach State College in Lake Worth, Fla., Wednesday, Oct. 26, 2016. (AP Photo/Andrew Harnik)
On the other hand, as a U.S. senator and as secretary of State, Clinton has proven her respect and understanding that comes after swearing by that oath, especially in executing the high responsibility of wielding American military and diplomatic power.
She's proven her ability to put actions behind those words through an exemplary record of public service. As a U.S. senator on the Armed Services Committee, Clinton worked with Democrats and Republicans alike to expand benefits to our servicemembers and their families, including increasing survivor benefits from $12,000 to $100,000 and joining Sen. John McCain in raising millions to build a state of the art veterans rehabilitation facility.
Meanwhile, Trump mocks people like McCain -- who've taken that same oath -- by calling him a "dummy," and adding "he likes people who weren't captured," referring to the years McCain spent as a prisoner of war.
Trump has never served in public office, and it shows. He is incapable of having even the basic decency of respecting the Gold Star family of a fallen soldier. As President, his so-called policy proposals are incoherent ideas that that double as discrimination. Time and time again, through his divisive comments, he's sullied the principles we stand for as Americans and denigrates the values we in the military commit -- and willingly give -- our lives to defend.
Just a few days ago, he suggested that veterans with post-traumatic stress disorder aren't "strong" and "can't handle it." This statement alone shows that, as he would put it, he hasn't got a clue. In less than thre months, either Clinton or Trump will stand on the steps of Capitol Hill, in full view of all of America, and swear to faithfully execute the office of president: "… to preserve, protect and defend the Constitution of the United States." For most of my life, I've served with and commanded the very best this nation has to offer -- brave, selfless individuals who stepped forward to swear to do the same.
Clinton's life has been defined by that oath. Trump's life has been defined by self-interest.
I don't expect every American to feel as deeply about defending the constitution as I do, having risen to the rank of brigader general over 31 years of service in the United States Army; however, I hope you heed what my experience has shown clearly this election:
Only Clinton has the judgment, temperament, and leadership to serve as commander in chief, and uphold the oath of office of the presidency of the United States.
Donald Scott is a retired Brigadier General in the U.S. Army, the founder and former director of the AmeriCorps National Civilian Community Corps, and the former Deputy Librarian of Congress. He is a resident of Henderson, Nevada.
–
TheBlaze contributor channel supports an open discourse on a range of views. The opinions expressed in this channel are solely those of each individual author.