While the world is fixated on the bombing of ISIS targets by Western allies, Russia and Syria, the real battlefront against radical Islamic jihadists has taken a near fatal blow in the courts of Cairo.
It is true that we cannot waiver from active military operations against the so-called Islamic State and other radical groups. But, the real battle to defeat this scorn of Islamic jihadist ideology must come from within the Muslim nations themselves. It is a battle that must be waged by thinkers and scholars who are willing to confront the entrenched "takfiri" ideology. Takfiri ideology is a trend of Islamic political thought that adopts militant rhetoric based on the teachings of obscure 9th Century Islamic scholars, and it justifies much of the brutality we are witnessing today.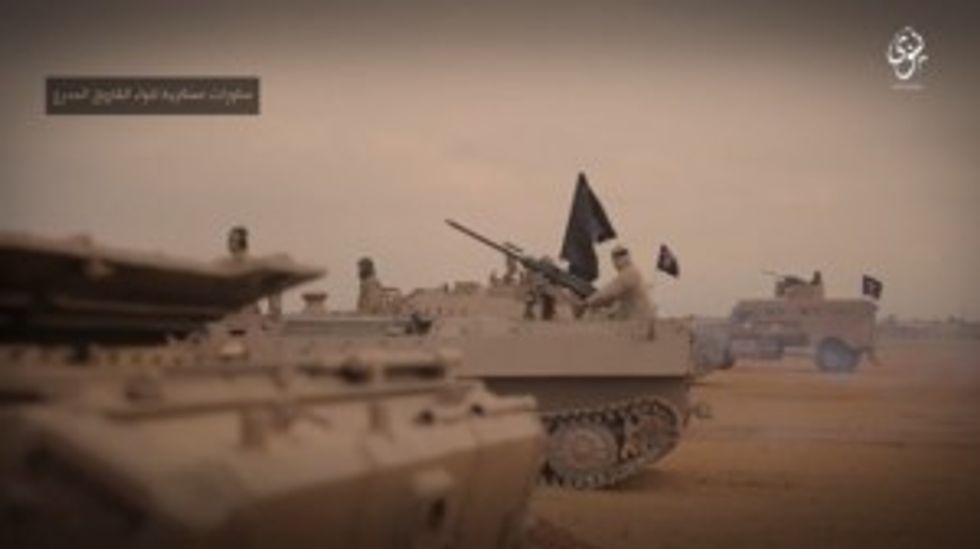 Armored vehicles in the jihadist group's arsenal. (Image source: Islamic State video) 
On December 29, Islam al-Beheiry was sentenced in a Cairo court to serve a one-year prison term for being in contempt of religion. Beheiry, a controversial scholar and TV presenter, was charged after questioning the authenticity of Sunni religious texts - the same texts used to justify radical Islamic jihad. Beheiry is, in fact, perhaps the most progressive thinker and reformer of Islam today. Ironically, Beheiry had acted in accordance with what Egyptian President Abdel Fattah al-Sisi had called for earlier this year when he demanded that scholars revolutionize religious discourse.
On his TV show, Beheiry debated both famous and widely respected fundamental Islamic preachers, successfully undercutting their religious arguments.
Although his program was suspended after several warnings from al-Azhar, the Egyptian supreme authority on Islamic interpretation and jurisprudence, as well as from officials at the state-controlled Media City, Beheiry had already gained millions of followers throughout the country.
Beheiry often focused his criticisms on Sahih al-Bukhari, a collection of the sayings of the Prophet Mohamed. The collection, which is heavily relied on by both Sunnis and fundamental groups, was compiled by the Persian Islamic scholar who lived in the 9th Century. Bukhari was a scholar who began his work some 200 years after the death of the Prophet. However, without any modern recording devices, Bukhari miraculously collected thousands of hadiths on which the Islamic world relies today. It is an observation that did not escape Islam al-Beheiry's attention, who argued that knowledge is cumulative. Chances are that a high school graduate today is probably better informed than most of these so-called 9th Century scholars. Yet, the observation has earned Beheiry the scorn of the traditional Islamic establishment.
For the reformation of Islam to succeed, these challenging and stinging observations and examinations of long-established thought must take place. It is the only way to defeat the entrenched takfiri militant ideology.
If the Egyptian court indeed silences reformers like Islam al-Beheiry, whose thoughts and ideas can challenge and defeat this scorn of militant Islamic ideology, this battle will never be won, no matter how much combat and how many bombings we carry out.

–
TheBlaze contributor channel supports an open discourse on a range of views. The opinions expressed in this channel are solely those of each individual author.