Last Friday at a campaign rally in Iowa, Bernie Sanders passionately rebuked Republicans for our supposed hypocrisy on "family-values."
They love families, can't stop talking about families... when Republicans talk about family values, what they are saying is no women in this room, in this state, in this country should have the right to control her own body. I disagree.
First of all, by the way the crowd erupted in applause you would think the senator had made some profound repudiation of Republicans forcing women to live out their lives as perpetual slaves to their families. But no, somehow Democrats have created this logic that "family-values" represent Republicans' lack of compassion.
In all actuality it is not compassion that we lack. What we lack is the twisted moral compass that suggests having an abortion demonstrates compassion for either the mother or the murdered child.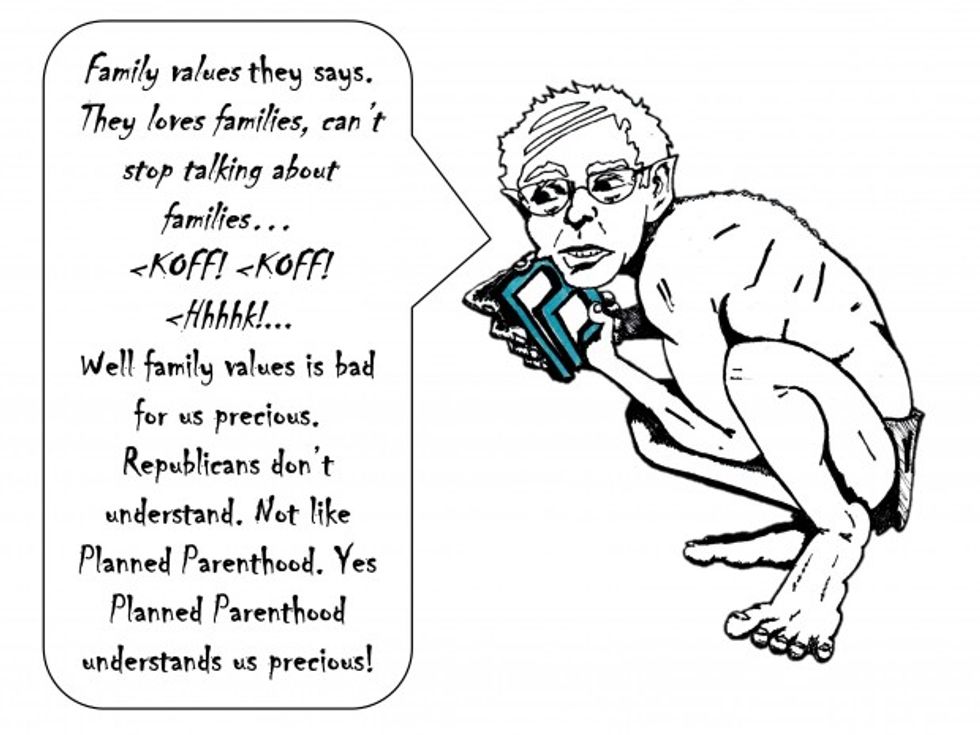 Gollum Bernie (Karl Knighton)
But more importantly his statements reflect a growing distaste on the left for societal moral values. In fact, Planned Parenthood's entire business model would collapse if not for our social acceptance of such immoral behavior that drives the abortion industry.
The abortion industry relies heavily on Democrats to flaunt their pro-abortion rhetoric and misrepresent compassion. They pander to a hate-filled audience that zealously supports the "compassion" of the abortion industry and demonize anyone who disagrees as haters, bigots, and extremists.
This election year, both Democrat candidates have been exceptionally loud in their adoration for ending human life in order to win the backing of Planned Parenthood. They "compassionately" champion the abortion solution to victims of poverty, abuse, and broken homes. And they falsely sell their product as a means to escape the chains that bind them in their individual situations.
All the while, abortion providers rake in the dough.
Both Hillary Clinton and Bernie Sanders are advocating for expanding funding to Planned Parenthood. And both candidates have been exceptionally vocal on repealing the Hyde amendment in order to provide direct public funding for abortions.
Planned Parenthood seems pretty desperate to make this goal a reality. With the $20 million they expect to spend this election it is no wonder the Democrats keep trying to surpass one another on their pro-abortion rhetoric.
The Democrat contenders in the presidential primary are determined to prove themselves as being most worthy of the coveted pro-abortion endorsement and money. Family values, lives of the innocent, and pro-life Democrats be damned.
–
TheBlaze contributor channel supports an open discourse on a range of views. The opinions expressed in this channel are solely those of each individual author.