The most compelling argument in favor of a Donald Trump presidency is his potential to appoint strict traditionalists to the Supreme Court.
Even some of his most vocal critics – throughout the primary season and long into the general election – have succumbed to the idea that the next SCOTUS nomination is too important to leave in the hands of a Hillary Clinton.
After eight years of President Barack Obama's activist appointments, the fear of exacerbated judicial tyranny under Hillary Clinton is completely reasonable.
If the only benefit to a Trump presidency were another Antonin Scalia or Clarence Thomas style traditionalist on the Supreme Court, even I might sell a family member to buy a first-class ticket on the Trump train. The unfortunate truth, however, is that Trump sticking to his guns and successfully appointing solid constitutionalists to the court is less likely than him talking about his wealth without using the word "unbelievable."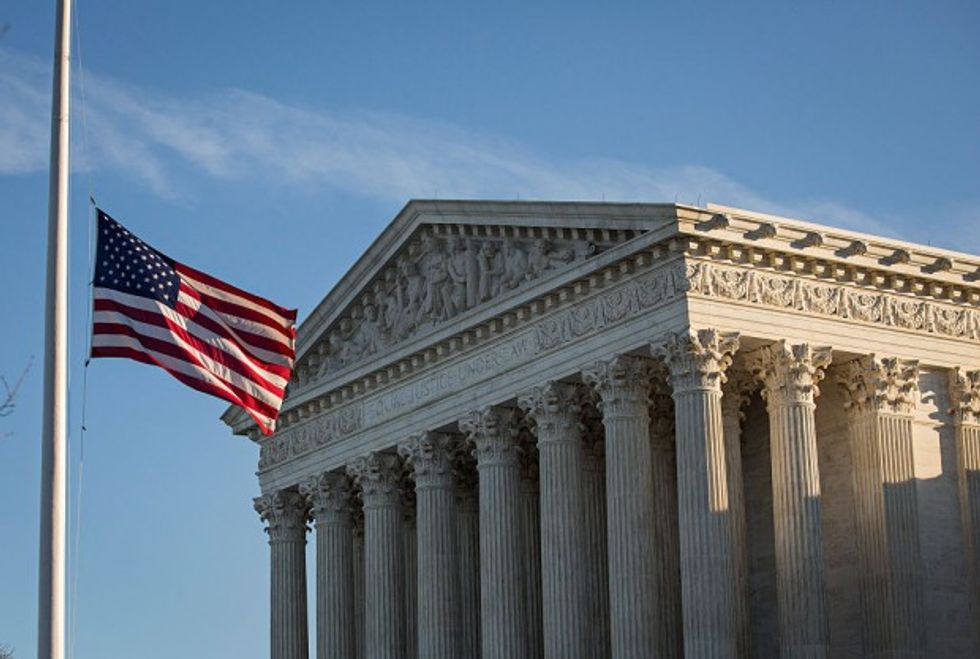 (Drew Angerer/Getty Images)
Is it possible for Trump to appoint an Antonin Scalia 2.0? It's possible, but before we hedge the entire election on this single issue, we should keep a few things in mind.
Every SCOTUS nomination must be confirmed by the Senate. At the moment Republicans have a 54-member majority, but this is not guaranteed through the election in November.
Current polling shows a heavy risk for Senate Republican incumbents in Wisconsin, New Hampshire, Illinois, North Carolina, Missouri, Indiana and Pennsylvania. If Republicans lose even four of these seats, they lose their majority, and with it any leverage against Democrats for court appointments.
Trump may be the "king of making deals," but history is not on his side if his party loses the Senate. This is why his recent attacks on Republican Senators refusing to support him are indicative of his lack of interest in saving the court.
In the last 100 years, Democratic Senate majorities have confirmed 11 Republican Supreme Court nominations – only two of which were strict traditionalists: Chief Justice William Rehnquist and Justice Clarence Thomas. Of the other nine, every one used their position to expand the court's authority, override the Constitutional separation of powers and undermine federalism.
When Republican presidents compromise with Senate Democrats, what does the result look like? To quote a certain presidential candidate, "BAD."
Here's a bit of history.
Justice William Brennan, Jr. and Justice Charles Whittaker (Eisenhower)
In the 1958 Cooper v Aaron case, the follow up to Brown v Board of Education, justices William Brennan and Charles Whittaker voted in favor of a decision to override the state of Arkansas's authority to re-segregation schools. While the decision was Constitutional under the auspices of the 14th Amendment, both justices used this opportunity to expand the power of the court well beyond its intended Constitutional boundaries, making it "supreme in the exposition of the law of the Constitution."
Chief Justice Warren Burger and Justice Potter Stewart (Nixon), Justice Harry Blackmun (Eisenhower)
To conservatives – religious conservatives especially – the Supreme Court decision in Roe v Wade to overturning state's right to outlaw abortion was one of the most immoral and unconstitutional judicial actions in American history. Under the leadership of the "Burger Court," Chief Justice Warren Burger, Justice Harry Blackmun and Justice Potter Stewart each played a vital role in the decision; Blackmun writing the opinion, Stewart and Burger following with concurrences.
In his opinion, Justice Blackmun declared that abortion is a "fundamental right" and that an unborn child does not meet the Constitutional criteria for "personhood." Justice Stewart's concurrence affirmed that unborn children do not have a "right to life."
Justice Lewis Powell (Nixon)
In addition to being a supporting vote in the Roe v Wade decision, Justice Lewis Powell often acted as a swing vote in liberal leaning cases.
In the 1982 case of Plyler v Doe, Powell was the deciding vote in favor of granting free public tuition to illegal immigrants. This case became a legal precedent opening the door for non-citizens to receive aid from a variety of federal social programs.
Justice John Stevens (Nixon)
Justice John Stevens most often sided with the liberals on the court, especially in cases dealing with abortion, religious liberties and social issues.
The Harris v McRae case in 1982 held that states participating in Medicaid were not legally required to fund medically necessary abortions. Justice Stevens vehemently disagreed with this ruling, claiming in his dissent that the Establishment Clause of the First Amendment prohibited any state from recognizing that life begins at conception.
Justice Anthony Kennedy (Reagan)
Justice Anthony Kennedy has acted as the swing vote in a majority of cases over the last several years, but he lands on the liberal activist side of the court more than not.
In the 2006 Massachusetts v Environmental Protection Agency case, Kennedy was the deciding vote in allowing the EPA to drastically expand regulations on energy companies. He was also the deciding vote in the Obergefell v Hodges decision to undermine federalism and overturn state's traditional marriage laws.
Justice David Souter (HW Bush)
Justice David Souter was a consistent vote for liberals on the court, especially in cases dealing with abortion.
Souter, along with Kennedy, voted in favor of the 1992 Planned Parenthood v Casey decision to overturn any state law that put "undue burden on a woman's constitutional right to decide to terminate a pregnancy." This case set precedent for the overturning of the majority of state anti-abortion laws in the last 20 years.
If history teaches us anything it's that if Trump wants to appoint a justice from his preferred list of traditionalists, he will either need a steel spine and unshakable resolve – which are no more characteristics of Trump than they are of Uncle Joey from Full House – or a Republican Senate.
Whether Republicans want to admit it or not, with a Republican majority there is still very little chance of Donald Trump restoring balance to the Supreme Court, but without that majority all hope crashes into the abyss.
Hudson Talley is a conservative political activist and pollster for WPA Opinion Research. Follow him on Twitter @HudsonTalley
–
TheBlaze contributor channel supports an open discourse on a range of views. The opinions expressed in this channel are solely those of each individual author.