It seems the world is in chaos, but does this mean that we have to give up hope for a better future?
The temptation in our present world is to give into the despair and potentially bleak future, cowering in fear. Yet, when I find myself teetering on hopelessness, I am reminded of great men and women who fought for causes that could have crippled them, but in the darkness of their circumstances, they saw through eyes of hope.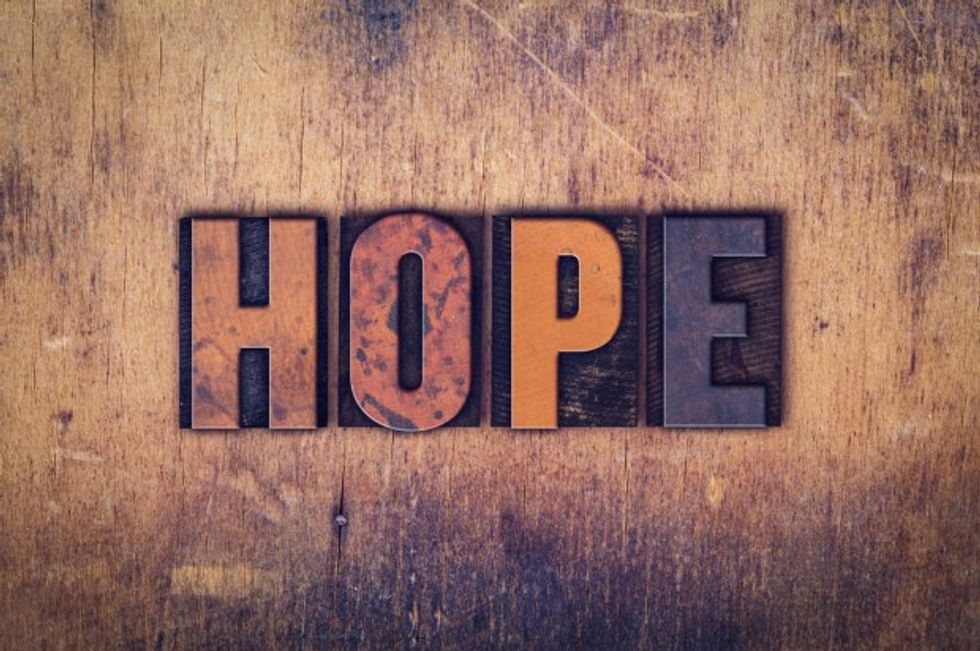 Shutterstock
Consider Martin Luther King, Jr., who overcame oppression and discrimination all because of the color of his skin and became the father of the Civil Rights movement, who said, "We must accept finite disappointment, but never lose infinite hope."
How easy it would have been for President Franklin D. Roosevelt to feel defeated as he led our country through the Great Depression and World War II. Instead, he said, "We have always held to the hope, the belief, the conviction that there is a better life, a better world, beyond the horizon."
We find light in the darkness of Anne Frank's story, whose memoir of surviving the Holocaust teaches us so much about hope in hopelessness. She wrote, "I simply can't build my hopes on a foundation of confusion, misery and death... I think... peace and tranquility will return again."
Or the poetic words of Maya Angelou who said, "My great hope is to laugh as much as I cry; to get my work done and try to love somebody and have the courage to accept the love in return."
What made each of these individuals great is not his or her circumstances but his or her attitude. I have yet to meet a person acting who has a hopeful perspective that talks doom and gloom. I have found my hope in Jesus Christ and draw from the rich promises of scripture when the chaos surrounds me.
Rick Warren, senior pastor of Saddleback Church, wrote in his bestselling book, "The Purpose Driven Life,": "What gives me the most hope every day is God's grace; knowing that his grace is going to give me the strength for whatever I face, knowing that nothing is a surprise to God."
There is so much truth in that. One of my favorite verses from the Bible speaks of the joy that can be found, even in the difficult times.
"Therefore, since we have been justified through faith, we have peace with God through our Lord Jesus Christ, through whom we have gained access by faith into this grace in which we now stand. And we boast in the hope of the glory of God. Not only so, but we also glory in our sufferings, because we know that suffering produces perseverance; perseverance, character; and character, hope. And hope does not put us to shame, because God's love has been poured out into our hearts through the Holy Spirit, who has been given to us. You see, at just the right time, when we were still powerless, Christ died for the ungodly. Very rarely will anyone die for a righteous person, though for a good person someone might possibly dare to die." Romans 5:1-7
Hope is possible when an individual believes it is.
As Martin Luther King, Jr. wrote:
"At times we may feel that we do not need God, but on the day when the storms of disappointment rage, the winds of disaster blow, and the tidal waves of grief beat against our lives, if we do not have a deep and patient faith, our emotional lives will be ripped to shreds. There is so much frustration in the world because we have relied on gods rather than God. We have genuflected before the god of science only to find that it has given us the atomic bomb, producing fears and anxieties that science can never mitigate. We have worshiped the god of pleasure only to discover that thrills play out and sensations are short-lived. We have bowed before the god of money only to learn that there are such things as love and friendship that money cannot buy and that in a world of possible depressions, stock market crashes, and bad business investments, money is a rather uncertain deity. These transitory gods are not able to save us or bring happiness to the human heart. Only God is able. It is faith in him that we must rediscover. With this faith we can transform bleak and desolate valleys into sunlit paths of joy and bring new light into the dark caverns of pessimism." (Strength to Love, p. 51)
Autumn Miles is the founder and CEO of The Blush Network, a women's ministry dedicated to spiritually challenging the way women think. She is also the author of "Appointed." For more information, please visit AutumnMiles.com.
–
TheBlaze contributor channel supports an open discourse on a range of views. The opinions expressed in this channel are solely those of each individual author.