Negotiating with Iran is like trying to catch water with a fork, it will accomplish nothing. The lunacy of believing that a county devoted to the destruction of Israel, whose cleric calls for death to America defies imagination.
Iran exports terrorism throughout the world. There are 20,000 suicide bombers stride through the streets all too eager to blow themselves up as their proud mothers watch them march by the reviewing stands. You can't negotiate with a state that doesn't acknowledge the right of another state to exist.
Disavowing contracts is fundamental to Iran's geopolitical philosophy. They will do whatever serves their best interest regardless of what they agree to. A ship without a rudder has a better chance of avoiding the shoals than we do in preventing Iran from getting a nuclear weapon.
[sharequote align="center"]Negotiating with Iran is like trying to catch water with a fork, it will accomplish nothing.[/sharequote]
There are 10,000 centrifuges spinning 24 hours a day, and they are not running to create a power plant in a land awash with oil. The only reason they exist is to produce enough enriched material to create a nuclear weapon. No amount of negotiating will alter this fact.
The Obama administration, as is always the case, desires a deal at any price. They are not interested in accomplishing any meaningful bargain, they just want political points for agreeing to something. But you can't agree to anything with Iran. The rule of law doesn't exist in a state ruled by barbaric customs that predate the bible.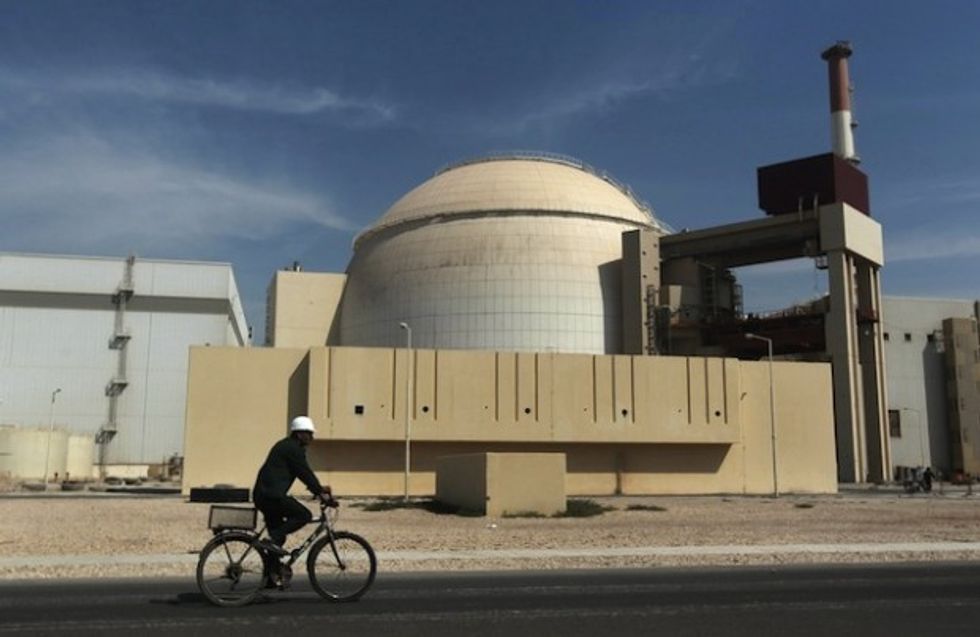 In this Oct. 26, 2010 file photo, a worker rides a bicycle in front of the reactor building of the Bushehr nuclear power plant, just outside the southern city of Bushehr, Iran. (AP Photo/Mehr News Agency, Majid Asgaripour, File)
Negotiating from weakness, as we are presently doing, will allow Iran to continue down the path towards becoming a nuclear power. It is now up to the congress to prevent a bad deal from unleashing a rush to nuclear Armageddon in the Middle East. If Iran gets the bomb, Turkey, Saudi Arabia and the rest of the pack won't want to be left out of the party.
Removing a military response and lifting sanctions only exacerbates the problem. Our vacuous leader supported by a pacifist secretary of state continues to unleash unintended consequences (are they unintended?) that destabilize the geopolitical order while allowing terrorism to thrive.
Neville Chamberlin made the same error dealing with Germany. Nations and their leaders are driven by their interests, rather than by their ideals. An ideologue, like President Obama doesn't understand the difference. Apologizing for what he perceives as an imperialistic past, and withdrawing our projection of power throughout the globe, only diminishes our ability to negotiate from a position of strength.
John Lawrence Allen, a nationally recognized legal expert, represents investors nationwide in securities arbitration. Mr. Allen's second book, "Make Wall Street Pay You Back," was just released. For more information visit www.MakeWallStreetPayYouBack.com.
–
TheBlaze contributor channel supports an open discourse on a range of views. The opinions expressed in this channel are solely those of each individual author.