It was Sept. 29, 1938.
English Prime Minister Neville Chamberlain (with French leader Edouard Daladier begrudgingly following suit) was about to sign the Munich Agreement, placing his name alongside the signatures of both Adolf Hitler and Benito Mussolini.
The agreement was supposed to ensure, as Chamberlain infamously put it, "peace in our time."
The idea was that by ceding the "Sudetenland" (northern, western, and southwestern regions of then-Czechoslovakia) to Germany, it would "satiate Hitler's thirst for conquest." And thus, avert a war.
Daladier had the foresight his British counterpart did not. He hated the idea of doing anything that would appease the Nazis. Yet, where foresight abounded for the French leader, courage was lacking. Despite his reservations, he signed the document along with his British, German and Italian counterparts.
The 'talk over the teacups' at Berchesgaden on September 24, 1938. L to R, Joachim von Ribbentrop, German Foreign Minister, Neville Chamberlain, Adolf Hitler, Paul Schmidt, an interpreter, Sir Neville Henderson, British ambassasor to Germany. Prime Ministers Lord Neville Chamberlain (U.K.), Edouard Daladier (France), Nazi German Chancellor Adolf Hitler, Benito Mussolini (Italy) and Italian Foreign minister Count Gian Galeazzo Ciano gathered on September 29, 1938 in Munich to sign the Munich treaty between Nazi Germany, France, Italia and the United Kingdom, authorizing Hitler to annex a Czech territory called the Sudetes. Germany finally invaded Czechoslovakia on 15 March 1939. Credit: AFP/Getty Images
Daladier's reservations were not without merit, as a mere six months after the signing of the agreement Hitler seized the rest of Czechoslovakia. Poland soon followed suit.
And, almost exactly one year after the signing, a disgraced Chamberlain (alongside France) had no choice but to declare war against Germany.
As Jeremy Bender of Business Insider once put it, "the truly enormous scope of World War II is almost impossible to understand in hindsight."
Indeed, it is estimated that over 60 million people (roughly 45 million of which were civilians) perished over the course of the conflict. That was approximately 3 percent of the entire world's population. It was so massive a threat that ending it required the one and only use of a nuclear weapon in world history.
Fast forward nearly 80 years to present day.
In the face of the greatest global terror threat the world has ever seen, our president is being compared to none other than Neville Chamberlain . . . as he seeks to broker a nuclear deal with Iran, the world's largest state sponsor of terror.
And it's not just any deal. It's one that, as Israeli Prime Minister Benjamin Netanyahu put it in his speech to Congress this week, "will not prevent Iran from developing nuclear weapons. It would all but guarantee that Iran gets those weapons, lots of them."
Iran has defied sanctions, thwarted inspections, and sallied forth in a trail of bloodshed both within and without that (when you consider the terror they've propogated globally) rivals those perpetrated by the worst of World War II. And yet, we're in the middle of brokering a deal that does nothing to truly stop their development of nuclear weapons, and in fact recognizes their "right" to enrich uranium.
For those of you who aren't familiar with the origins and parameters this deal, allow me to summarize it briefly for you here.
In this handout photo provided by the White House, President Barack Obama speaks with President Hassan Rouhani of Iran during a phone call in the Oval Office September 27, 2013 in Washington D.C. Getty Images
While it's far more complex than this, the basic idea put forth is that the Iranians still need their nuclear program "for power generation and medical purposes." And, that negotiating with Iran will somehow stabilize the Middle East.
(By the way, isn't it ironic how Barack Obama vehemently opposes nuclear power as an alternative energy source in his own country, yet via this deal he's ready and willing to support its use in Iran? But that's another story for another day.)
The deal, in very brief summary, (and as outlined by Prime Minister Netanayahu) is as follows:
1) It "leaves Iran with a vast nuclear infrastructure and relies on inspectors to prevent a breakout," and …
2) … "virtually all the restrictions on Iran's nuclear program will automatically expire in about a decade."
Mosaic Magazine makes another sobering point: "…thanks to a loophole in the Joint Plan of Action (JPOA) permitting work on 'research and development,' [the Iranians] are also mastering the use of new, more effective centrifuges."
In other words ... there's not much to curtail them from keeping right on their merry way. And it's not to keep the lights on in Tehran, either.
While Barack Obama touts it as such, Iran itself publicly recognizes that this deal is not a dismantling of their program. (Minister of Foreign Affairs Javad Zarik on the Joint Plan of Action, challenging one to: "find a . . . single word that even closely resembles dismantling or could be defined as dismantling in the entire text," and President Rouhani, who "emphasized not just that Iran had refused to destroy centrifuges within the terms of the [Joint Plan of Action], but that it would never destroy them 'under any circumstances.'")
Let's not forget that in the past decade, the number of centrifuges have shockingly multiplied from a few dozen in 2003 to over 19,000 today. And, as the International Atomic Energy Agency put it in 2013, "If there's no undeclared installation today in Iran, it will be the first time in 20 years that it doesn't have one."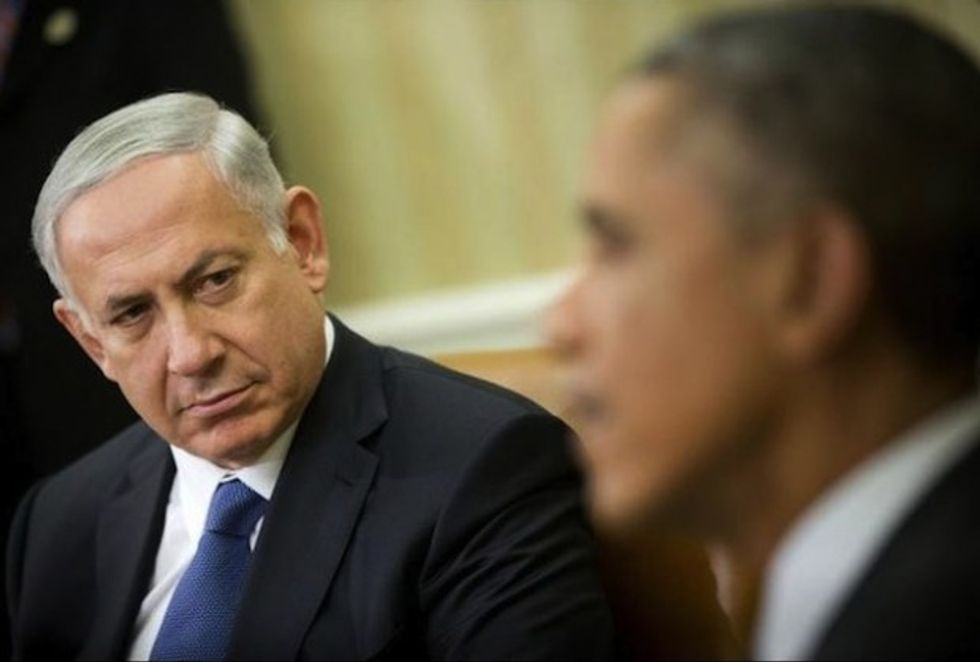 Israeli Prime Minister Benjamin Netanyahu listens as President Barack Obama speaks during their meeting in the Oval Office of the White House in Washington, Wednesday, Oct. 1, 2014. (AP Photo/Pablo Martinez Monsivais)
This is also the same nation that has, since the Iranian revolution of 1979, has referred to the United States as the "Great Satan," and has been boldly transparent about their hatred and desire for elimination of Israel.
Iran's designs are no secret.
And we, like Chamberlain with Hitler, have been happily sitting at the table with the Iranians on this topic—seemingly since the very beginning of this president's first term.
So—in many ways, the president is far worse than Chamberlain ... because we KNOW who is truly on the other end.
In 1938, one had to actually read Hitler's manifesto, "Mein Kempf," to fully understand his designs.
Today, one only need turn to Twitter:
"Iran's Supreme Leader Ayatollah Khamenei spews the oldest hatred, the oldest hatred of anti-Semitism with the newest technology," said Prime Minister Netanyahu. "He tweets that Israel must be annihilated -- he tweets."
So, who was Neville Chamberlain and why should you care?
He's the man whose negligence and blissful ignorance paved the way for the Nazis' devastating march across Europe … and the rest of what World War II entailed.
I'll end with this final note from Prime Minister Netanyahu's speech (emphasis mine):
"The difference is that ISIS is armed with butcher knives, captured weapons and YouTube, whereas Iran could soon be armed with intercontinental ballistic missiles and nuclear bombs. We must always remember—I'll say it one more time—the greatest dangers facing our world is the marriage of militant Islam with nuclear weapons."
And, at the end of the day, you absolutely cannot negotiate with evil.
Chamberlain's infamous decision helped pave the way for a world war, and over 60 million deaths.
What exactly can we expect from a nuclear-armed Iran?
Mary Ramirez is a full-time writer, creator of www.afuturefree.com (a political commentary blog), and contributor to The Chris Salcedo Show (TheBlaze Radio Network, Saturday, from noon to 3 p.m. ET). She can be reached at: afuturefree@aol.com; or on Twitter: @AFutureFree.
–
TheBlaze contributor channel supports an open discourse on a range of views. The opinions expressed in this channel are solely those of each individual author.