© 2023 Blaze Media LLC. All rights reserved.
The death threats against a Texas plumbing company should serve as a warning to all of us in the fight against radical Islam.
Comedian Ron White famously said, "You can't fix stupid."
Well, it turns out you can't sue stupid, either, which is why Mark Oberholtzer of Texas is suing a Ford dealership, instead.
You see, Oberholtzer runs Mark-1 Plumbing in Texas City, and owned a Ford pickup adorned with decals advertising the name and phone number of his business. But in 2013 he sold it to a dealership – decals and all – and a year later it was photographed – decals and all – carrying Islamic militants and an antiaircraft gun in war-torn Syria.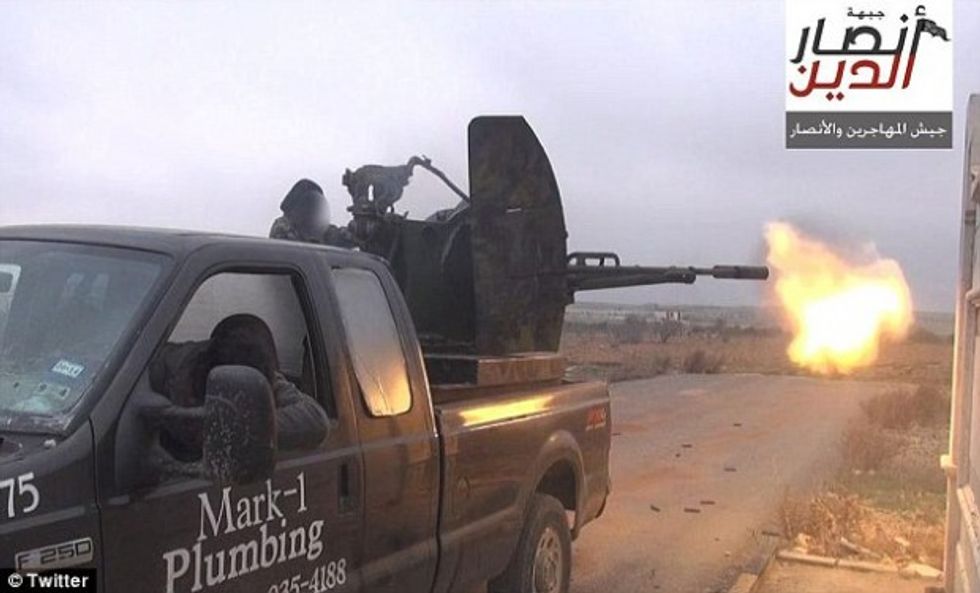 Screenshot
The picture went viral, and Oberholtzer began receiving phone calls accusing him of being an Islamic State jihadist and threatening to kill him. All of which disrupted his business and his life more generally, hence the $1 million lawsuit against the dealership, which failed to remove the decals prior to reselling the pickup.
And I suppose the dealership is, technically, at fault.
But aren't the people truly at fault here the ones who think that the Islamic State is being funded by a plumbing company from Texas? Really, who sees a picture on Twitter and says,
"Look! Mark-1 Plumbing is donating their surplus vehicles to Syrian rebels! They might even be taking a tax deduction for it, and providing the Islamic State with free plumbing services! Why, I'm going to write that number down and phone in a death threat, as any loyal citizen would!"
Did any of these great patriots stop to consider that maybe, just maybe, there was no direct link between Islamist militants and the plumbing company listed on their pickup truck, given the 7,000-mile distance between the two? Did any of them try calling the FBI first, so that professional investigators could evaluate the situation before anyone resorted to threats of vigilante justice?
Did any of them imagine that a plumber who really wanted to support Islamic State might try to keep their identity secret by, you know, donating a pickup truck that didn't have their phone number on it? (Of course, there's always the possibility Mark-1 Plumbing has a ruthlessly clever local rival…)
Seriously, who behaves like this?
Here's who: people who are so eager to fight terrorists that they don't bother to find out who the terrorists are before they start telling people to leave the country or threatening to kill them. People who take a noble impulse – national defense – and use it as an opportunity to act recklessly and thoughtlessly.
People who keep their threats anonymous and likely don't call back to apologize afterwards, so that they can't be held accountable or face any consequences for their foolishness.
In other words, people who can't be sued. Believe me, if they could, they'd act a lot more responsibly.
The country is facing difficult challenges. There are terrorists who are trying to infiltrate the country, and Americans who are being inspired to become terrorists. It's natural for us to be looking for clues and suspects. But we should be reviewing evidence and considering our options thoroughly, not bumbling about like Inspector Clouseau.
Otherwise, it will be innocent civilians who pay the price for our undisciplined zeal to be "tough" in the fight against radical Islam. And who will they sue to get their lives back?
–
TheBlaze contributor channel supports an open discourse on a range of views. The opinions expressed in this channel are solely those of each individual author.

Want to leave a tip?
We answer to you. Help keep our content free of advertisers and big tech censorship by leaving a tip today.
more stories
Sign up for the Blaze newsletter
By signing up, you agree to our
Privacy Policy
and
Terms of Use
, and agree to receive content that may sometimes include advertisements. You may opt out at any time.