A 12-year-old boy in Texas has been charged with murder after police say he struck and killed an elderly woman while driving a vehicle he had no legal right to operate.
Just after 11 a.m. on November 7, police say that the unnamed 12-year-old and several companions were driving around a Dallas neighborhood in a 2005 Toyota Avalon. Reports suggest that he was speeding and otherwise driving recklessly. At some point, the boy allegedly blew a stop sign and slammed into 82-year-old Florence Kelly, who was making a turn in her Honda Accord.

Kelly was immediately transported to the hospital, but she soon afterward passed away from her injuries. Kelly was the sole caretaker of her husband, who had recently suffered a stroke. She had been driving to the grocery story to buy food for herself and her husband when she was killed.
Witnesses said that several young people exited the Avalon immediately following the crash and fled the scene. The witnesses attempted to detain them until law enforcement could be contacted, but they were unable to apprehend any of them. Reports indicate that none of the kids bothered to call 911.
A 13-year-old girl who was riding in the passenger seat of the Avalon was abandoned at the scene because the damage to the vehicle left her trapped inside. She suffered serious injuries in the crash but is expected to recover.
Surveillance video from a nearby door cam shows the minors fleeing while smoke billows from the vehicles. The camera, of course, captured the crash as well, but police say it was so horrifying, they did not want to share it publicly. Instead, Dallas police shared video as well as several still frames from the aftermath of the crash in the hopes of identifying the kids involved.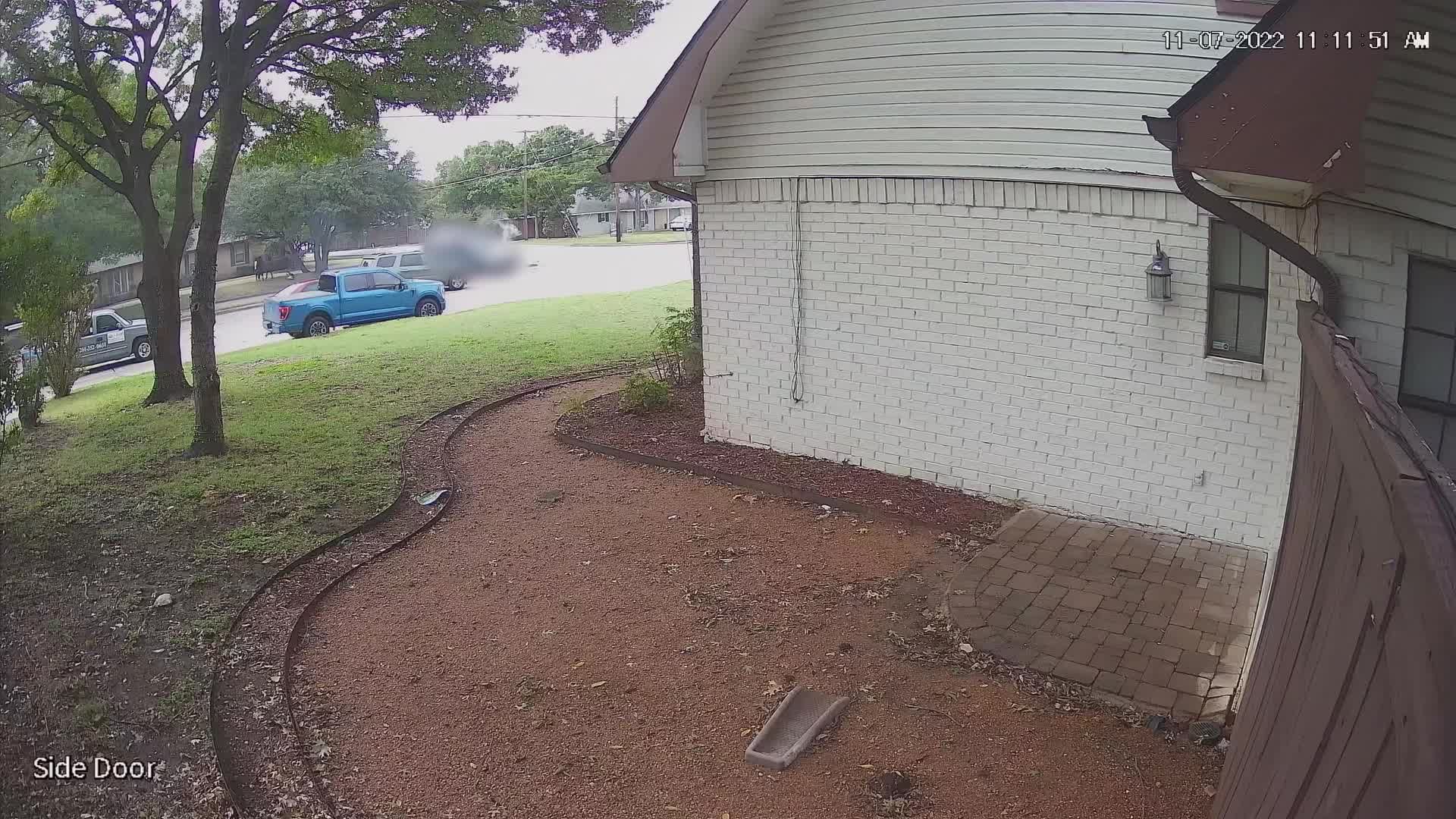 Door cam footage of kids fleeing scene following deadly crashvideopress.com
Whether through sharing the video footage or through other means, Dallas PD identified a 12-year-old boy in connection with the incident and arrested him and charged him with murder on December 7. Because of the boy's age, his name has not been released, and he cannot be tried as an adult under Texas law.

Kelly's family is saddened by their mother's needless death, especially around the holidays, her favorite time of year.
"I've never had a Thanksgiving, Christmas, a birthday, or a Mother's Day without my mother," said Kelly's daughter, Rebekka Kelly. "I will miss her every day of my life, and she was my best friend."
Rebekka Kelly also expressed sadness and bewilderment at the age of the suspect. "It's a gut punch," she claimed. "I knew he was young. That's horrifying. The whole thing is horrifying."
Kelly's son, Donovan Kelly, does not believe that the boy should be treated differently in this case because of his age.

"He's killed somebody," Donovan Kelly reiterated. "He's taken an innocent life, and there are consequences for your actions. I don't really care how old you are. He consciously decided to get behind the wheel of the car and drive it with no driver's license, obviously no real driving experience, and basically hurtled into our mother's car, killing her."
Police claim the investigation into Florence Kelly's death is still ongoing. It is unclear when the boy is expected to appear in court.