The Congressional Budget Office released a report Wednesday that said the newest Republican bill to tweak Obamacare would save U.S. companies billions of dollars in compliance penalties over the next debate, which Republicans say amounts to a huge tax cut at a time of economic uncertainty.
The House this week is expected to pass the Save American Workers Act, which would eliminate language in Obamacare that defines a full-time worker as anyone who works more than 30 hours a week.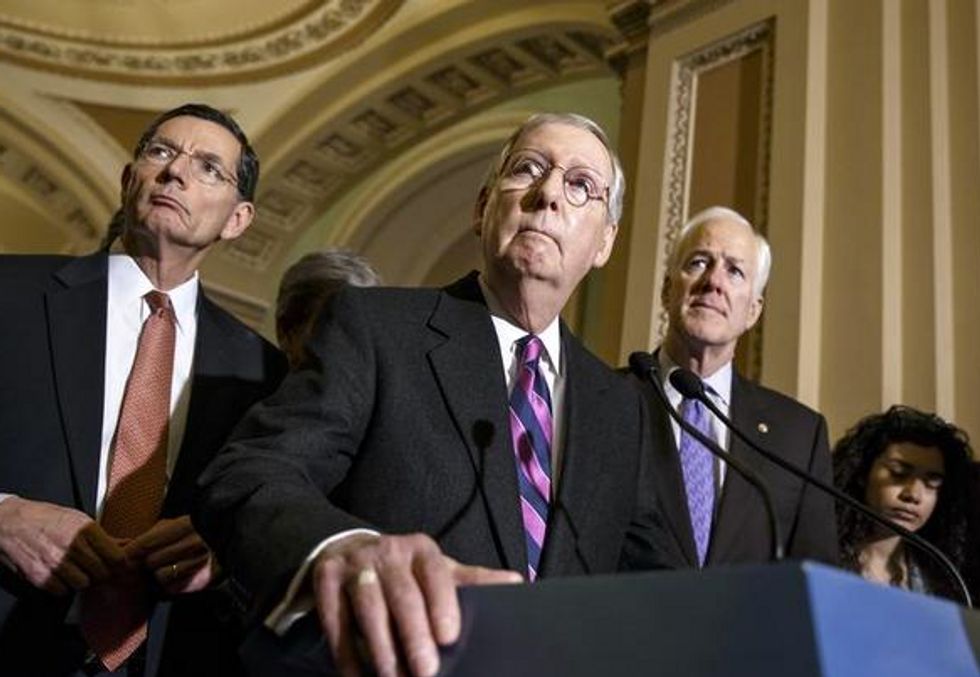 Senate Majority Leader Mitch McConnell (R-Ky.) downplayed a CBO report that said the GOP's latest Obamacare bill would raise the budget deficit. Republicans say the bill would be a tax cut for companies, and said tax cuts aren't normally offset.
Image: AP Photo/J. Scott Applewhite
That definition is critical, since the law also says anyone with more than 50 full-time workers must give those workers health care coverage, or face a penalty. Republicans say the law gives companies an incentive for companies to cut worker hours to less than 30 per week, in order to avoid triggering the Obamacare insurance mandate.
The aim of the bill is to ensure 40 hours per week is seen as "full time," and avoid having companies cut worker hours.
But CBO and the Joint Committee on Taxation say that ending the 30-hour workweek in the law would have another effect — reducing the penalties companies would have to pay for being out of compliance with the law.
"CBO and JCT estimate that those payments would be $54.7 billion lower over the next 11 years for two reasons: Fewer employers would be subject to the employer responsibility requirement that thus more employers would be exempt from paying penalties, and some employers that would still be assessed penalties under the bill would make smaller penalty payments…" the CBO report said.
While CBO called that money "penalties," a spokesman for Rep. Todd Young (R-Ind.), who sponsored the bill, noted that the Supreme Court has said Obamacare penalties are actually taxes. As a result, he said, Republicans see this as a $54.7 billion tax cut.
CBO's report sparked a debate between the two parties over the legislation's other effects, specifically its effect on the budget deficit. CBO's final conclusion is that the bill would increase the budget deficit by $53 billion over the next decade.
Democrats immediately criticized Republicans for ignoring their deficit hawk tendencies in pursuit of another attempt to repeal part of Obamacare.
But Young's spokesman noted that Congress almost never offsets tax cuts with other spending reductions, and again noted that the Supreme Court has said Obamacare penalties should be seen as taxes.
Republicans also downplayed the report by noting it is far more important for Congress to worry about how the 30-hour workweek is affecting Americans, and that the CBO's findings are secondary.
When asked Wednesday if CBO's report would give him any pause in supporting the bill, Senate Majority Leader Mitch McConnell (R-Ky.) answered, "no."
"One of the worst things we can do is destroy the 40-hour workweek, which has been a part of American culture and life for a very long time," McConnell said.
"Regardless of what the Congressional Budget [Office's] view may be on the impact of the U.S. budget, we know the impact on family budgets, and it's not good," he added. "So I think there's almost no chance we won't be voting on that at some point."
CBO's report said the loss in Obamacare penalties would be partially offset by a $24.6 billion increase in other tax revenue, generated through reduced enrollment in company-sponsored health plans. It also predicted about $22 billion more in costs associated with people using government-sponsored plans.
The House is expected to pass the bill Thursday or Friday, which will mostly likely give the Senate a chance to consider it next week.
Read CBO's report here: