One of the little-discussed details in the wake of the terrorist attack on the Paris offices of satirical magazine Charlie Hebdo centers on a book featured on the front cover of its current edition.
The book, which has reportedly caused controversy in the days leading up to its publication over perceived "Islamophobia," imagines the future election of a Muslim leader of France, which heralds a broader Islamization of the EU.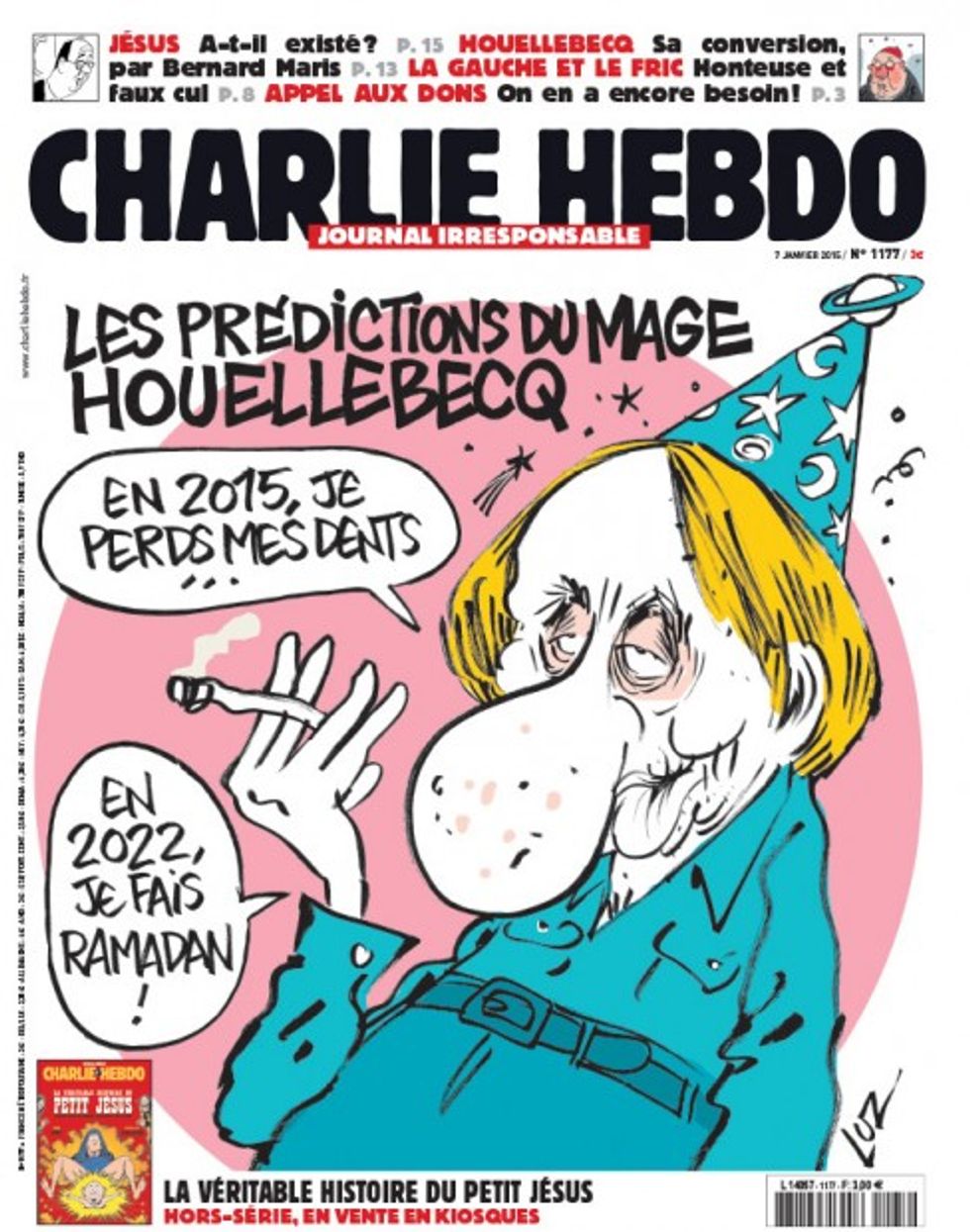 Cover of the January 6, 2015 Charlie Hebdo. (Image Source: Charlie Hebdo/Le Blog TV News)
Its title is "Soumission" or "Submission" in English ("submission" being the literal definition of the Arabic word "Islam"), the newest work of celebrated and controversial French author Michel Houellebecq.
"Soumission" was released in bookstores today, January 7, with one Bloomberg writer already questioning whether the attacks on Charlie Hebdo are linked to the book's publication.
The Paris Review describes the novel as follows:
It's 2022, and France is living in fear. The country is roiled by mysterious troubles. Regular episodes of urban violence are deliberately obscured by the media. Everything is covered up, the public is in the dark ... and in a few months the leader of a newly created Muslim party will be elected president. On the evening of June 5, in a second general election—the first having been anulled after widespread voter fraud—Mohammed Ben Abbes handily beats Marine Le Pen with support from both socialists and the right.

The next day, women abandon Western dress. Most begin wearing long cotton smocks over their trousers; encouraged by government subsidies, they leave the workplace in droves. Male unemployment drops overnight. In formerly rough neighborhoods, crime all but disappears. Universities become Islamic. Non-Muslim teachers are forced into early retirement unless they convert and submit to the new regime.
The Telegraph adds:
The new president...proceeds to Islamise the EU, with Turkey and various north African countries joining the bloc. The aim is to build a territory resembling the old Roman empire.

The protagonist, François, a 44-year-old literature professor, converts to Islam after a university director introduces him to the pleasures of polygamy with submissive wives.
France it should be noted has the largest Muslim population of any European country. Numbers vary by source, but a 2008 State Department report indicates that Muslims number five to six million in a country of 65 million people.
Also of note is the fact that there have been multiple jihadist attacks reported in recent weeks in France, following the Martin Place attack in Sydney. In the background, Marine Le Pen's Front National Party, which opposes mass immigration from largely Muslim countries and the overall Islamization of France, has arisen as a political force, and French authors have published several highly popular books of late sympathetic on these issues, and critical of France's overall progressivism; large scale anti-Islamization protests (and counter-protests) have been ongoing in Germany.
[sharequote align="center"]"I condense an evolution that is, in my opinion, realistic."[/sharequote]
Houellebecq believes that the scenario he lays out in his novel is not a provocation, but a real possibility, stating in the aforementioned Paris Review interview: "I accelerate history, but no, I can't say that the book is a provocation—if that means saying things I consider fundamentally untrue just to get on people's nerves. I condense an evolution that is, in my opinion, realistic."
The author came to the conclusion that a Muslim party could sweep to power in France, albeit over a longer timeframe than in "Soumission," based on his assessment of French society. He notes: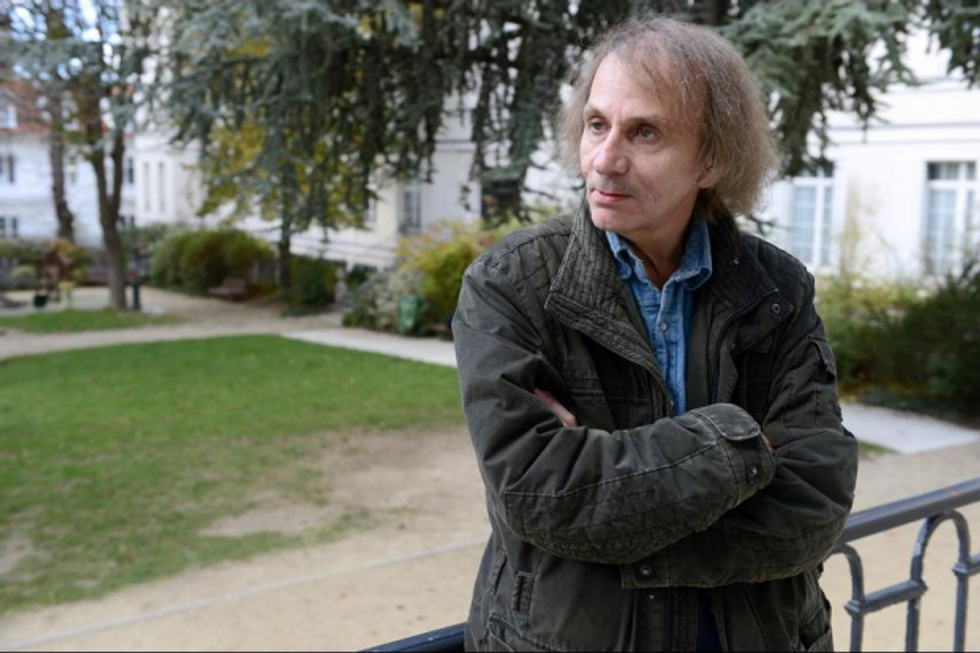 French writer Michel Houellebecq poses on November 5, 2014 during his photo exhibition 'Before Landing' at the Pavillon Carre de Baudouin in Paris. (Credit: MIGUEL MEDINA/AFP/Getty Images)
I tried to put myself in the place of a Muslim, and I realized that, in reality, they are in a totally schizophrenic situation. Because overall Muslims aren't interested in economic issues, their big issues are what we nowadays call societal issues. On these issues, obviously, they are very far from the left and even further from the Green Party. Just think of gay marriage and you'll see what I mean, but the same is true across the board. And one doesn't really see why they'd vote for the right, much less for the extreme right, which utterly rejects them. So if a Muslim wants to vote, what's he supposed to do? The truth is, he's in an impossible situation. He has no representation whatsoever. It would be wrong to say that this religion has no political consequences—it does. So does Catholicism, for that matter, even if the Catholics have been more or less marginalized. For those reasons, it seems to me, a Muslim party makes a lot of sense.

...If we look at the way the Muslim Brotherhood has done it, we see regional networks, charities, cultural centers, prayer centers, vacation centers, health care, something not unlike what the Communist Party did. If you ask me, in a country where poverty will continue to spread, this party could attract a lot more than just "average" Muslims, if I can put it that way, because really there is no longer such a thing as an "average" Muslim since we now have people converting who are not at all of North African origin … But such a process would take several decades.
The book, which had shot up Amazon France's bestseller list prior to its release, and currently sits atop said list, caused a big enough stir to draw the attention of France's president. As the Telegraph further notes:
François Hollande, the French president, on Monday [January 5th] said he would read the book and that literary freedom must be respected. But he urged the French not to give into "fear" of "submersion, invasion, submission".
Houllebecq has been attacked as an Islamophobe in the past, with the The Independent noting that the French author has
been prosecuted and acquitted for inciting religious and racial hatred during an interview on a previous work.

He was quoted in the magazine Lire saying that Islam was "the most stupid religion" while talking about his novel, Platform – the story of a French couple who create a sex tourism business in Thailand.

The novel sees the father and mistress of the main character murdered by Muslims, who are described in the book as "clots" in the "blood vessels" of Europe.
The author however chafes at the very notion of "Islamophobia," as reflected in his exchange with an interviewer in the aforementioned Paris Review article:
When I was tried for racism and acquitted, a decade ago, the prosecutor remarked, correctly, that the Muslim religion was not a racial trait. This has become even more obvious today. So we have extended the domain of 'racism" by inventing the crime of islamophobia.

The word may be badly chosen, but there do exist forms of stigma toward groups or categories of person, which are forms of racism …

No, islamophobia is not a kind of racism. If anything has become obvious, it's that.

Islamophobia serves as a screen for a kind of racism that can no longer be expressed because it's against the law.

I think that's just false. I don't agree.
Houllebecq adds that he takes the view that jihadists misinterpret Islam:
[I]n the end the Koran turns out to be much better than I thought, now that I've reread it—or rather, read it. The most obvious conclusion is that the jihadists are bad Muslims. Obviously, as with all religious texts, there is room for interpretation, but an honest reading will conclude that a holy war of aggression is not generally sanctioned, prayer alone is valid. So you might say I've changed my opinion. That's why I don't feel that I'm writing out of fear. I feel, rather, that we can make arrangements. The feminists will not be able to, if we're being completely honest. But I and lots of other people will.
Note: The link to the book in this post will give you an option to elect to donate a percentage of the proceeds from the sale to a charity of your choice. Mercury One, the charity founded by TheBlaze's Glenn Beck, is one of the options. Donations to Mercury One go towards efforts such as disaster relief, support for education, support for Israel and support for veterans and our military. You can read more about Amazon Smile and Mercury One here.
–
Follow Ben Weingarten (@bhweingarten) and TheBlazeBooks on Twitter and Facebook.
You can find all of our Blaze Books interviews on Soundcloud and Stitcher, and subscribe to our podcast automatically via iTunes.