It's a single piece of paper worth more than several small countries combined — and she turned it down.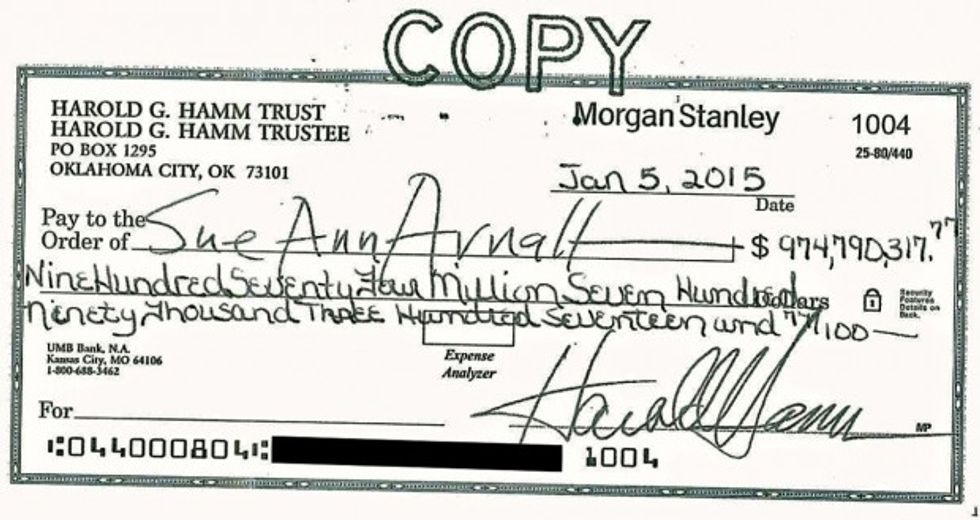 (Image via Business Insider/Reuters)
Oil baron Harold Hamm, one of the world's richest people, has been battling his ex-wife in divorce proceedings since May 2012.
His ex-wife, now going by her maiden name Sue Ann Arnall, could rake in several billion dollars in the eventual settlement — and that's apparently what she's gunning for.
With her lawyers arguing that she deserves proper compensation for her "25 years as Harold's faithful partner in family and business" and noting that she suspects Hamm of having an affair (the impetus behind the divorce proceedings), Arnall rejected a settlement award of more than $1 billion back in November.
On Monday, Hamm delivered a handwritten check for $974,790,317.77, and she rejected that as well.
Honoree Harold Hamm attends the TIME 100 Gala, TIME'S 100 Most Influential People In The World, cocktail party at Jazz at Lincoln Center on April 24, 2012 in New York City. Sue Ann filed for divorce in May 2012. (Photo: Jemal Countess/Getty Images for TIME)
Hamm could be worth as much as $18 billion, but he's arguing for a lower divorce settlement amount as he claims he's lost billions with the recent drop in oil prices.
Hamm has paid Arnall $20 million over the course of divorce proceedings already, Reuters reported.
—
Follow Zach Noble (@thezachnoble) on Twitter
[instory-firewire]