USA Today allowed a radical Muslim cleric Wednesday to pen an op-ed contending that the victims of the deadly terror attack knew "the consequences" of their work.
"Contrary to popular misconception, Islam does not mean peace but rather means submission to the commands of Allah alone," radical Muslim cleric Anjem Choudary wrote in the newspaper's opinion section. "Therefore, Muslims do not believe in the concept of freedom of expression, as their speech and actions are determined by divine revelation and not based on people's desires."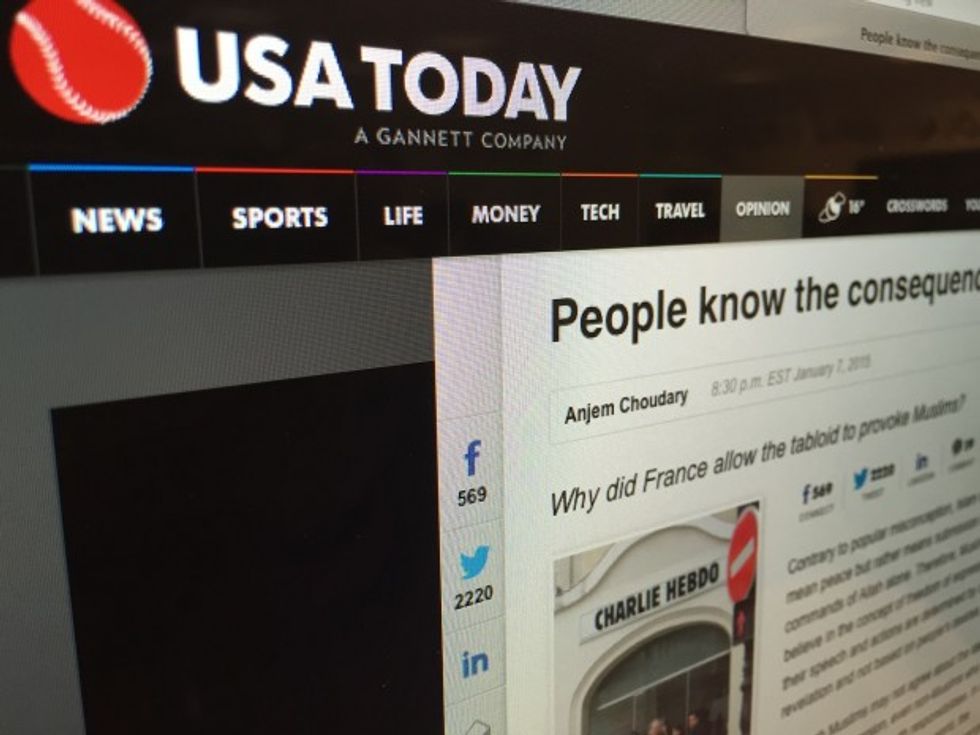 Image source: Oliver Darcy / TheBlaze
"Although Muslims may not agree about the idea of freedom of expression, even non-Muslims who espouse it say it comes with responsibilities," the London-based cleric continued. "In an increasingly unstable and insecure world, the potential consequences of insulting the Messenger Muhammad are known to Muslims and non-Muslims alike."
Choudary contended in his opinion piece that "Western governments are content to sacrifice liberties and freedoms when being complicit to torture" and questioned the French government for allowing Charlie Hedbo to "provoke Muslims, thereby placing the sanctity of its citizens at risk."
"It is time that the sanctity of a Prophet revered by up to one-quarter of the world's population was protected," he concluded.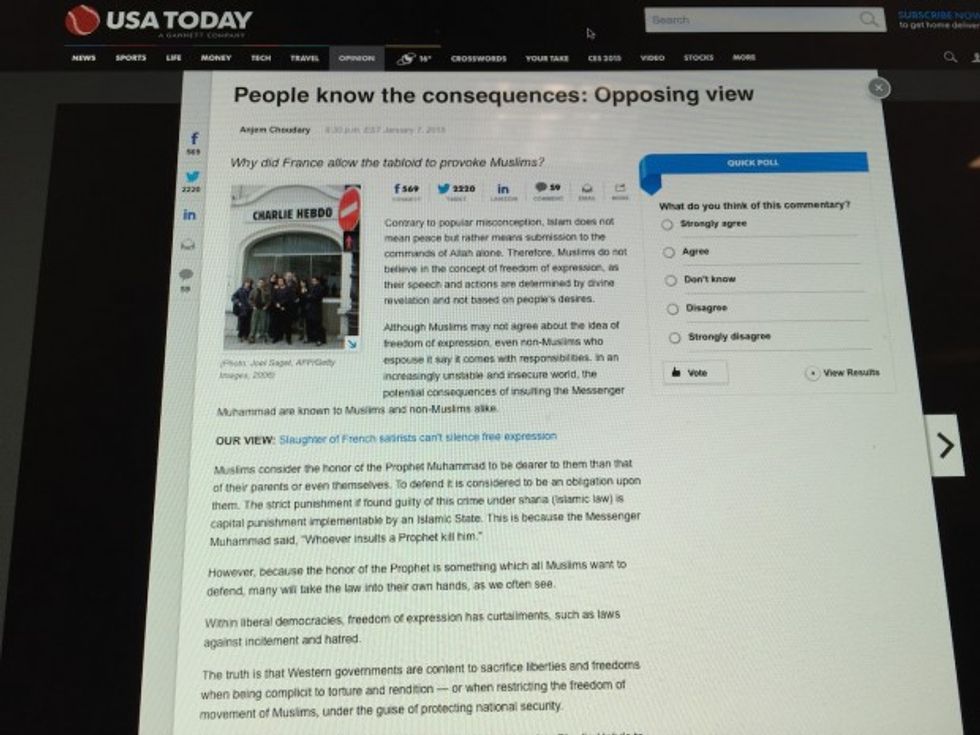 Image source: Oliver Darcy / TheBlaze
The attack on the French satirical newspaper Wednesday morning claimed the lives of 12 individuals, including a handful of prominent cartoonists known for their depictions of the Prophet Muhammad.
Because of safety and sensitivity concerns, however, many outlets, including USA Today, grappled with whether or not to publish the controversial pieces of art.
USA Today's editor-in-chief David Callaway told the Washington Post that his paper was "discussing" whether or not to publish the controversial cartoons.
"Some of the reaction to the cartoons might be more powerful. But yes, we are considering, as we would anything that is newsworthy," he said.
Sometime Wednesday, however, the paper's opinion section published multiple covers from the newspaper.
Many, nonetheless, still turned to Twitter to express shock and outrage online over the decision to publish the radial cleric author's op-ed in the paper that night.
@Mario_A_Loyola I'd be happier if @USATODAY had run the cartoon alongside his op-ed

— Josiah Neeley (@jneeley78) January 8, 2015
Dear USA Today there is no "opposing view" to condemnation of mass murder by psychotics.

— Ben White (@morningmoneyben) January 8, 2015
It boggles the mind that @USATODAY gave a terror promoter space in its pages today. Sick.

— Dana Loesch (@DLoesch) January 8, 2015
Wow. USA Today publishes a radical Muslim cleric's op-ed. http://t.co/LSGauLOPMq

— Charles Finch (@CharlesFinch) January 8, 2015
USA Today has gone absolutely insane as they allow a radical Muslim cleric a platform for his hatred and sharia http://t.co/u2QhZqGxzY

— Colin Sullender (@shiruken) January 8, 2015
—
Follow Oliver Darcy (@oliverdarcy) on Twitter