A journalism professor at the University of Southern California confronted New York Times editor Dean Baquet on Facebook over the newspaper's refusal to print the controversial Charlie Hebdo cartoons that resulted in a deadly terror attack on the satirical publication.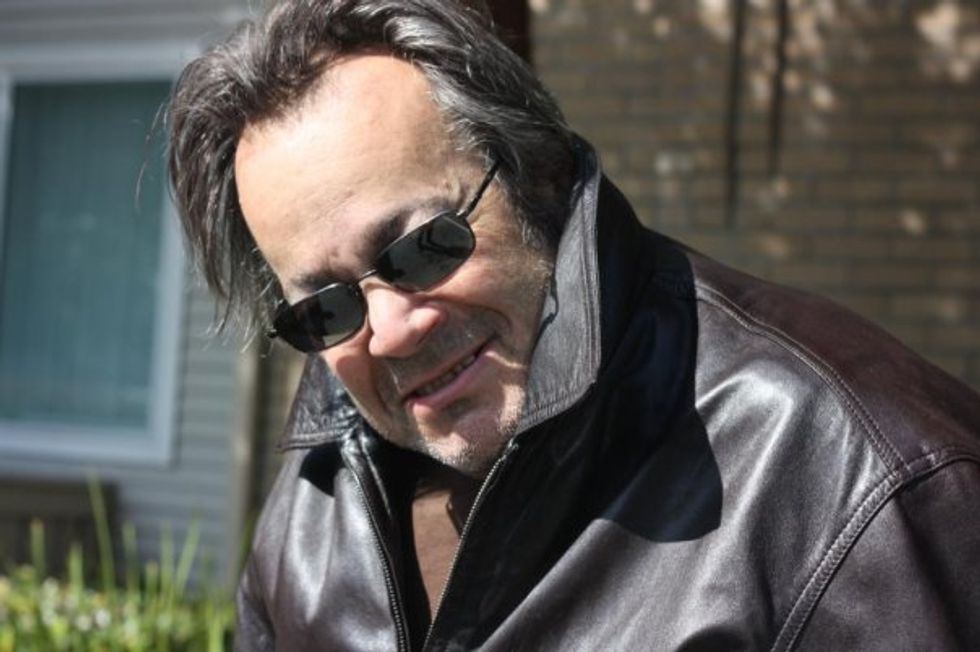 University of Southern California professor Marc Cooper. (Image source: Facebook)
"A question for NYTimes editor Dean Baquet," USC professor Marc Cooper wrote on Facebook. "Exactly how many people have to be shot in cold blood before your paper rules that you can show us what provoked the killers? Apparently 23 shot including 11 dead is not enough."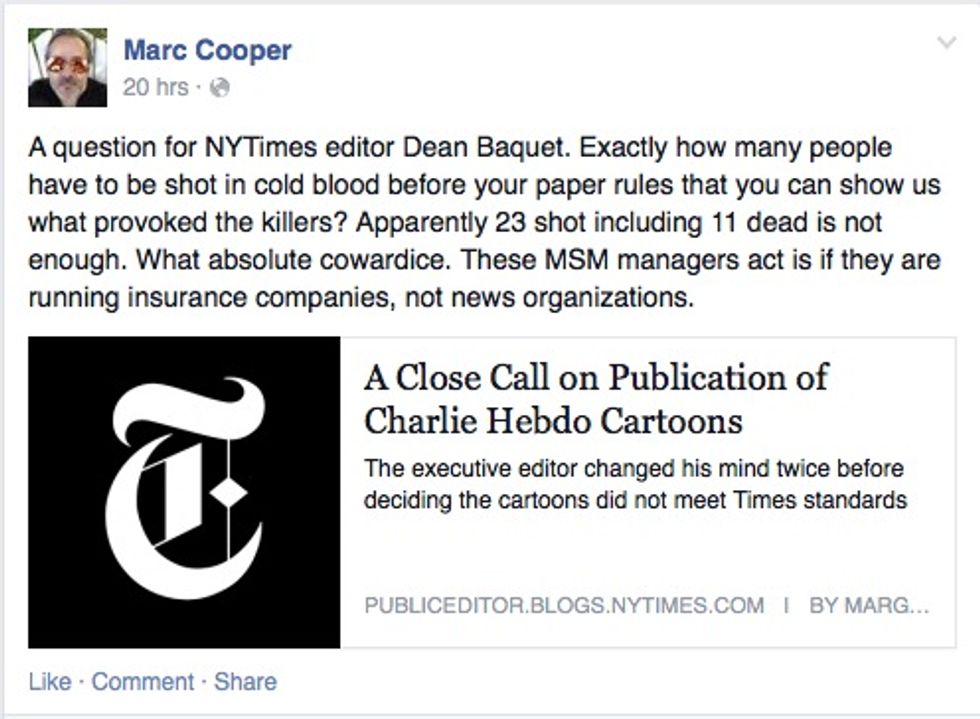 Image source: Screen grab / Facebook
"What absolute cowardice," he continued. "These MSM managers act is if they are running insurance companies, not news organizations."
Baquet responded.
"Dear Marc, appreciate the self righteous second guessing without even considering there might be another point of view," the Times editor wrote. "Hope your students are more open minded. A**hole."

Image source: Screen grab / Facebook
Cooper, responding to other commenters, sarcastically asked them to "forgive" him.
'He's under a lot of pressure right now deciding what news fits in the paper," the professor wrote. "It's a tough job deciding for all the rest of us."
"Of course there is a second view. And I welcome it. But your note was thoughtless and arrogant. It didn't invite argument. It invites so what you got. And no insurance didn't even enter the discussion," Baquet wrote in return.

Image source: Screen grab / Facebook
The professor responded, saying he would "keep that in mind next time" he posts on Facebook.
"There's nothing righteous about what I said. There is just a simple underlying truth. There is no good reason to not publish the pictures and your argument was underwhelming, I know that my 4,000 followers on puts me de facto in a position of arrogance vis a vis the humble editor of the paper of record, but it is a professional risk I must take," Cooper wrote. "Now, don't make me go and delete all those nice columns I wrote about when you were defending the LATimes staff against the cuts. I only wish that sort of spirit would have infused this decision."

Image source: Screen grab / Facebook
"Understand you disagree," Baquet quipped. "But there was a thoughtful discussion to be had. Next time I promise we will have it. But I bristle at arguments like those of fauchier who think it was a question of courage. It was not. Thanks for the chance to exorcise my demons now."
—
Follow Oliver Darcy (@oliverdarcy) on Twitter
—