Stephanie Wehner and Mitch Strobl are getting married this weekend.
Part of the Texas couple's big day includes a display of their engagement photos, so Wehner got on Walmart's website and ordered printouts of 13 of them.
But the bride-to-be only got 12 back from a Dallas outlet. Why was one missing?
The answer lies upon the handwritten note from the clerk: "MINUS ONE 5 X 7. NO WEAPONS."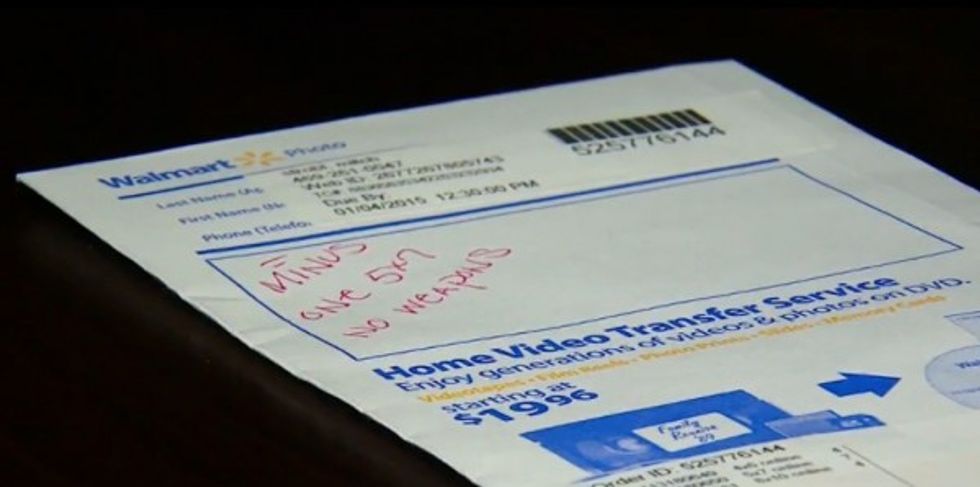 Image source: WFAA-TV
Wehner said the Walmart clerk told her it was the store's "policy" and she couldn't print photos with guns in them, WFAA-TV reported.
It includes Strobl's 12-gauge Ruger Red Label Shotgun, the first gun he purchased himself and his "go-to" gun for outdoor sport, the station said.
"She was very nice, but very matter-of-fact, like she was not going to budge or give me my photo," Wehner told WFAA, whom she works for.
But that isn't the half of it. The clerk also said the image couldn't be printed because it would promote "gang culture," Wehner told the station.
"To automatically to be lumped into that category of a gang...that hits a little close to home for us, because that isn't our intent at all," Strobl told WFAA.
Given that Strobl creates manuals for hunter safety and outdoor recreation, you might say his perspective on firearms arcs decidedly far from gang credos.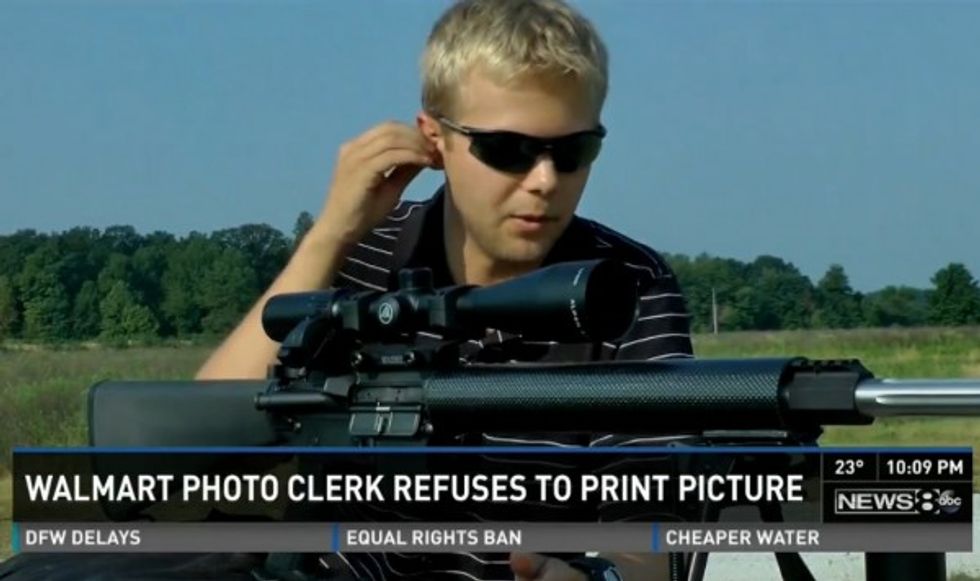 Srobl demonstrating gun safety. (Image source: WFAA-TV)
"I did that in this picture; I made sure the action was open...that it was a safe photograph," he added to WFAA.
Walmart told the station that the "new associate" who refused to print the couple's photo was "misinformed," adding that Walmart has no policy against printing photos that include firearms.
"Her actions are not consistent with our policy," the Walmart spokesperson told WFAA, adding that employees at the specific Walmart outlet got a refresher on the chain's policy.
As for Strobl and Wehner, they're looking elsewhere to get their missing photo printed out in time for the wedding.
UPDATE 3:45 p.m. EST: TheBlaze on Friday spoke with a Walmart corporate media relations official who said the store reached out to the couple, and that Strobl and Wehner received for free all of their photos — including the shotgun photo — on Thursday, along with a gift card.
This story has been updated.