Too inquisitive for this pastor?
He might just try to beat Jesus into you.
Bible Baptist Church in Hasbrouck Heights, New Jersey, publishes its pastors' sermons actively on Vimeo — and one of those sermons is coming back to reflect badly on the church.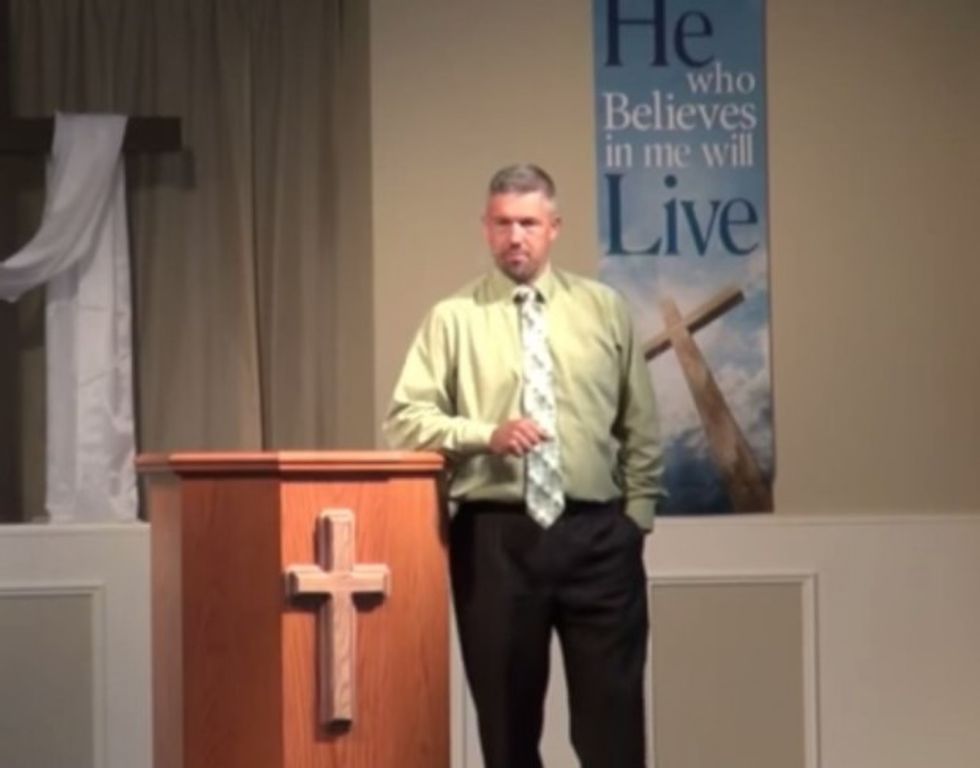 Pastor Eric Dammann. (Image via YouTube)
Pastor Eric Dammann speaks in one sermon of a boy named Ben who was "a nice kid, but one of those — he was a real smart aleck. He was a bright kid, which didn't help things — made him more dangerous."
When Ben became too much of a "smart aleck" and asked too many questions about God, Dammann says he got violent with him.
"I punched him in the chest as hard as I — I crumpled the kid," Dammann says, demonstrating his punch. "I leaned over and I said, 'Ben, when are you going to stop playing games with God?'"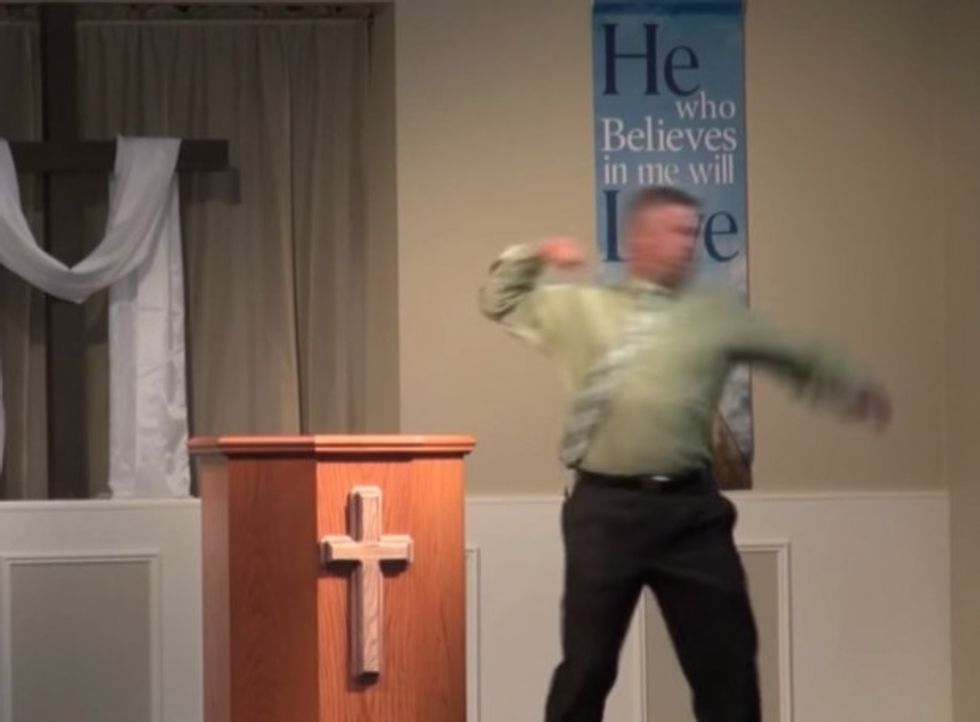 Image via YouTube
Watch the sermon below:
On Reddit Sunday, commenters responded with disgust to Dammann's sermon.
"That will probably be a moment that this kid looks at as a turning point once he's an atheist and looking back at his time in the church," one commenter wrote, echoing many others who said the pastor's version of Christianity seemed weak and based on fear.
"[H]e was definitely trying to brag about that," another commenter wrote. "The way he mimics the punch, and the BAM! he emits. Trying to make sure the audience knows he's a 'big man' [...] Reminded me of some white trash bully at a school telling a bullying story to his friends."
Some commenters questioned whether "Ben" was a real person or whether Dammann could have made the whole story up, while others made the case that if Ben is real, his parents should press criminal charges against Dammann.
"If [I] was Ben's father and saw this, no matter how long ago this was [I'd] try and press charges," one commenter wrote. "[I]f nothing can be done then [I'd] show him the way to the lord the same way he showed Ben but make sure he got real acquainted with the lord."
TheBlaze reached out to Bible Baptist via phone and contacted Dramman via email; neither message was immediately returned Sunday.
—
Follow Zach Noble (@thezachnoble) on Twitter