Students returning to Jewish schools across France this week following the murderous assault on a Paris kosher market were greeted by police and soldiers now tasked with guarding the schools around the clock.
Even so, the principal of one Jewish school just around the corner from Hyper Cacher, the market where four Jews were slain Friday, told TheBlaze that nearly half of his students have not returned to school because parents are fearful.
Rabbi Dov Lellouche, a community rabbi and principal of Rechit Hochma, a Jewish preschool in Paris, said Tuesday that military personnel are now guarding the Orthodox Jewish school "day and night without leaving."
"Even with that, the parents are afraid. We have 40 percent fewer students at school this week but, thank God, it is quiet on the streets and all is usual," Lellouche told TheBlaze in a telephone call from his office.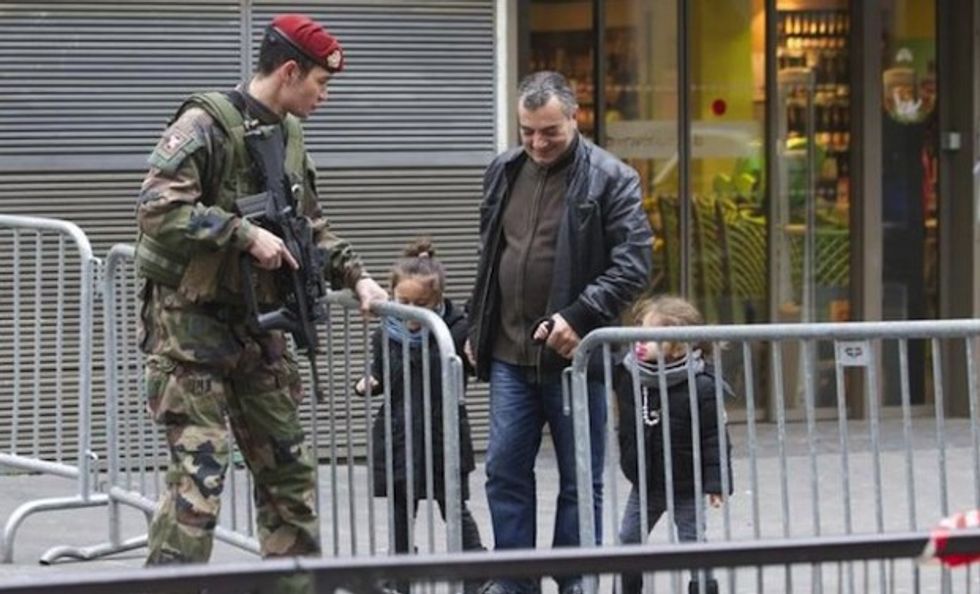 A soldier helps a family enter the protected area leading to a synagogue and a Jewish school in Paris, Monday, Jan. 12, 2015. France on Monday ordered 10,000 troops into the streets to protect sensitive sites after three days of bloodshed and terror, amid the hunt for accomplices to the attacks that left 17 people and the three gunmen dead. (AP Photo/Jacques Brinon)
France on Monday deployed 10,000 troops to patrol and protect sensitive sites, including Jewish schools, synagogues and mosques, following last week's wave of terror, which began with the massacre at the Charlie Hebdo offices in Paris.
Lellouche said members of his community are asking if and how the French government will protect their right to openly practice their faith, after rising numbers of French Jews have left France for Israel because of rising anti-Semitism.
"We are French and are proud to be French," the rabbi said. "Can the French government take the actions [necessary] to bring the peace and quiet totally to our country or no?"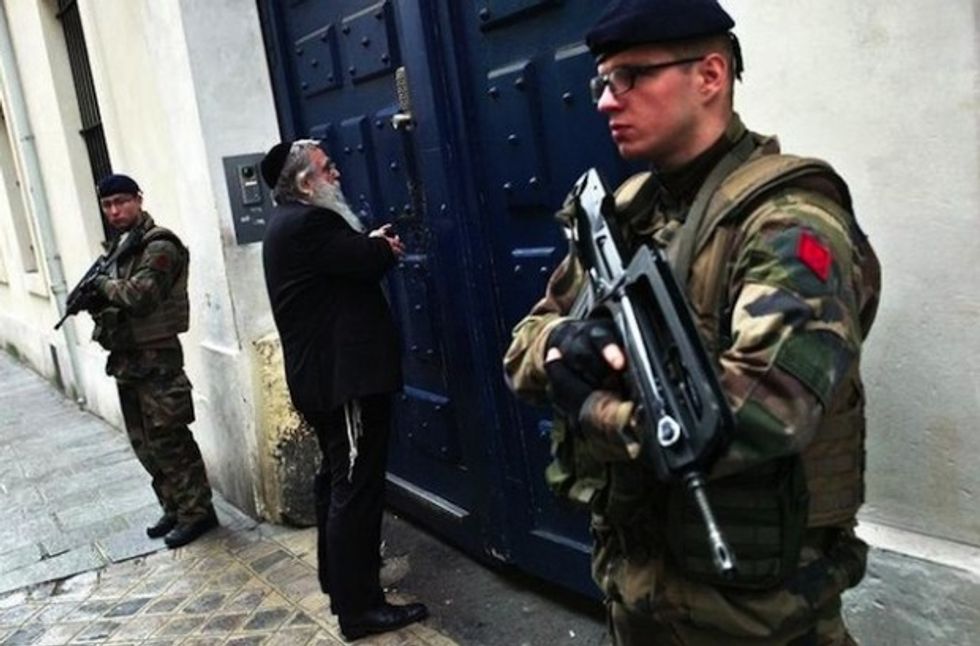 French soldiers secure the access to a Jewish school, in Paris, Tuesday, Jan. 13, 2015. (AP Photo/Thibault Camus)
"What will they do so that tomorrow in France we can live how we lived until today, with the freedom to practice our religion and to be in a peaceful country?" Lellouche asked.
The rabbi and preschool principal said some in his community fear that Muslim activists will one day try to impose their religion and the Koran on non-Muslims.
"I don't know if France will be able to protect her Jews. It's not just the Jews, it's also the Christians who are in the same situation," he said.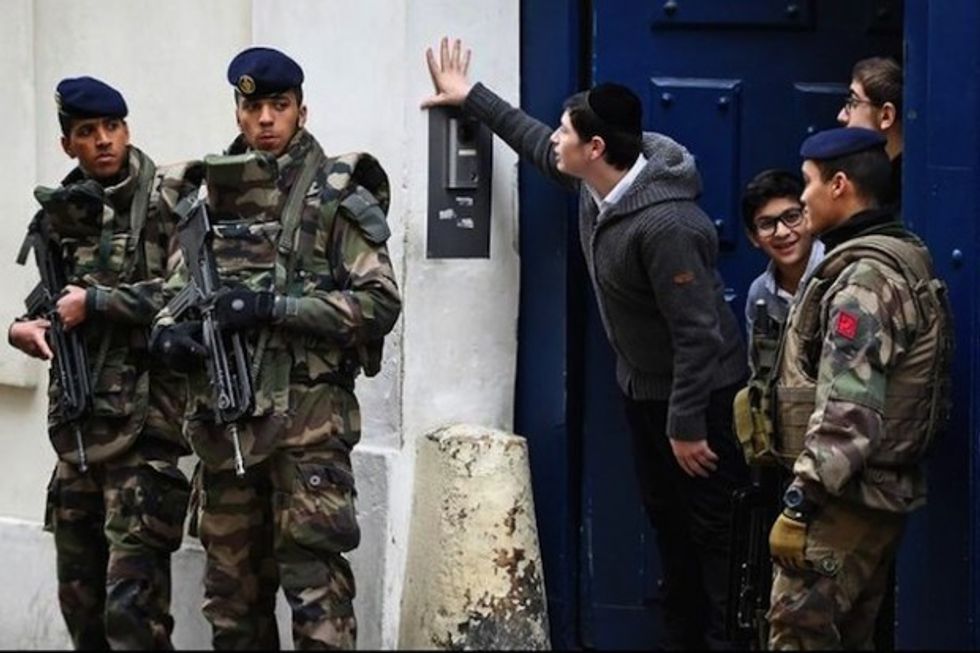 Children look out from a doorway as armed soldiers patrol outside a school in the Jewish quarter of Paris' Marais district, Jan. 13, 2015. (Jeff J Mitchell/Getty Images)
As a man of faith, Lellouche said he believes his community's devotion to God provides strength during an extremely trying period.
"We must continue to trust in God that everything He does is for our good," he said.
"People are asking how to live and have faith after all the attacks. We see evil, we see what we saw on TV, how [do we] live and to believe there is a creator and there is a future?" he said. "With faith we are strong, and we have hope to live and build. The children thank God give us this strength. Because of the children we continue to be strong and stand against the evil."