The spat between talk show host Ellen DeGeneres and Christian commentator Larry Tomczak continued Thursday morning, with Tomczak penning an open letter to the comedian in which he questioned the societal consequences of accepting gay marriage.
"Ellen, a nation rises or falls on marriage," he wrote. "If we dismantle this pillar of society, as it has existed for over 5000 years of Western civilization and redefine it to accommodate other arrangements such as yours (or those advocating for polyamorous, polygamous or other configurations) what will be the consequences for this sacred institution and the future of our nation?"
Tomczak affirmed his belief that marriage must be restricted to one man and one woman and that the historical narrative has always been consistent on the matter, highlighting some of the reasons he believes "gay 'marriage' is morally wrong."
Among his arguments, Tomczak said that same-sex unions violate biblical teaching and contradict nature and the basic design of both men and women.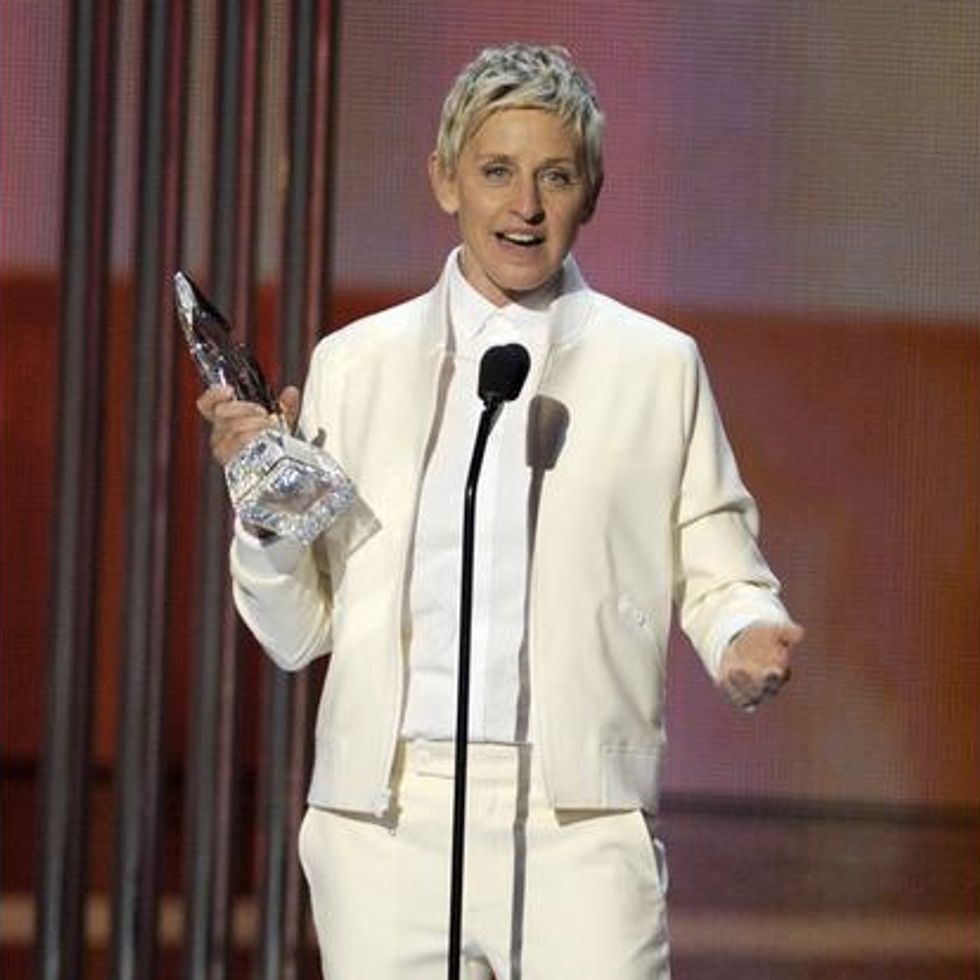 Ellen DeGeneres presents the award for favorite TV icon at the People's Choice Awards at the Nokia Theatre on Wednesday, Jan. 7, 2015, in Los Angeles. (Photo by Chris Pizzello/Invision/AP)
"It is an injustice and unequivocally harmful arrangement wherein our most precious entrustment, our children, are denied the love and nurture of a father and a mother who complement each other in a healthy family," he wrote.
Despite these claims, the letter also offered up some accolades.
Striking a more welcoming tone in addressing DeGeneres from his initial op-ed in which he wrote that she "celebrates her lesbianism and 'marriage'" as evidence of one of the ways in which Hollywood is purportedly pushing a gay agenda, Tomczak opened the letter by complimenting the comedian.
"Yesterday morning I awoke to discover you spoke to me directly on your nationally syndicated, award-winning talk show," he wrote. "I was stunned and humbled because I believe you are such an incredibly gifted comedian with a God-given gift to entertain and make people feel genuinely valued. You also have a megawatt smile that simply makes people feel happy."
Tomczak said that he, like DeGeneres, is hoping to help people become more compassionate toward one another and asked her to consider some of his thoughts, adding that he wouldn't mind chatting with her over coffee.
From there, he shared his Christian faith journey, admitting that the Christian church, as a whole, has some "blemishes" and that the faithful have many times "fallen far short." In that vein, he called for civil discussion on both sides of the divide.
"Ellen, hasn't the time arrived for everyone involved in this dialogue on gay-related issues to lower our voices and approach one another with respect and civility though we have our differences?" he asked. "I know there's a lot of shouting and accusation and name calling on all sides of the gay debate, but how about you and I modeling something positive?"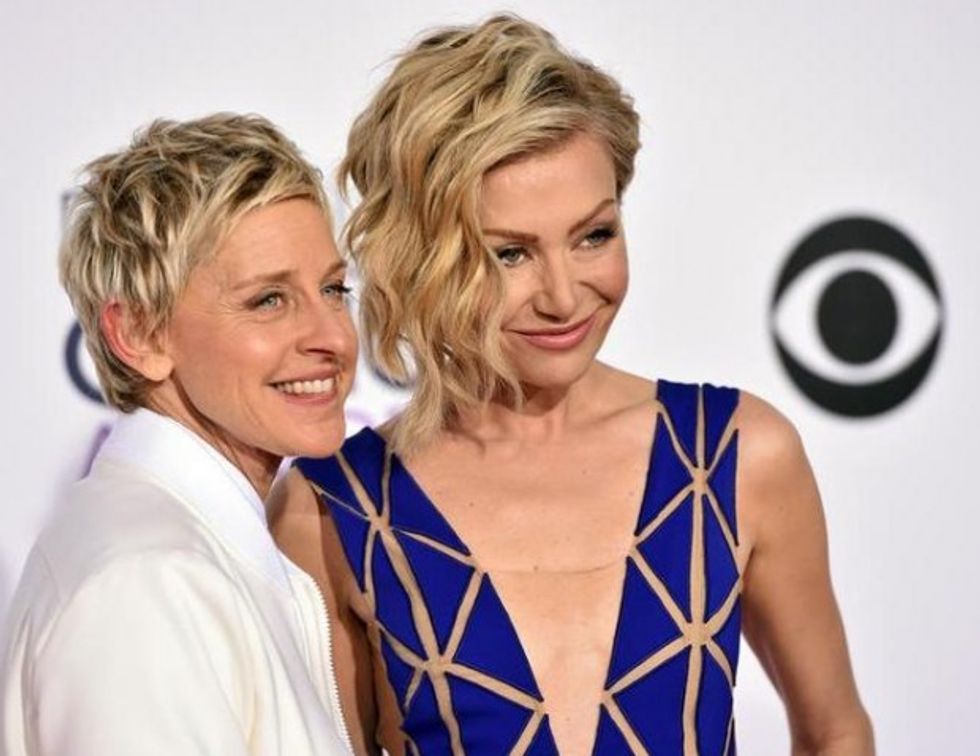 Ellen DeGeneres, left, and Portia de Rossi arrive at the People's Choice Awards at the Nokia Theatre on Wednesday, Jan. 7, 2015, in Los Angeles. (Photo by John Shearer/Invision/AP)
Tomczak then proceeded to challenge DeGeneres' contention that she doesn't have an agenda — a claim she made on her show Wednesday in response to the author's comments about her sexuality.
He noted that she has been an outspoken advocate working with numerous pro-gay organizations and that she was featured on the cover of Time in 1997 announcing that she's gay, arguing that she has positioned herself as a spokesperson on the matter.
"In the quote you shared on TV I want to reassure you that I never thought or implied that you were trying to purposefully influence young girls into lesbianism," Tomczak wrote. "Instead, my point was that, as an out and proud lesbian woman — probably the best known and most-loved in the world — you wield tremendous influence over these girls, and your influence is decidedly pro-lesbian. Wouldn't you agree?"
He said that DeGeneres might not realize the responsibility she has when it comes to impacting these children, citing her personal relationships in making that claim.
"Being 56 years old, childless and with your third 'partner,' you may not understand the awesome responsibility it is to shape impressionable and vulnerable children," he wrote. "I've done it with children and grandchildren plus helped parents for over 42 years with this most challenging task."
Read the letter in its entirety here.