A top House Republican says the Department of Veterans Affairs' Office of Inspector General is purposely keeping damaging reports about the VA a secret from Congress and the public.
Veterans' Affairs Committee Chairman Jeff Miller (R-Fla.) says there are two recent examples in with the OIG kept back damaging reports. One was a 2008 report that showed the VA knew that health care wait times were being manipulated, but that report was never released.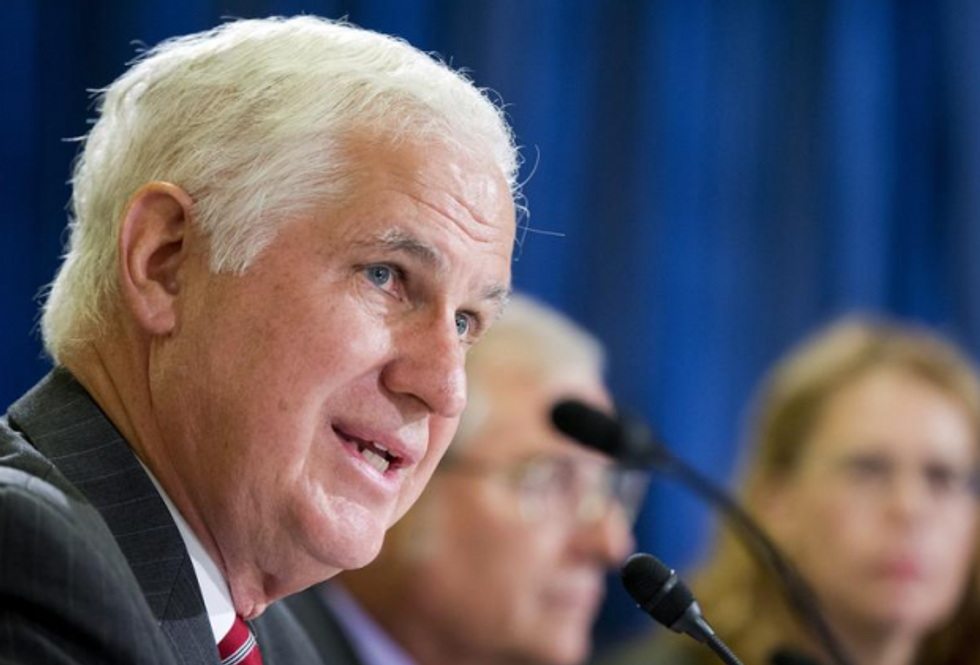 Richard Griffin, the acting Inspector General for the Department of Veterans Affairs, has rejected the idea of sharing draft OIG reports with Congress, despite evidence that many reports that criticize the VA are never released.
Image: AP Photo/Manuel Balce Ceneta
According to the Washington Examiner, the report was "restricted," which meant it took a whistleblower to alert Congress of the huge problems not only at the Phoenix VA system, but in VA centers around the country.
And just this week, the Center for Investigative Reporting wrote that the OIG found in March that the VA center in Tomah, Wisconsin may be handing out morphine to veterans in very large doses, large enough to raise "potentially serious concerns" at VA headquarters. But that report noted that the OIG findings have yet to be released formally.
Those two examples prompted Miller to warn Thursday that Congress would keep up pressure on the OIG to promptly release reports that could help improve the health services received by veterans, and might even help save lives.
"The VA scandal was all about secret waiting lists, and it looks as if there is another scandal brewing at OIG – one that involves secret reports," Miller said. "As the old saying goes, 'sunlight is the best disinfectant.' We will maintain pressure on the OIG until it learns this valuable lesson."
Miller said the Wisconsin story is the latest piece of evidence that the OIG is not working properly, and said he's "extremely disappointed" that the OIG knew about problems in that state for almost a year without telling Congress.
To fix the problem, Miller has asked the OIG to give Congress all draft reports at the same time they are provided to the VA for review. But late last year, Acting Inspector General Richard Griffin said he would not, and that draft reports need to kept between the OIG and the VA until they are finalized.
That's normally how OIG's work in any federal agency, but by writing reports on the VA it never issues, Miller says the VA's inspector general is making it even harder to fix what most agree is a completely broken VA.
"Whether the topic is accountability, whistleblower protection or pain management, the rhetoric coming out of VA's central office often doesn't match the reality of what's actually happening on the ground," Miller said.