Nearly flattened between two semis during a predawn highway pileup Saturday, Kaleb Whitby wondered how he possibly could have survived.
"Thank God that I'm still alive," Whitby told the Oregonian. "Now I've got to go figure out why."
Here's a look at why the 27-year-old will likely stay amazed for the foreseeable future:
WOW: I-84 pileup: Crushed by 2 big rigs, he walks out with 2 Band-Aids http://t.co/aGVIw3E9oF pic.twitter.com/foxeuD9i3t

— The Oregonian (@Oregonian) January 18, 2015
The huge accident scene on Interstate 84 in northeast Oregon was due to heavy fog, black ice, heavy winds and freezing conditions, the paper noted.
Here's a wider view of the pileup, which claimed no lives: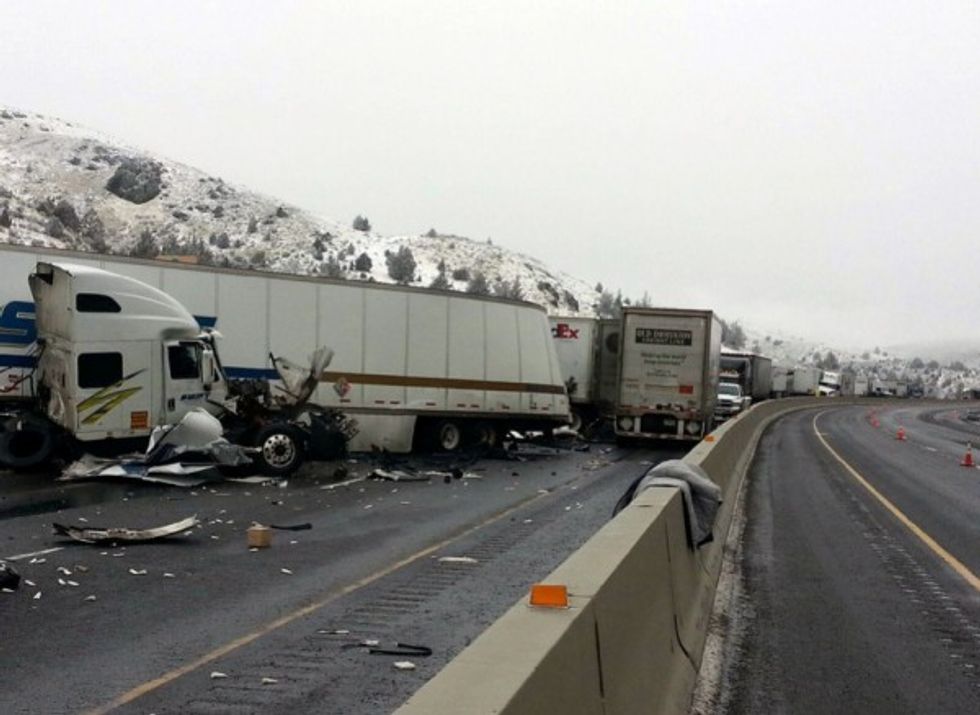 The scene of an accident on I-84 in Oregon Saturday, Jan. 17, 2015. (Image source: AP/Oregon Department of Transportation)
More from the Oregonian:
Whitby had to be in Council, Idaho, by 9 a.m. Mountain Time. He left his pregnant wife and their 2-year-old son back in Washington's Tri-Cities area — Pasco, Kennewick and Richland. The farmer had been on the road for a while, and still had more than 100 miles to go. He had two truckloads of cattle waiting for him in Council.

Headed up a slight hill into a curve, Whitby decided to pass the semi-truck in front of him, but then thought better of it. The fog was too thick. He backed off.

When he rounded the curve and started descending, Whitby saw the semi again — but this time it was jackknifed across the interstate. He swerved to the right, but ended up hitting the back end of the trailer. It flipped him around, and instantly his truck stalled — leaving him splayed out with his passenger side facing oncoming traffic.

Then the headlights of an oncoming semi-truck filled the window frame.
"I just braced and hoped that everything would be all right," Whitby told the paper, noting that he also starting praying as the truck was seconds from slamming into him.
After the impact, Whitby noticed he was still alive — and that the steering column was lodged in his right hip. So he got to work freeing himself and calling for help.
Soon trucker Sergi Karplyuk, following behind, became disabled, got out of his cab and saw Whitby sandwiched between the two semis. Figuring out he was truly OK, the shocked Karplyuk asked Whitby if he could take a photograph, the Oregonian said.
Later at a hospital for a quick once over, Whitby received not one, but two Band-Aids on his right ring finger and some ice on his left eye, the paper noted. Nothing else.
More from the Oregonian:
His parents picked him up, and they planned to head back to the Tri-Cities. He said he can't wait to hug his wife and son.

He doesn't know what to think about Saturday morning.

"That was my first accident," Whitby said.
This story was updated with an additional photo.
—
Follow Dave Urbanski (@DaveVUrbanski) on Twitter