Former Secretary of State Hillary Clinton will deliver two speeches this week in Canada for events sponsored by a bank that has been the subject of multiple corruption investigations and a class action lawsuit for its connection with the corruption energy firm Enron and its role in the subprime mortgage crisis, McClatchy reported.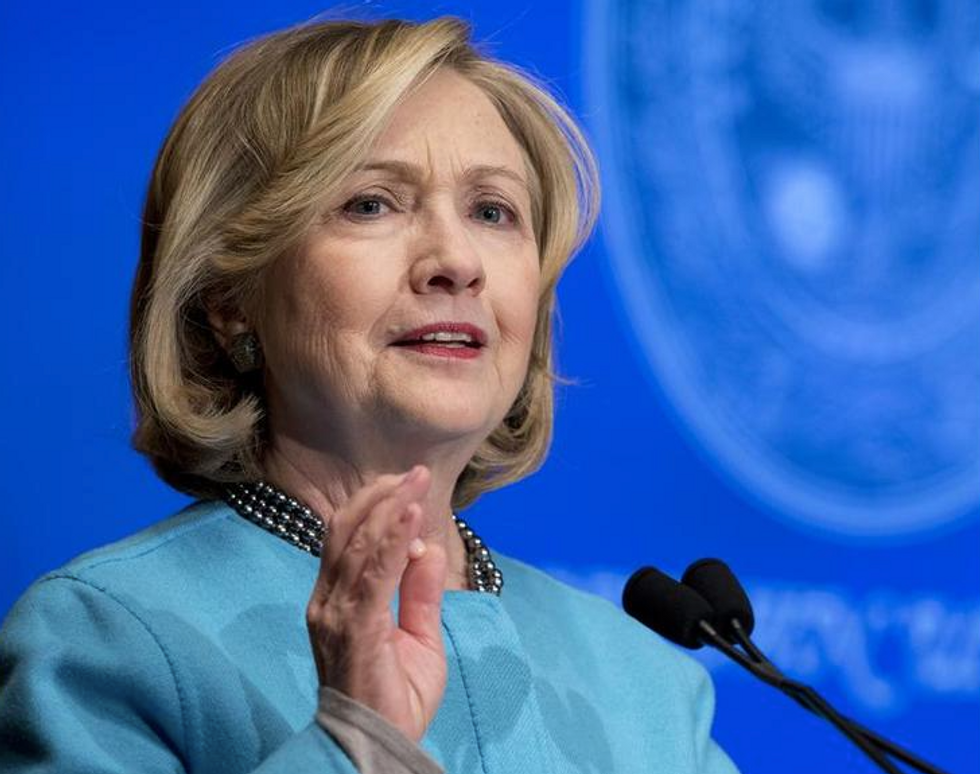 (AP Photo)
Clinton, who has been criticized by the left wing of the Democratic party for being too cozy with Wall Street and the financial industry, will deliver the speeches Wednesday in Winnipeg and Saskatoon as part of the Global Perspective speaker's series sponsored by the Toronto-based Canadian Imperial Bank of Commerce (CIBC).
The bank has made several multi-million dollar settlements over allegations of wrongdoing with the U.S. Securities and Exchange Commission. But, in those settlement the banks never admitted to wrongdoing.
Neither a Clinton spokesperson nor a bank spokesperson responded to McClatchy inquiries about whether Clinton was getting paid for the speeches. The former first lady is known for getting $200,000 or more for previous speeches.
The speeches come a day after President Barack Obama delivers his State of the Union address that is expected to focus largely on income inequality.
- CIBC, in 2003, settled a case for $80 million with the Securities and Exchange Commission for allegedly helping Enron mislead investors. Two CIBC executives also settled for a total of $600,000 with the SEC on charges of aiding and abetting the Enron fraud.
- In 2005, CIBC settled an SEC case for $125 million after the SEC accused the bank of financing late trading to increase their customers' trading profits. This came at the expense of the bank's long-term mutual fund shareholders, according to the SEC.
- The bank agreed to settle again with the SEC in 2005, paying almost $500,000 regarding allegations that it acted illegally by underwriting municipal securities for the state of California after contributing to the campaigns of six of the states politicians, including former Democratic California Gov. Gray Davis, according to the SEC.
- After the subprime mortgage crisis, the bank is facing $4 billion in lawsuits regarding allegations that it didn't warn investors of the risk they faced.