The Congressional Budget Office says legislation the House will pass this week to ban abortions after 20 weeks of pregnancy would lead to an increase in the budget deficit of at least $235 million over the next decade, and perhaps as much as half a billion dollars.
The CBO released a report Tuesday for the Pain-Capable Unborn Child Protection Act, H.R. 36, which the House will consider on Thursday. That bill aims to ban abortions after 20 weeks, and is based on evidence that a fetus can feel pain once it reaches that age.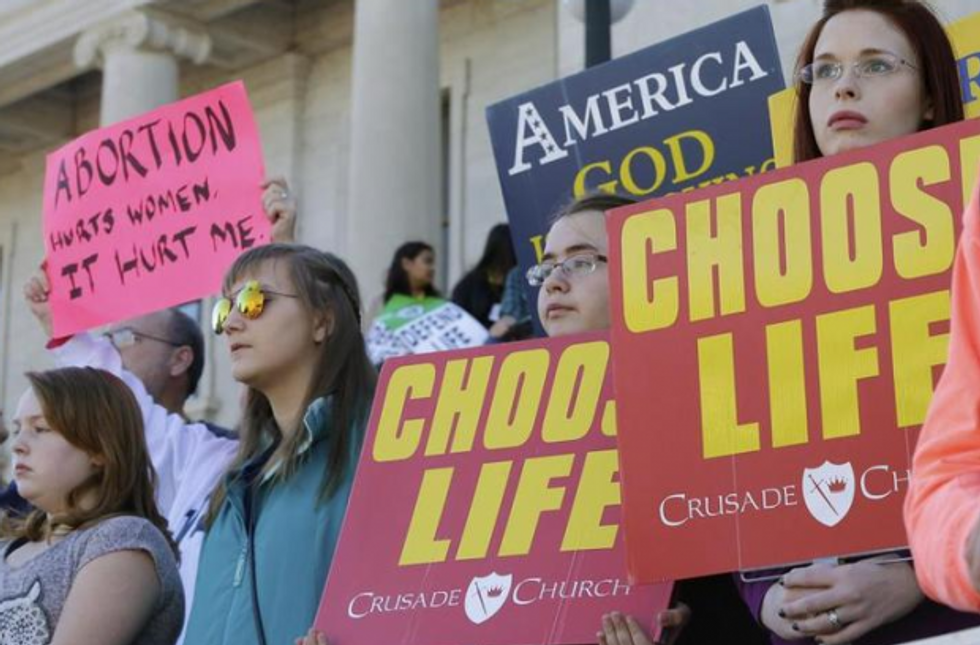 People hold signs as they attend an anti-abortion rally at the Arkansas state Capitol in Little Rock, Ark., on Sunday. House Republicans will pass a bill prohibiting abortion after 20 weeks of pregnancy, a bill that the Congressional Budget Office says will increase the budget deficit.
Image: AP Photo/Danny Johnston
CBO's report assumes that if the legislation were to become law, about three-quarters of the abortions that might normally happen after 20 weeks would happen earlier, in order to comply with the law.
But it also assumes that the remaining quarter of people who don't get an earlier abortion would give birth. CBO said that means higher Medicaid costs related to childbirth over a ten-year period.
"Depending on the number of additional births under H.R. 36, such Medicaid costs could range from about $100 million over the next 10 years to nearly $500 million over that period," CBO said.
CBO settled on an estimate of $235 million.
Republicans are know to be budget hawks, but a House aide said GOP leaders will not require Rep. Trent Franks (R-Ariz.), the bill's sponsor, to find a spending offset for the bill. The aide also dismissed the budget impact of the bill as a relatively small cost — $23 million per year on average — which is not as important as putting a limit on abortions.
"It's essentially the cost of these babies living, which is the kind of expense we're all right with," the aide said.
Franks has proposed similar language in past Congresses, and says his bill is needed to protect unborn children who are capable of feeling pain. "These are innocent and defenseless children who can not only feel pain, but who can survive outside of the womb in most cases, and who are torturously killed without even basic anesthesia," he said.
Franks' bill would allow for exceptions to the abortion ban in cases of rape and incest, although his bill does require doctors to take all reasonable steps to save the life of these unborn children.
Read CBO's score of the Franks bill here: