Nick Betts is a seasoned combat veteran. He's served three tours of duty — a total of 36 months — in Iraq and Afghanistan as an Army recon sniper. He's even going back for more, returning soon to Iraq as a contracted sniper in Baghdad.
Betts was in the Iraqi city of Ramadi in 2006 and 2007 when it was one of the most dangerous areas in the entire country. He happened to be in Ramadi at the same time the late legendary Navy SEAL sniper Chris Kyle and Navy SEAL Marcus Luttrell were also serving there.
So, it goes without saying that there aren't many people more qualified to offer advice to shooters who want to sharpen their skills. We coincidentally ran into Betts at the 2015 SHOT Show at the Sands Expo and Convention Center in Las Vegas on Wednesday.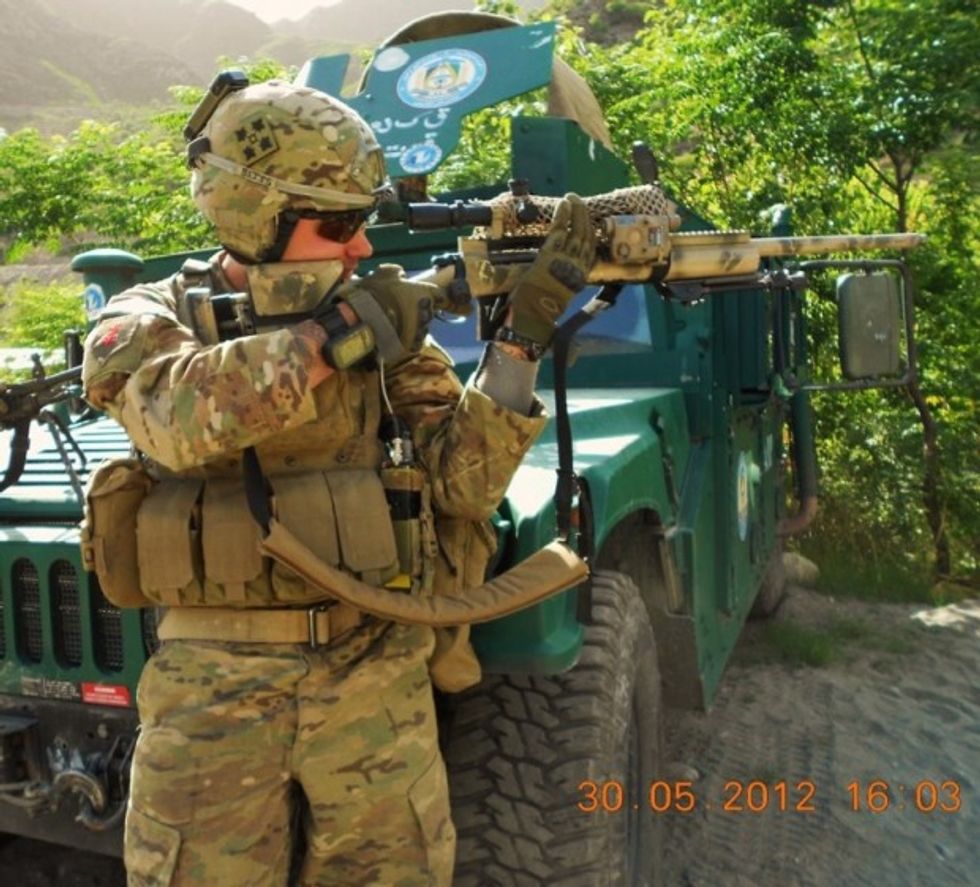 Photo provided by Nick Betts
The former Army sniper, who was his battalion's sniper section leader before he was done, offered up four key pieces of advice for mastering long-range shooting with a rifle. Shooters, pay attention.
(Scroll down to learn more about AmericanSnipers.org)
Having a Proper 'Zero'
It might seem like it goes without saying, but making sure your rifle is well-sighted — or making sure it has a proper "zero" -- is one of the most vital aspects of long distance shooting, Betts told TheBlaze.
"First things first," Betts began, taking a deep breath. "You have to have a proper zero on your rifle. If you don't — say your zero is off by an inch at 100 meters. An inch is nothing. But at 1,000 meters, you are talking about 10 inches already."
Inexperienced shooters should either research how to properly zero a rifle or seek help from a professional. Here's a demonstration by Navy SEAL Kyle Defoor:
Control Your Breathing
Controlling your breathing throughout your shot is a "huge, huge deal," Betts said. While there's no one-size-fits-all approach to breathing techniques, shooters should definitely find their preference and master it so their breathing doesn't harm accuracy.
"Some guys have it where it's going to be on the full inhale, others on the full exhale, and some do it in between," he explained. "It's all about finding your natural shooting position. But you don't want to hold your breath because you'll start getting shaky, your heart is going to start elevating and there is more and more shooter error."
The veteran said shooters should remember that mistakes become increasingly exaggerated the more distance there is between the shooter and the target.
Trigger Control and Anticipation
Pulling the trigger of a rifle should be a smooth squeezing motion, not a jerk. Many times poor trigger control is the result of a shooter anticipating the weapon's kick or recoil.
This is an important lesson that he had to teach soldiers when they were training to be snipers. He explained how he would break them of the bad habit:
"What I would do is, I would either put a bullet in there or I wouldn't put a bullet in there. And the sniper wouldn't know it, I'd have him turn around. Then I'd have them get down, get on target, get a good sight picture and then squeeze. If there was no round in there and I'd see them flinch or anticipate or whatever, I'd kick them in the head and say, 'Hey! listen, the gun's not going to kill you. You know what to do with it."
And that did the trick.
Maintain Your 'Perishable' Shooting Skills
Betts agreed that this point is also very obvious, but is arguably the most important and routinely broken rules of shooting.
"Shooting is such a perishable skill," he said. "If you don't practice, you're not going to get it."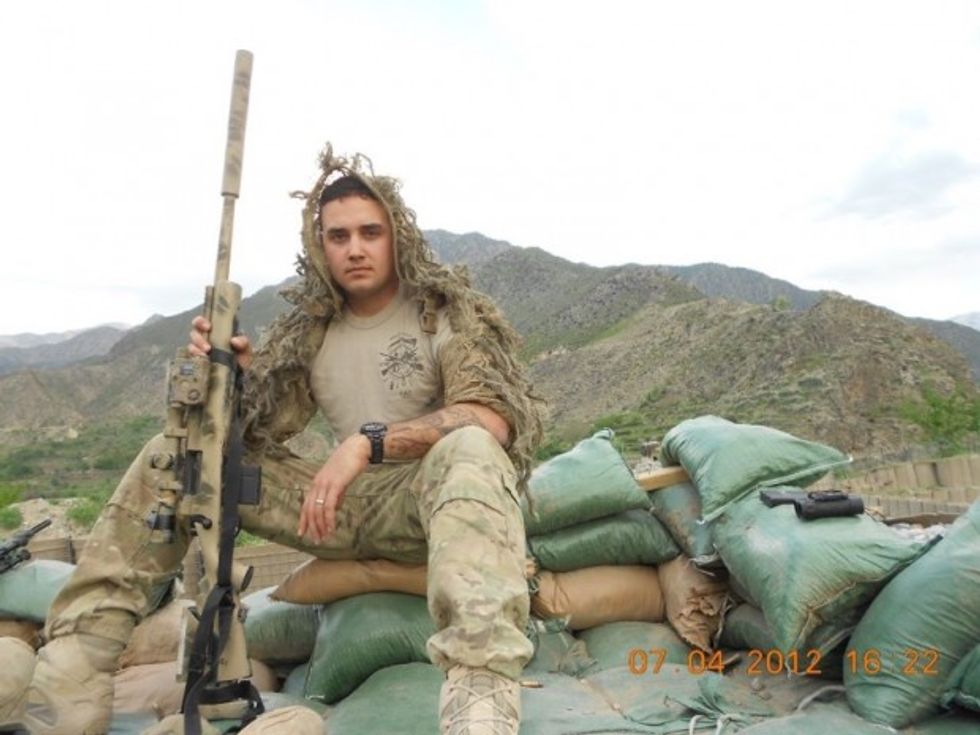 Photo provided by Nick Betts
Betts also suggested people who are truly interested in improving their rifle shooting should practice in various environments and conditions. He said he would regularly sit prone with his unloaded rifle, train his sights on a target and squeeze the trigger to make sure his aim and fundamentals were on point.
He said dry firing a weapon is a great way to stay sharp when you can't get to the gun range.
'I'm Not a F***ing Coward'
While we talked guns, we also asked Betts if he had any thoughts on the several people who have bashed Chris Kyle's "American Sniper" story — and in some cases, all snipers.
"Are you talking about that Michael Moore piece of s**t?" Betts asked bluntly. He later added, "I'm not a f***ing coward."
Moore recently said that he was taught that snipers were all "cowards" after his uncle was killed by one in World War II. His remarks coincided with the release of "American Sniper," but he claimed his comments were unrelated.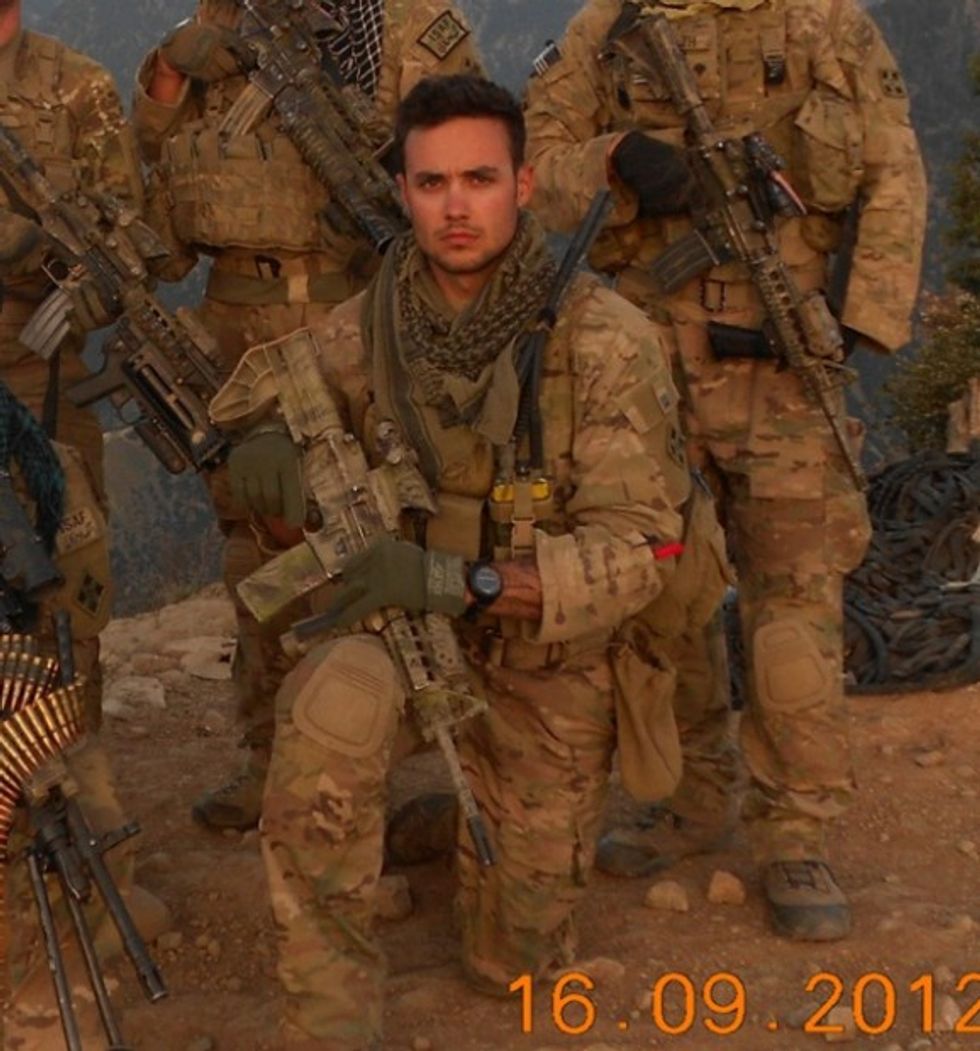 Photo provided by Nick Betts
Th former Army sniper said he had to look into his soul after he killed a militant combatant for the first time during his service. He said he wanted to figure out why he didn't "feel bad" for killing another human being — and it came down to the fact that he had to kill those who wanted to kill him and other American soldiers based on an evil ideology.
"I think if you take Seth Rogen and Michael Moore and put them behind a rifle for 15 months and you see your friends murdered in front of you — I bet they'd put pull the trigger too when the time came."
He also pointed out that people who run their mouths and trash soldiers have never had to see the kind of evil that veterans witness up-close — instead, they get to "live in a bubble" while others defend their freedoms.
In addition to being a sniper, Betts' other passion is supporting his fellow military veterans. That's why he joined AmericanSnipers.org, a non-profit organization that provides operational equipment to American military snipers deployed in combat.
He said the red tape that can sometimes prevent snipers from getting new equipment — or fixing old gear — can be extremely frustrating. By getting them the equipment they need, Betts said they are safer and can effectively do their jobs and focus on saving American lives.
Learn more about the non-profit group here.