President Barack Obama has agreed to meet with Naghmeh Abedini, the wife of American Pastor Saeed Abedini, who has been detained inside the brutal Iranian prison system since 2012 on Wednesday — a development that the preacher's wife calls a true "miracle."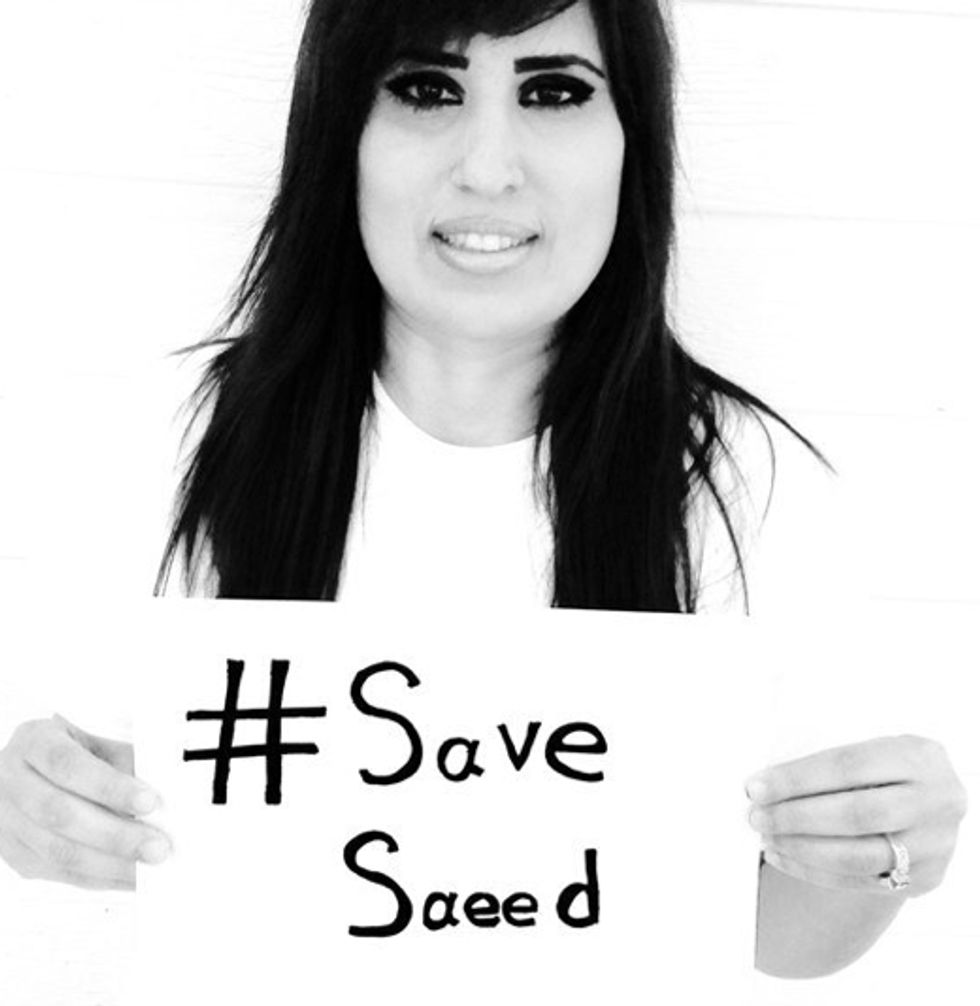 Naghmeh Abedini has been fighting for the release of her husband from the Iranian prison system. (Image via Twitter/@NeghmehAbedini)
Abedini, who has been heavily critical of the Obama administration's past silence about her husband's plight, told TheBlaze in a phone interview that she spent the past three days fervently fasting and praying that the president would heed her calls for a meeting during his trip to Idaho Wednesday.
"I heard on Friday of last week that Obama was coming to Boise and that was a shock, and then I started reaching out to media and government officials and contacts I had in D.C. … asking to meet with the president," Abedini said. "I really didn't expect much … if they hadn't told me days or months in advance, I didn't expect to meet with him."
[sharequote align="center"]"I have no connections, I'm not some big Hollywood person, but I have connection with God."[/sharequote]
But Abedini was surprised on Tuesday when a State Department contact phoned her to say that Obama wanted to meet with her and her two children. An official at the White House called later to firm up the details, she said.
"My initial thought [after getting the call] was the scripture from the Bible that the king's heart is in the hands of God," she said, citing Proverbs 21:1, before noting that she felt Obama's agreement to meet was a "miracle."
Abedini, who said she knows how sensitive Iranian-U.S. relations are right now, also spent three days fasting before learning of the Obama meeting, pleading with God to step in and to open the president's heart to the prospect.
"I have no connections, I'm not some big Hollywood person, but I have connection with God," she said. "I was like, 'God, you've got to make this happen. … I said, 'You know God, you have the connections and you can make it happen.'"
In the end, Abedini was granted her wish and will be joined by her children, Rebecca, 8, and Jacob, 6, in sitting down with Obama.
"The best news [in the world] would be Saeed's release, but this was pretty high up there with the best news I've heard," Abedini said. "It shows a lot that President Obama is setting aside time to meet with the kids and I."
[sharequote align="center"]"I was like, 'God, you've got to make this happen.'"[/sharequote]
Abedini said that both Rebecca and Jacob, who haven't seen their father since they were toddlers, are extremely excited and "jumped up and down" when they heard that they would be meeting with Obama. Jacob even told his mother that he has a message he wants to deliver to the commander in chief.
"He said, 'I will tell [Obama], can you please bring my daddy home? My birthday is March 17,'" Abedini said of her son's plans for setting a deadline for his father's release. "I was thinking, 'He's giving a date that he wants President Obama to bring [Saeed] home by. He's really trusting that our president will make it happen. And I'm just praying that his little heart won't be broken."
Abedini said that she's hoping Obama's heart "would be touched" and that seeing the kids without their father will make an impact.
"He's a dad. He knows that the biggest torture Saeed is facing is not being there when his kids are without him," she said. "My hope is that he will see … our suffering … and he would pick up the phone and say what he needs to say to make it happen. I think he can do that."
[sharequote align="center"]"'I will tell [Obama], can you please bring my daddy home?'"[/sharequote]
As TheBlaze previously reported, Saeed Abedini has faced health troubles as well as threats on his life in the Rajai Shahr detention center, including alleged harassment from members of the Islamic State. But despite the heartache and the dangerous circumstances, Abedini said that her husband is forging on as she battles for his release.
Saeed Abedini with his wife, Neghmeh and his children, Jacob and Rebecca. (Photo courtesy ACLJ)
She said that his father, who spent Christmas with her and her children, was allowed to visit Saeed on Wednesday morning after being granted a rare opportunity for an in-person meeting. And the first thing that the grandfather did was deliver a message from Jacob.
"Jacob's message to my father-in-law was to, 'Give daddy a kiss,' and my father-in-law was able to give that kiss," she said, noting that he also shared photos of the family's Christmas celebrations. "It was a good meeting."
Abedini will be sitting down with Obama while he is in Boise, Idaho, on Wednesday, addressing unrelated political proposals. The president broke his silence on the pastor's plight at last year's National Prayer Breakfast, where he pledged to do everything in his power to secure his release, though, to date, no prominent member of the administration has met with or called the family to discuss the matter.
Saeed Abedini was first arrested in 2012 on charges stemming from meetings he had with other Christians inside private homes — an act that is not illegal in Iran.