A bipartisan group of House members has proposed legislation that would stop members of Congress from getting automatic pay hikes each year.
Reps. Kyrsten Sinema (D-Ariz.) and Michael McCaul (R-Texas) proposed the No Raise for Congress act, along with four other Democrats and three Republicans. Members cast the bill as an idea whose time has come in light of rising national debt and the lack of jobs for millions of Americans.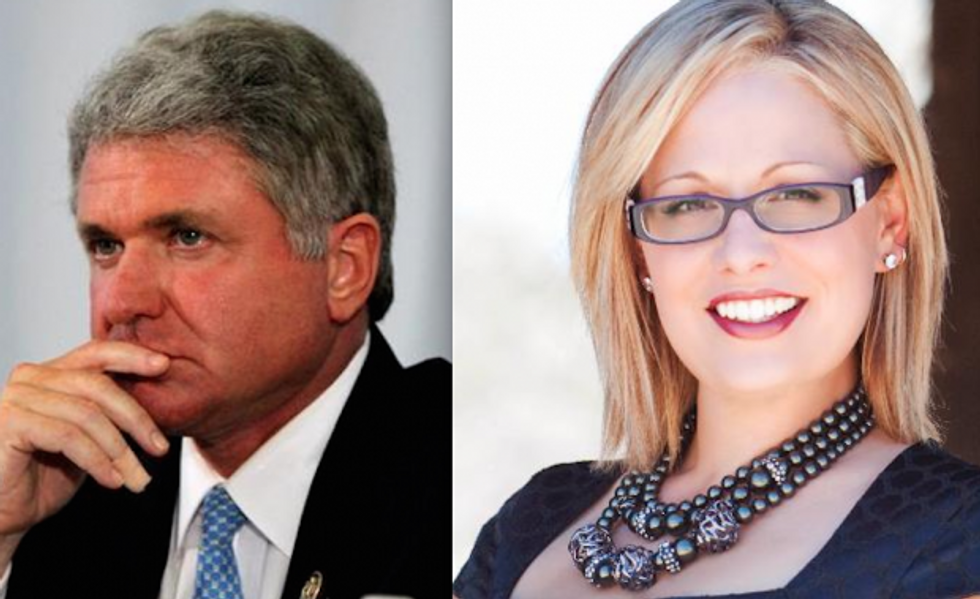 Reps. Mike McCaul (R-Texas) and Kyrsten Sinema (D-Ariz.) are proposing to end automatic pay increases for members of Congress.
McCaul image: Fort Worth Star-Telegram/MCT via Getty Images
"Washington is addicted to spending and the best place to start cutting is by eliminating this pay raise and sending a message to the American people that their priorities are our priorities," McCaul said.
"Congress doesn't deserve a raise, especially when so many American families are still struggling to recover from the recession," said Sinema. "I am proud to join a bipartisan group of my colleagues in introducing this common sense reform that saves tax dollars and puts hard-working American families first."
Congress seems like it might be ready to abandon the automatic pay hikes that were created in a 1989 law, the Ethics Reform Act. Since that law was put in place, Congress has routinely passed legislation to forego these increases.
The last raise Congress accepted was in 2009, and rank-and-file members now earn $174,000 per year. Those in leadership positions earn a bit more.
Members of Congress also don't get raises if the base pay of federal workers doesn't rise, which means the salary freeze for federal workers over the last few years has resulted in a congressional salary freeze.
Other sponsors of the bill are Reps. Brad Ashford (D-Neb.), Cheri Bustos (D-Ill.), Gwen Graham (D-Fla.), Frank LoBiondo (R-N.J.), Patrick Murphy (D-Fla.), Matt Salmon (R-Ariz.) and Mark Sanford (R-S.C.).