At eight months pregnant, Emily Nalepa was out diaper shopping with her husband last month when she became dizzy and hot.
Her legs gave out and she was rushed to the emergency room. It was one week before Christmas.
Nalepa had suffered a stroke. According to a new study from the American College of Obstetricians and Gynecologists, there's been an increase in strokes among pregnant women and new mothers since the mid-1990s, and doctors are trying to understand the cause.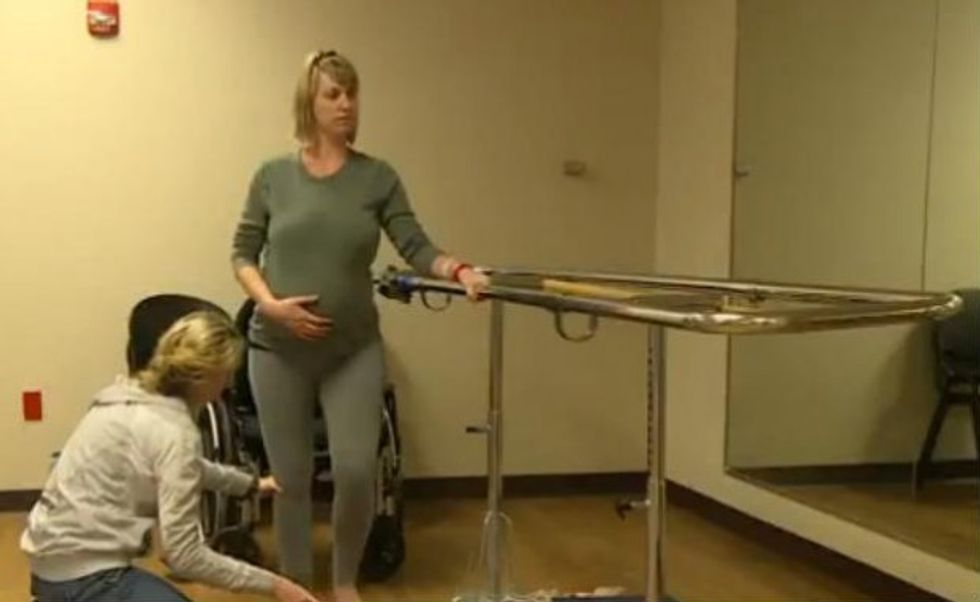 Emily Nalepa gets therapy while trying to walk again at eight months pregnant. (Image source: WFAA-TV)
"We've had younger and younger people with strokes. In their 20s. In their 30s. Early 40s. Prime of life where we're having babies," physical therapist Molly Trammel told WFAA-TV in Texas, where Nalepa is working on her recovery.
According to the study released this month, between 1994–1995 and 2010–2011, the rate of strokes among women with hypertensive pregnancy disorders doubled from 0.8 to 1.6 per every 10,000 pregnancy hospitalizations; the stroke rate for women without hypertensive disorders rose from 2.2 to 3.2 out of every 10,000 pregnancy hospitalizations.
Nalepa, 31, is focused on achieving a full recovery. She spends seven hours a day at the Baylor Institute for Rehabilitation learning to walk again. For her, getting better isn't an option, but a necessity: her baby girl is due in just two weeks.
"I'm trying. I have no choice. I have to fight," Nalepa said.
"For her, time is everything. We've got to get her back to independence," Trammel said.
Looking back on what happened, Nalepa said she didn't know at the time whether she would make it to see her husband again, much less her baby.
"I think it's going to make all of this worth it in the end and it will make me proud of myself for pushing as hard as I have to be the best that I can be before she comes," Nalepa said.
(H/T: WFAA-TV)
–
Follow Jon Street (@JonStreet) on Twitter