The nominee to be the next Attorney General on Wednesday defended President Barack Obama's executive action on immigration, and backed up the Department of Justice's assessment of whether that action was legal.
U.S. Attorney Loretta Lynch testified at the Senate Judiciary Committee on Wednesday morning, and was expected to be pressed repeatedly on the legality of Obama's immigration action, as well as other actions from Obama that the GOP opposes.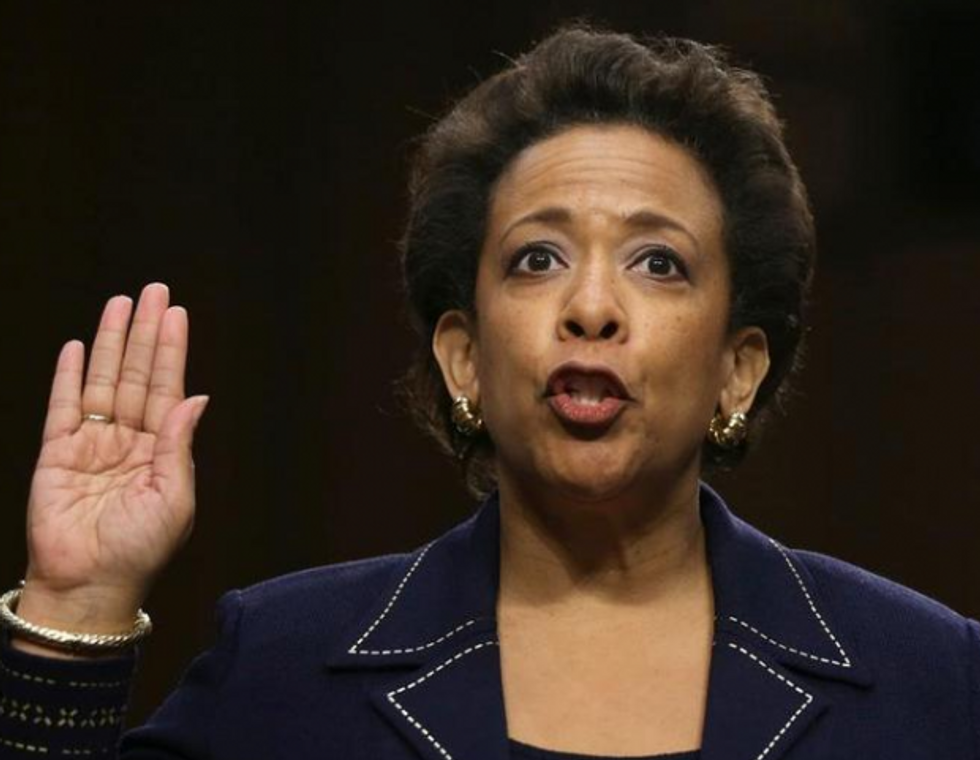 Attorney General nominee Loretta Lynch on Wednesday said the analysis on the legality of President Obama's immigration action seemed 'reasonable.' Image: Alex Wong/Getty Images
Republicans have contended that Obama went too far by using the concept of prosecutorial discretion to potentially exempt millions of illegal immigrants from deportation. The GOP says this discretion can only be used in individual cases, and cannot be used to protect millions of people at once.
Committee Chairman Chuck Grassley (R-Iowa) used his first question to ask Lynch her views, and she said she believes the legal advice the Department of Justice gave to the White House was sound.
"It seems to be a reasonable discussion of legal precedent, the relevant statute, congressional actions, along with the enforcement discretion of the agency," she said of a memo produced by Justice's Office of Legal Counsel. "And I don't see any reason to doubt the reasonableness of those views."
Grassley pressed further by asking what the outer limits of prosecutorial discretion are, if Obama's action was legal. Lynch replied that the action should be seen as a way for the Department of Homeland Security to prioritize which people to deport.
Lynch added that she has seen nothing come out of the Justice Department that would prevent it from taking action on illegal immigrants that are not a top priority.
"I viewed it as a way in which the Department of Homeland Security was seeking legal guidance on the most effective way to prioritize the removal of large numbers of individuals given that resources would not permit removal of everyone," she said.
Lynch was approved unanimously by the Senate to her current post, and Republicans on Wednesday seemed to receive her well during the early part of the hearing. But her remarks on immigration seem likely to give some Republicans pause when considering her nomination.
Grassley and other Republicans used the hearing to push Lynch on whether she would be independent from Obama, and serve all Americans and the law instead of just the president. Grassley said Eric Holder's tenure at the Justice Department has been marked by an extreme politicization of the department.
"That's what happens when an Attorney General of the United States views himself, and these are his own words, as the president's wingman," Grassley said. "I for one need to be persuaded that [Lynch] will be an independent Attorney General and I have no reason to believe at this point she won't be."
Democrats took the position at the hearing that Republicans who were bringing up immigration were trying to blame Lynch for an action she had nothing to do with.
"Some are trying to drag extraneous issues, executive orders on immigration, the IRS, into the fray to challenge her nomination because they can't find anything in her record to point to," said Sen. Chuck Schumer (D-N.Y.).
Lynch may have scored some points early with the GOP by saying defending the Constitution would be her "lodestar" if she were confirmed, and by saying her personal views of the law would not determine how she enforces the law. But as Sen. Orrin Hatch (R-Utah) noted, that's just how Holder answered that question years ago.