One of the repeated allegations made against legendary Navy SEAL sniper Chris Kyle is that he was "racist" because he referred to radical Islamic militants in Iraq as "savages." Just on Tuesday, MSNBC's foreign correspondent claimed that "some" people believe Kyle was open about his "racist tendencies" as he went on "killing sprees" while serving in Iraq.
But on Friday, IJReview reportedly spoke to "Johnny Walker," who apparently worked with Navy SEALs, including Kyle, as an interpreter. The self-described "Iraqi Muslim" hit back strongly against claims that Kyle was a "racist" hellbent on killing Iraqis.
Walker claimed Kyle once told him that he trusted him with his life and later invited him to one of his book signings in La Jolla, an affluent suburb of San Diego.
"When Chris saw me at the event he left everyone and just came up to me and hugged me. Because he hadn't seen me since 2007 and thought I could have died and had no idea where I was," Walker told IJReview. "After he signed the book, he was going to speak. Ten seconds into his speech, he said I am not an American hero. Johnny Walker is the American hero and then he made me stand up."
"Then, he said that I saved more SEALs' lives than him. Pointing at me, and I am an Iraqi Muslim. So how is this racist?" he added.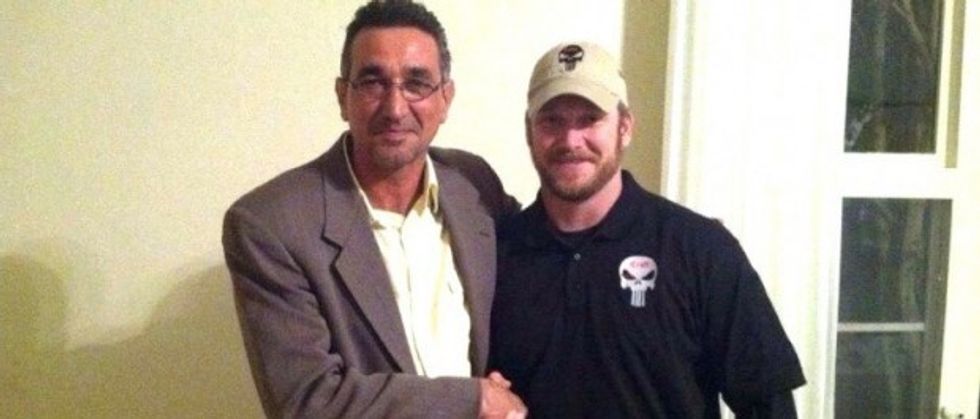 Screengrab via IJReview.com
Read more from the IJReview interview:
Sometimes I would forget to bring an MRE to a sniper mission. Chris would share his MRE and he would talk about family. If he was racist towards Muslims why would he share intimate details of his life with a Muslim? I don't see that in any way as racist. I think the ones calling Chris Kyle racist are racists.

If you're going to call Chris Kyle racist, then call me a racist too. At times we were on the base, Kyle would laugh with the other Iraqi soldiers and joke with them. Again, why would a racist engage in that behavior?

The insurgents had a $50,000.00 bounty on my head. Every time Chris Kyle killed an insurgent he saved my family, and the innocent Iraqi families too. Why would a racist man protect me and innocent Iraqi families?
Walker continued to slam critics who make what he believes are baseless against Kyle, saying it hurts his widow, Taya, his children, the rest of his family and even members of the SEAL community.
Image: Chris Kyle Memorial Trust
"He treated me, an Iraqi Muslim, like a brother. So everyone needs to give him the respect that he fully deserves, and finally let the man rest in peace," he concluded.
Walker, which is only his code name, has written a memoir titled, "Code Name: Johnny Walker: The Extraordinary Story of the Iraqi Who Risked Everything to Fight with the U.S. Navy SEALs."
--