PHOENIX (TheBlaze/AP) — In previous years, the scenario for getting Super Bowl tickets at a reasonable price was simply waiting until the last possible minute to buy.
That was how it played out last year in New York where many fans got into MetLife Stadium by purchasing tickets the day of the game for less than the listed price.
But Sunday's matchup between New England and Seattle is on pace to be the most expensive Super Bowl ticket in history. A shortage of tickets made available to brokers on the secondary market has driven prices into five figures even for nosebleed seats.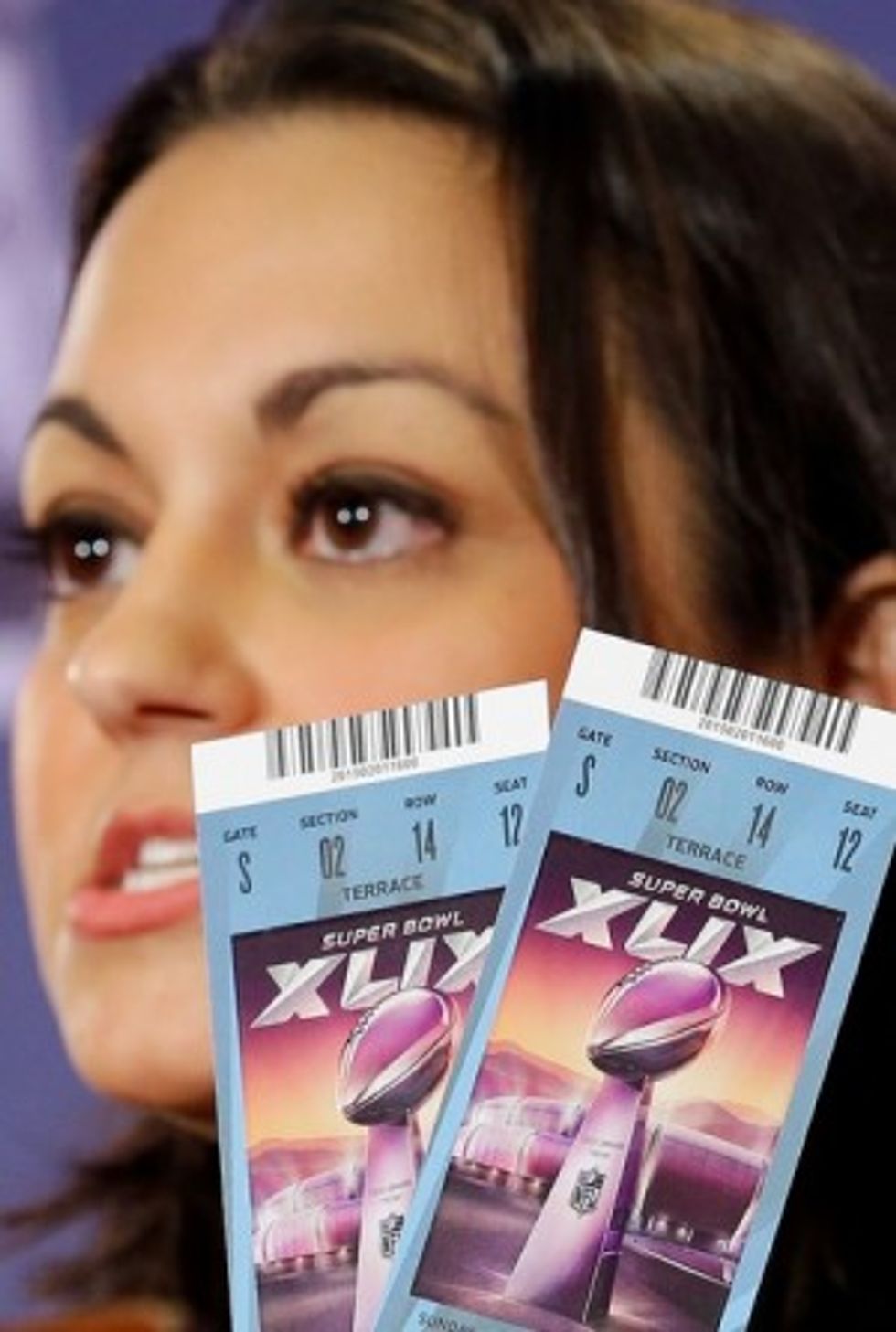 NFL Counsel Dolores F. Dibella holds up Super Bowl tickets to show the security features on them during a counterfeit ticket and merchandise news conference for NFL Super Bowl XLIX, Thursday, Jan. 29, 2015, in Phoenix. (Image source: AP/Morry Gash)
It's left ticket companies having to offer refunds to buyers because the tickets never came through. And it's left thousands of fans wandering around Phoenix without entry to University of Phoenix Stadium.
"I don't have $10,000 that I want to give away," Seahawks fan Mark Blair said.
As of midday Saturday the NFL Ticket Exchange, the league's official ticket re-sale website, didn't have tickets for less than $9,000. The cheapest ticket on StubHub was nearly the same. One listing on Craigslist in Phoenix was selling tickets for $8,000 each with the seller willing to meet the buyer at their bank to complete the transaction.
Cameron Papp, spokesman for StubHub, said the only other event that came close the level of ticket cost fans are seeing was the BCS championship game between Notre Dame and Alabama in Miami two years ago. Papp said the average ticket price sold on their site for this year's game is currently $3,700. Last year it was $2,500.
"This is unprecedented really. We've never seen prices this high," Papp said. "We have much lower inventory this year than we did in the past. A lot of people bought tickets early as compared to last year. Last year in New York everyone waited until the last couple of days to buy tickets because they were spooked by the weather. This year a lot of people bought early and we're running out of tickets."
The other factor is the higher demand because of the popularity of the two teams. Seattle fans have flooded the Phoenix area making the short 2 ½ hour flight from the Northwest.
Aside from chants of "Sea ... Hawks!" the most popular phrase heard in downtown Phoenix late in the week was, "Anybody got extra tickets?"
[sharequote align="center"]"This is unprecedented really. We've never seen prices this high."[/sharequote]
Erik Olberg and his large group of friends from Seattle — numbering more than 30 — planned to follow the conventional pattern of getting tickets after arriving in Arizona. Olberg didn't go to New York last year and heard the stories of how so many achieved success getting last-minute tickets at or below list price.
His group passed on buying tickets for $2,200 the day after the NFC championship game, convinced the prices would be lower. When they started to see the prices climbing earlier this week before leaving Seattle, checking websites became an hourly chore.
"I was checking every hour on StubHub, looking at where it's going, trying to find an anomaly, just trying to get lucky," Olberg said. "It's just not happening. You hear of someone selling a ticket, but then you hear the price."
In the case of Olberg and his friends, the concern now is trying to find somewhere to watch the game, but they're going to explore every avenue to try and find a way in at a reasonable price.
"This is a once in a lifetime opportunity. We don't know if the Seahawks are going to go back again," Olberg said. "Who knows? I hope so but you don't know that. I'm going to do everything I can until the last minute to try and go."
The following clip on Super Bowl ticket buying ran Friday, and it noted the price for tickets ranged from $4,000 to $10,000:
—
Follow Dave Urbanski (@DaveVUrbanski) on Twitter