Whenever a celebrity says something that's perceived to be racist against black people, it seems they're soon scheduling a trip to visit Al Sharpton to apologize — at least that's how comedian Aziz Ansari sees it.
But what about "brown people?"
"The problem is, brown people don't have a guy," the "Parks and Recreation" actor told Dave Letterman Friday night. "I'm throwing my hat in the ring, I'm the brown Al Sharpton."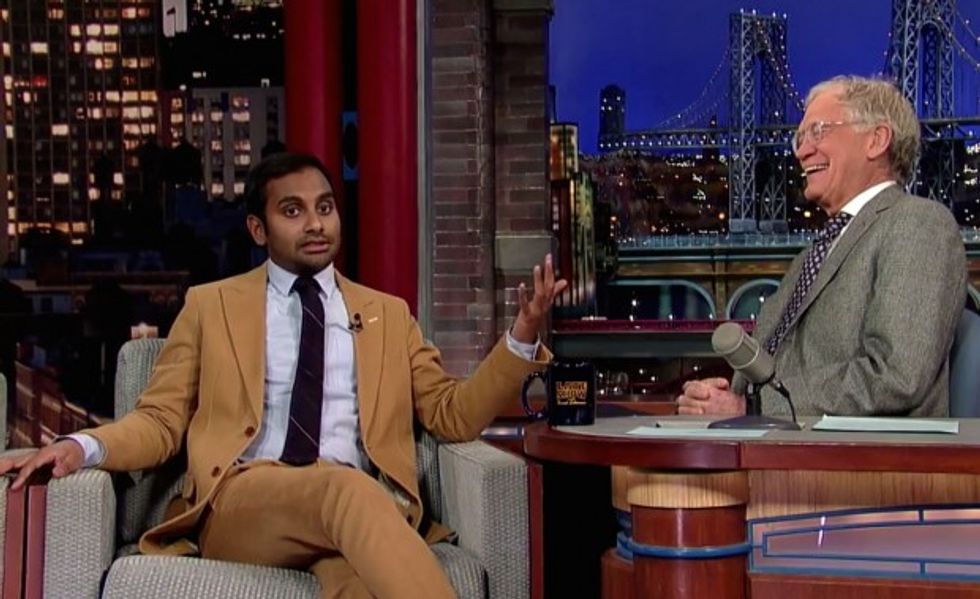 Aziz Ansari with "Late Show" host David Letterman. (Image via Late Show/YouTube)
As Ansari told it, visiting Sharpton is a punishment in and of itself for racist comments.
Watch the clip below:
Ansari gained international attention earlier this month when he responded with outrage to a Rupert Murdoch tweet about Muslims.
Maybe most Moslems peaceful, but until they recognize and destroy their growing jihadist cancer they must be held responsible.

— Rupert Murdoch (@rupertmurdoch) January 10, 2015
.@rupertmurdoch, you're already a vaguely evil media conglomerate guy and THEN you're ALSO racist? FOR REAL?! You're an evil overachiever!

— Aziz Ansari (@azizansari) January 12, 2015
(H/T: Mediaite)
—
Follow Zach Noble (@thezachnoble) on Twitter