A Syrian woman accused by the Islamic State group of committing adultery was handed the brutal sentence of being stoned to death, but survived the ordeal and walked away, a monitoring group reported.
The Syrian Observatory for Human Rights said Friday that the Islamic State group had sentenced the woman to be "stoned for adultery" in its de facto capital city of Raqqa.
Quoting a statement from the Observatory, Agence France-Presse reported that they "stoned her until they thought she had died," but as the executioners were finishing their grim task, they saw the woman stand up and try to run away.
"An IS militant was about to open fire at her when an Islamist jurist intervened and stopped him saying it was God's will that she did not die," the Observatory said.
Reports in December said a man accused of homosexuality was stoned even after being thrown off of a rooftop. (Image source: MEMRI)
While the Islamic State judge allowed the woman to go free, he insisted, "Her sentence is done, let her go and repent to her God."
In the wide territories it has captured in Syria, the Islamic State group has taken on the role of police, accuser, prosecutor, judge and executioner, dispensing with due process or separation of roles as seen in western law enforcement. The methods of execution, such as stoning, crucifixion, and throwing off of rooftops, are are dispensed with no regard for the suffering of the so-called criminals.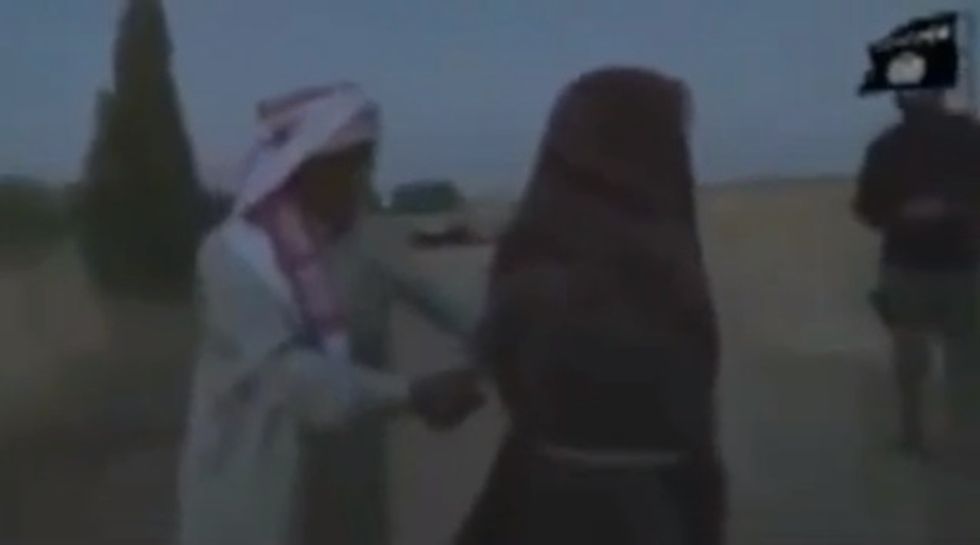 A video posted in October showed a father leading his daughter, accused of adultery, to face her execution by stoning (Image source: YouTube)
The Syrian monitoring group noted that since July at least 15 people have been executed by jihadists in Syria who accused them of adultery or homosexuality.
In October, video was posted online showing a woman accused of adultery pleading for her father's forgiveness before Islamic State fighters in Hama stoned her to death, with the help of her father.
"We hope that this will serve as a lesson for other women," a militant told her before she was killed. "You should be satisfied with the ruling decreed by Allah, and submit to Allah."
Both in December and January, Islamic State social media accounts posted disturbing images of men accused of being gay being thrown off of roofs in Iraq's Nineveh province and elsewhere.
Featured image: Shutterstock.