© 2023 Blaze Media LLC. All rights reserved.
This Is How Iranians Plan to Protest Charlie Hebdo's Muhammad Cartoon
Iranians have come up with a new way to protest the latest Charlie Hebdo cartoon of the Prophet Muhammad: a Holocaust denial cartoon contest.
The Tehran Times reported that Iran's House of Cartoon and the Sarcheshmeh Cultural Complex are sponsoring "The Second International Holocaust Cartoons Contest."
Cartoonists have until April 1 to submit their entries; the first-place winner will receive a cash prize of $12,000, the second-place winner will get $8,000 and the third-place winner will get $5,000.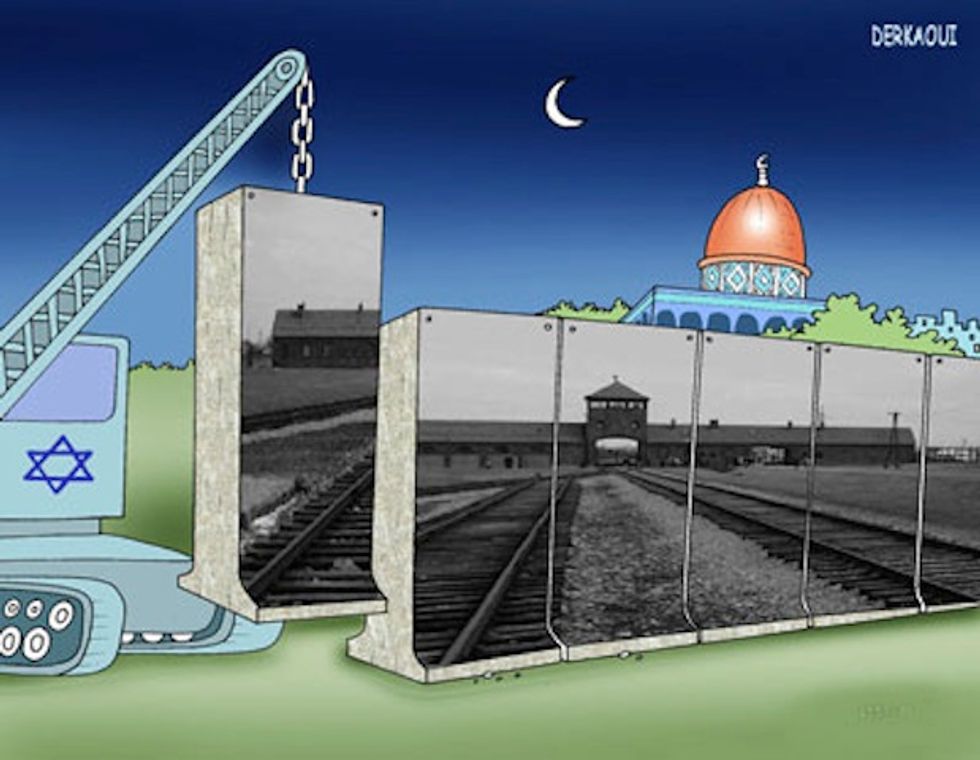 The winner of the 2006 Holocaust denial cartoon competition held in Iran. (Image source: Iran Cartoon)
The highest-scoring works will then be displayed at the Palestine Museum of Contemporary Art in Tehran and elsewhere, organizers told the Tehran Times.
This is the second time Iranian organizations have sponsored such a contest: the first took place in 2006 the year after a Danish newspaper published cartoons depicting the Muslim prophet.
Abdellah Derkaoui of Morocco won first place with a depiction of an Israeli bulldozer erecting a wall around the Dome of the Rock in Jerusalem. The wall is painted with an image of the Nazi Auschwitz concentration camp.
"Why is it acceptable in Western countries to draw any caricature of the Prophet Muhammad, yet as soon as there are any questions or doubts raised about the Holocaust, fines and jail sentences are handed down?" Masud Shojaei-Tabatabaii, a contest organizer, said at the time of the first competition.
According to the British newspaper the Independent, the 2006 contest solicited the "cleverest" cartoons satirizing the Holocaust in an effort to highlight what it described as the West's "double standards" over free speech.
Eleven people were killed when two Islamist terrorists stormed the satirical newspaper's Paris offices last month; the gunmen later killed a police officer outside. In a separate but related incident two days later, an attacker held up a kosher supermarket and killed several people inside. Al Qaeda's Yemen branch later claimed responsibility for the bloodshed.
Want to leave a tip?
We answer to you. Help keep our content free of advertisers and big tech censorship by leaving a tip today.
more stories
Sign up for the Blaze newsletter
By signing up, you agree to our
Privacy Policy
and
Terms of Use
, and agree to receive content that may sometimes include advertisements. You may opt out at any time.