Mike Matheny, manager of the perennial World Series contending St. Louis Cardinals -- a franchise that is the envy of all of Major League Baseball in terms of its competitiveness, tradition and commitment to excellent -- not to mention four-time Gold Glove winning catcher, has penned a baseball book about life just in time for the official (post-Super Bowl) start to the 2015 season.
During an in-depth interview which you can skip to here, we had the chance to speak with Matheny about his new book, "The Matheny Manifesto: A Young Manager's Old-School Views on Success in Sports and Life," and touched on one of his key coaching principles of faith, and emphasis on instilling "Biblical truth as our moral compass."
I asked Mike in particular about how faith influences his coaching. Here's what he said:
[sharequote align="center"]"When people open the door, I...want them to know that I'm not gonna be a coward about my faith"[/sharequote]
I really have been very clear with the [Cardinal] organization, with every team that I've ever been able to coach whether it be at the youth level or at the big league level, and that is I'm never going to jam my faith down anyone's throat. I'm never going to absolutely confront you with anything regarding my faith.

But I did want them and I need them to know, whether it was a former teammate of mine or whether it's somebody that plays for me now, is that when they come to me for advice -- and hopefully I'm good enough at what I do that it goes beyond just the "X's and O's" of making out a lineup -- that we have the opportunity to walk through life together.
[instory-book ISBN="9780553446692"]
And when they do approach me, I need them to know where my moral compass is coming from -- what direction it's pointing. And it all centers around my faith.

And once again, I feel very proud that I've had quite a few teammates and guys who have been able to approach me and talk to me and ask me about certain things, and they know where I come from. And I think it's important that they do know. But I also have never felt comfortable of really jumping up on a chair and start evangelizing...on teams that I've been a part of.

But when people open the door, I also want them to know that I'm not gonna be a coward about my faith.

I know that it is the center focus of everything I do. It helps dictate the way that I handle every situation -- when I'm going right for certain.

And I want 'em to know where that's coming from.

It's not something I've made up. These are Biblical values, things that have been around a lot longer than I have and something that I'm trying hard to continue to follow with.
We also noted that despite many baseball scandals, there have been men like legendary manager Connie Mack who sought to produce not only excellent teams but inculcate in his players a sense of morality and excellence -- he would tolerate nothing less. Matheny stated: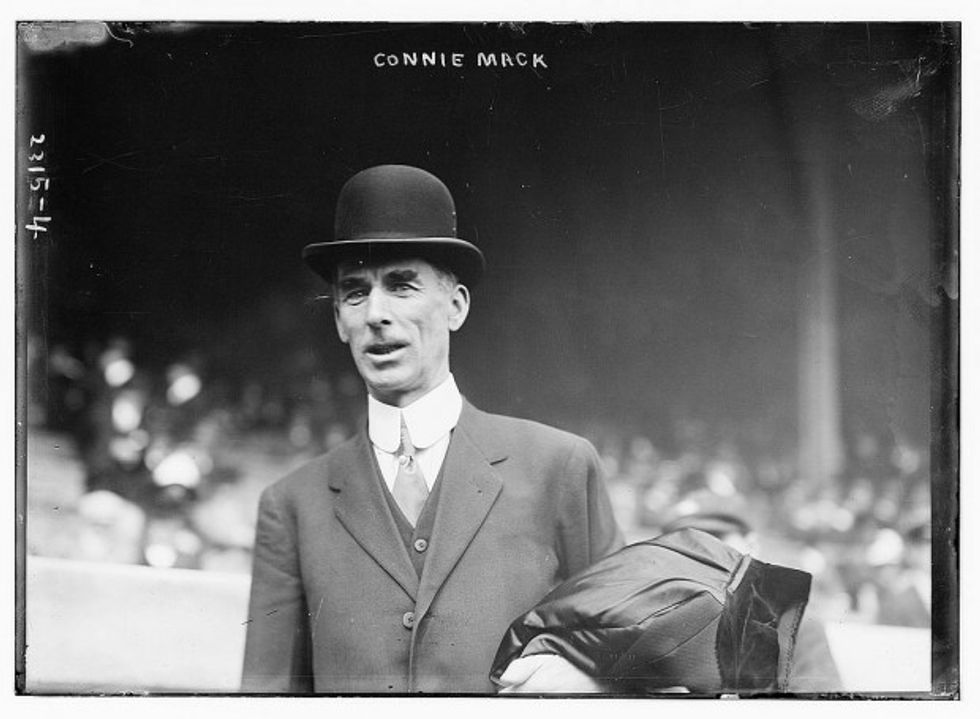 Connie Mack in 1911 as manager of the Philadelphia Athletics. (Image Source: U.S. Library of Congress, Prints and Photographs Division)
I just finished a book about Connie Mack and it talked about him being a "ferocious gentlemen," and you know I thought, what a great comment. For any man of faith to be able to go about his work in a way where he's thought of so highly, but he knows when it comes down to this man's...gonna go out and compete with everything he has. And there's a call that we have to be a warrior in everything that we do, and the way we go about our business defending the people that have been entrusted to us, and to live a life of excellence.

There's a ferociousness that comes with that I'm certainly not ashamed of, but there's also that balance of faith and humility.
During our in-depth interview, which you can listen to in full below, we also had the chance to discuss a number of other topics including:
What exactly the Matheny Manifesto is
Matheny's message to parents thinking about coaching their children
Matheny's belief in the sacred responsibility that a coach has to make an impact on youth athletes
The manager's views on the "everyone gets a trophy" culture
How catching and leadership go hand-in-hand
Matheny's definition of the famous "Cardinal Way," which no one has really been able to define
What separates the all-time great baseball players from the rest
Note: The link to the book in this post will give you an option to elect to donate a percentage of the proceeds from the sale to a charity of your choice. Mercury One, the charity founded by TheBlaze's Glenn Beck, is one of the options. Donations to Mercury One go towards efforts such as disaster relief, support for education, support for Israel and support for veterans and our military. You can read more about Amazon Smile and Mercury One here.
–
Follow Ben Weingarten (@bhweingarten) and TheBlazeBooks on Twitter and Facebook.
You can find all of our Blaze Books interviews on Soundcloud and Stitcher, and subscribe to our podcast automatically via iTunes.