As lawmakers debated the merits of preparing a bill to repeal Obamacare, a Florida Democrat took a shot at the entire state of Texas.
"I don't know about in your state, which I think is a crazy state to begin with — and I mean that just as I said it," Rep. Alcee Hastings (D-Fla.) said at House Rules Committee meeting Monday night.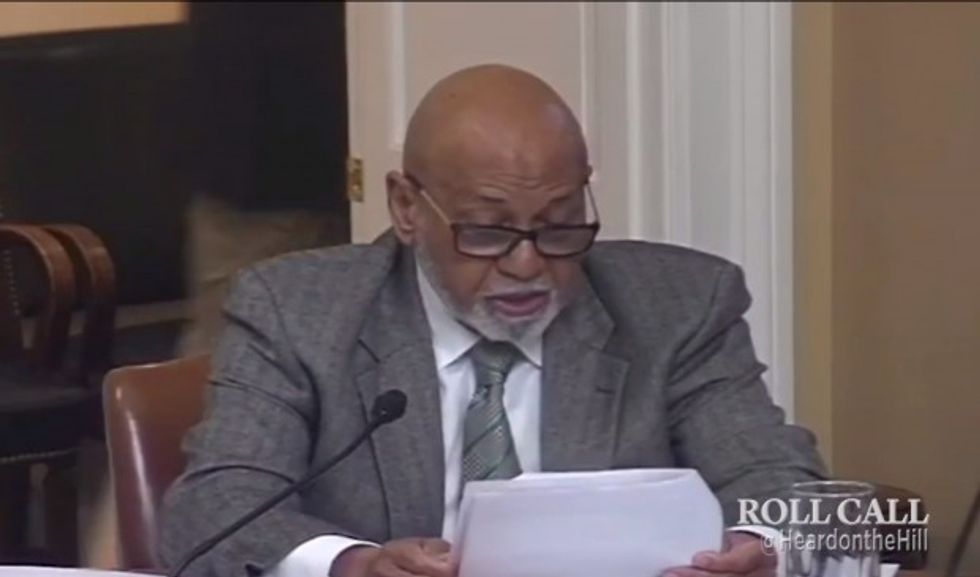 (YouTube)
As the chair of the committee attempted to restore order, Rep. Michael C. Burgess (R-Texas) proclaimed, "The gentleman made a very defamatory statement about my state, and I will not stand here and listen to it!"
Defiant, Hastings told his Republican colleague, "Well fine, you don't have to listen."
"You can leave if you choose. I told you what I think about Texas. I wouldn't live there for all the tea in China, and that's how I feel," he added.
When Burgess requested an apology for the attack on Texas, Hastings told him he would be waiting "until hell freezes over for me to say anything in an apology."
Watch the exchange via Roll Call:
Hastings, who was indicted by a grand jury for allegedly soliciting a $150,000 bribe, has a long history of legal troubles. Senate.gov offers a brief history of his troubled past as a judge:
In 1981, a federal grand jury indicted Judge Alcee L. Hastings, appointed to the federal district court in 1979, along with his friend William A. Borders, a Washington, D.C. lawyer. Hastings was charged with conspiracy and obstruction of justice for soliciting a $150,000 bribe in return for reducing the sentences of two mob-connected felons convicted in Hastings' court. A year after Borders was convicted of conspiracy, the result of an FBI sting effort, Hastings's case came before the criminal court. Despite Borders' conviction, and the fact that Hastings had indeed reduced the sentences of the two felons, he was acquitted in a criminal court in 1983 and returned to his judicial post.

Subsequently, suspicions arose that Hastings had lied and falsified evidence during the trial in order to obtain an acquittal. A special committee of the 11th Circuit Court of Appeals began a new probe into the Hastings case. The resulting three-year investigation ended with the panel concluding that Hastings did indeed commit perjury, tamper with evidence, and conspire to gain financially by accepting bribes. The panel recommended further action to the U.S. Judicial Conference, which, in turn, informed the House of Representatives on March 17, 1987, that Judge Alcee Hastings should be impeached and removed from office.

On August 3, 1988, following an investigation by the House Judiciary Subcommittee on Criminal Justice, the House of Representatives voted 413 to 3 to adopt H. Res. 499, approving 17 articles of impeachment against Hastings, the greatest number of articles in any impeachment proceeding to date. Charges included conspiracy, bribery, perjury, falsifying documents, thwarting a criminal investigation, and undermining the public confidence "in the integrity and impartiality of the judiciary." The Senate received the articles on August 9, 1988.
---