The U.S. embassy in Sanaa, Yemen announced Tuesday that it would be closing, Reuters reports.
The news follows weeks of announcements that services would be suspended or drawn down after the resignation of Yemeni President Abd-Rabbu Mansour Hadi and his government.
In late January, the president and prime minister resigned under pressure from Houthi rebels, who now claim to have control of the country. The country has become increasingly unstable, with the State Department warning Americans last week not to travel to Yemen.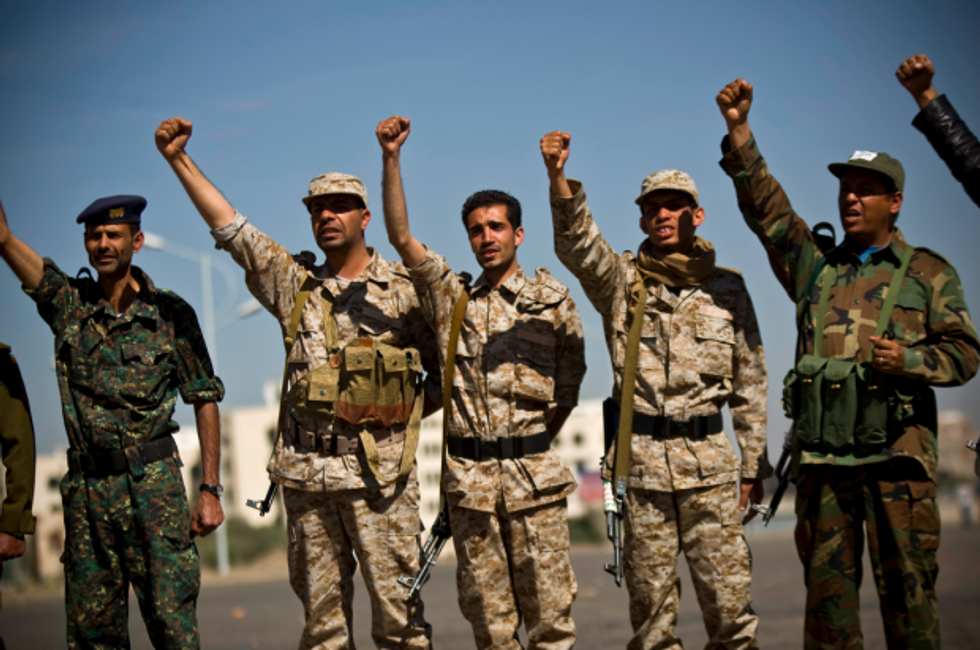 In this Wednesday, Feb. 4, 2015 file photo, Houthi Shiite Yemenis wearing army uniforms chant slogans during a rally to show support for their comrades in Sanaa, Yemen. On Saturday, Feb. 7, 2015, a day after taking power, Shiite rebels in Yemen found themselves increasingly under pressure Saturday as thousands protested against their rule and a group of nearby countries denounced their "coup." (AP Photo/Hani Mohammed, File)
The Associated Press has more information:
Two U.S. officials say the United States is closing its embassy in Yemen amid political deadlock and deteriorating security conditions after the takeover of the country by Shiite rebels.

The officials said diplomats were being evacuated from the country on Tuesday and the embassy will suspend operations until conditions improve. Yemen has been in crisis for months with Iran-linked Shiite Houthi rebels besieging the capital and then taking control. The U.S. officials spoke on condition of anonymity because they were not authorized to discuss the closure publicly on the record.

The U.S. Embassy in Yemen is the third in an Arab country that has closed since the turmoil of the Arab spring began in December 2010. The other two were embassies in Damascus, Syria and Tripoli, Libya.
This is a breaking news story. Updates will be added.