Little League officials stripped Chicago's celebrated Jackie Robinson West Little League team of its national title Wednesday after discovering that local adults in charge violated recruiting rules to bring on ineligible players.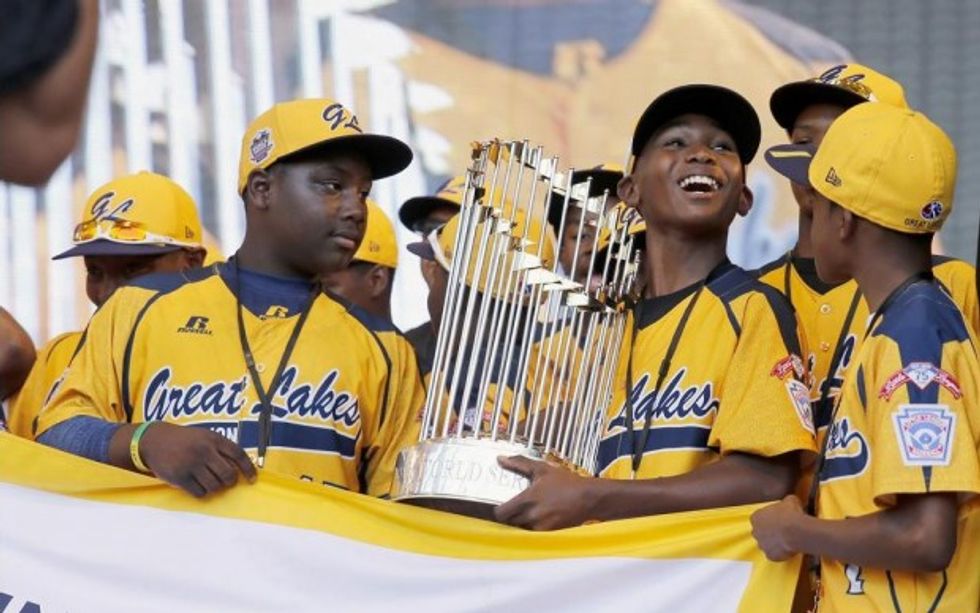 In this Aug. 27, 2014, file photo, members of the Jackie Robinson West Little League baseball team participate in a rally in Chicago celebrating the team's U.S. Little League Championship. Little League International has stripped Chicago's Jackie Robinson West team of its national title after finding the team falsified its boundary map. The league made the announcement Wednesday, Feb. 11, 2015, saying the Chicago team violated regulations by placing players on the team who didn't qualify because they lived outside the team's boundaries. Little League International also suspended Jackie Robinson West manager Darold Butler from league activity. (AP Photo/Charles Rex Arbogast, File)
After winning the U.S. Little League title last August, Chicago's team was the toast of Chicago. Despite losing the Little League World Series to a team from South Korea, the Jackie Robinson West team was invited to the White House to visit with President Barack Obama.
Now, all of that has been tainted and the team's star season will have an asterisk next to it in the record books.
Little League Baseball President Stephen Keener announced the ruling and also suspension of manager Darold Butler. Michael Kelly, the Illinois District 4 administrator for Little League, has been removed.
Speaking with ESPN on Wednesday, Keener made clear that the fault was on the adults: "Certainly no one should cast any blame, and aspersions on the children who participated on this team." He added, "To the best of our knowledge, they had no knowledge they were doing anything wrong."
ESPN announced the news with an angry Stephen A. Smith tearing into the people responsible: "A bunch of adults and parents who knew better did this."
How do you feel about the ruling? Should Jackie Robinson West's players have their title taken away because of the actions of the adults? Take our Blaze poll and share your thoughts in the comments section.
—
Follow Mike Opelka (@Stuntbrain) on Twitter.