Sometimes it's just nice to read about good people doing good things, and that's exactly what the story of Tim Michaels is about. Over the past five years, the 31-year-old has become the undisputed "super fan" of the hockey team at Breck School, a small college-preparatory academy in Golden Valley, Minnesota. But how did that come to be?
Tim Michaels stands in the St. Thomas academy arena, Feb. 11, 2015. (Photo courtesy Gordon Ritz)
Blind in one eye, Tim has cerebral palsy and ADHD. He washes dishes at Breck, which is where he met Gordon Ritz almost five years ago at an athletics event for people with special needs (full disclosure: Gordon Ritz is my father). Gordon was volunteering, and when he heard that Tim loved hockey but had never been to a game, he offered to pick him up and bring him to a Breck game that night.
"I asked [the hockey coach Les Larson] if there was any way that Tim could come down and visit the players in the varsity locker room before the game. Les was very enthusiastic," Gordon recalled. "He brought him into the locker room, introduced him to all the players, and then asked him to say a few words to the players! I don't remember exactly what [Tim] said, but he basically said, 'You guys are lucky to be able to play this game, and I just want you to go out and win, so do your best.'"
That's when Tim decided that the Breck hockey team was his team. So every hockey season for the next five years, Gordon has picked Tim up and driven him to countless games, both home and away. When he couldn't make it, other parents like Bill and Lisa Blake were happy to step in.
Tim stands in the same place every game, at the door where the players enter and exit the ice, and gives each one a high-five or a fist bump as they pass.
"He is the only one that's allowed to stand there," Gordon said. "It's kind of off-limits to everybody else."
Several years ago, the senior class got together and bought Tim a Breck sweatshirt and hockey jersey with the word "SUPER FAN" printed on the back. He still wears it "all the time," they say, even while he's working in the lunchroom. And in 2011, player Max McCormick gave Tim his section championship medal.
"He really was our number one fan, and a lot of us on the team got to know him pretty well," McCormick, now a Breck graduate, said. "He would always stand at the end of the tunnel to give us high-fives on our way on and off the ice, and he would call every player by name. ... I felt it would be a great way to show my appreciation for all the support he had shown us over the years, and also as a sign of our friendship."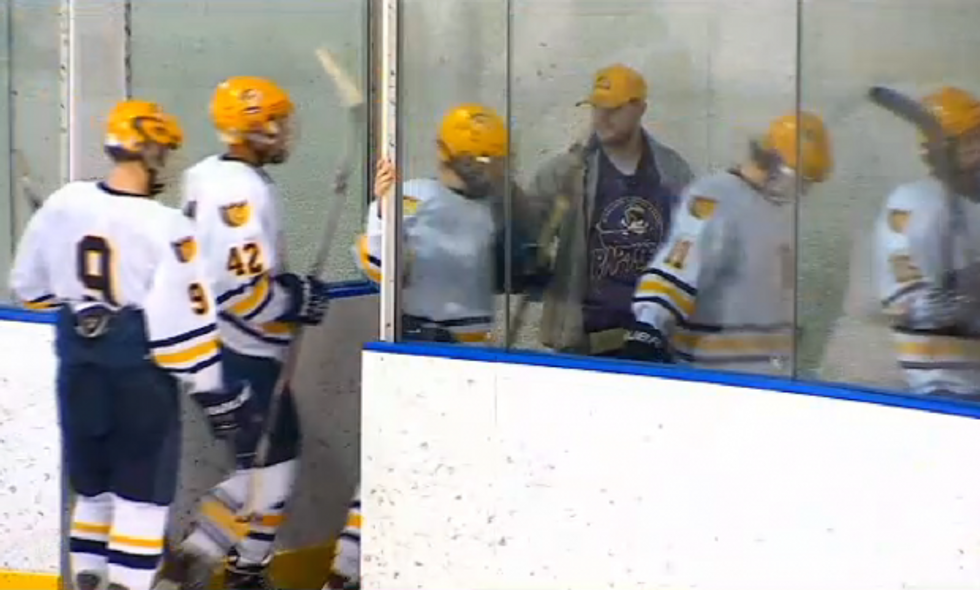 Tim Michaels greets the Breck hockey players as they get off the ice. (Image credit: WCCO-TV)
"[Tim] is all in," Gordon remarked. "It's all about the relationships that he's made with all the kids over the years. It's quite a special relationship between a man with special needs and a group of boys that come and go every year, but all of them recognizing how important he is to the organization."
[sharequote align="center"]"I'm part of the team now, they need me. I'm their super fan."[/sharequote]
A few years ago, Tim decided he wanted to play hockey himself.
"I sent out an email to all the parents asking them if they had any old equipment. So we got everything we could, and then I went out and bought him what we couldn't get. Now he plays about eight or nine games a year in a thing called special hockey," Gordon said proudly. "He now is a hockey player, and he's got a team that he plays on!"
Every year since Tim began playing for the Raptors, a number of Breck families would go to the occasional game to cheer him on. But last week, something different happened: The Breck hockey captains decided it was time that every one of their players went to support Tim the way he has supported them over the years.
"They asked me if I would score them a goal," Tim said.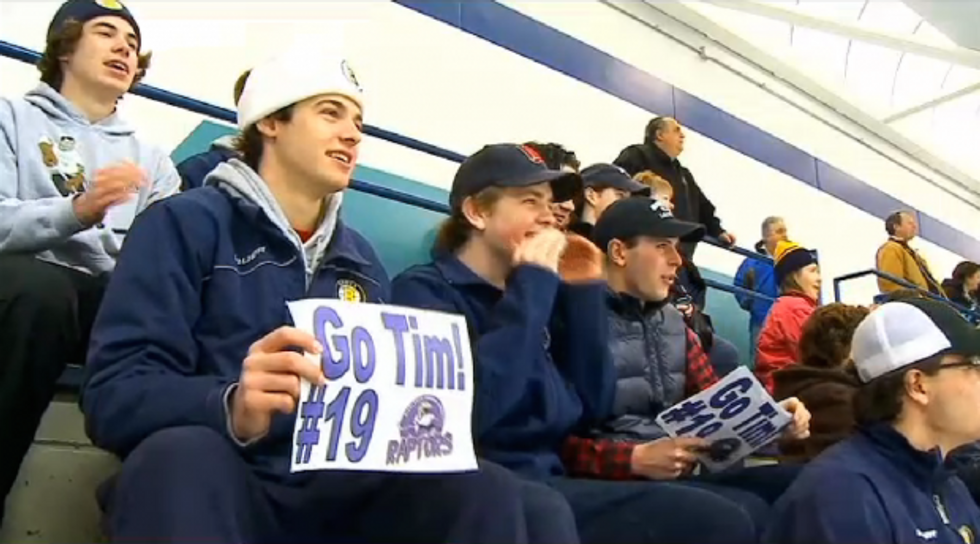 The Breck hockey team cheered on Tim Michaels during his hockey game. (Image credit: WCCO-TV)
WCCO-TV was at the rink for the game, capturing the heartwarming moment Tim scored his first goal of the season in front of his own super fans.
"They all literally stood up and screamed and yelled, this very long standing ovation," Breck mom Laurie Headrick said. "I wish they had shown it [all] on camera, because when he scored, he went all the way to the opposite end of the rink and through the glass high-fived the guys!"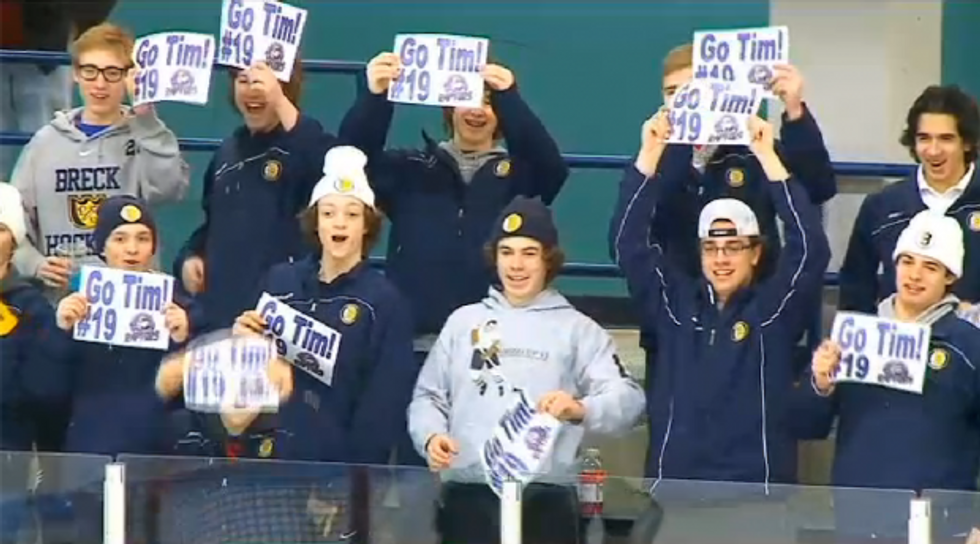 The Breck hockey team cheered in support after Tim Michaels scored a goal for his hockey team, the Raptors. (Image credit: WCCO-TV)
A few parents became emotional as they described how proud they were of their teenagers. Lisa Blake said a parent from the opposing team came up to her during the game, saying "not one athlete didn't feel awesome after, and they all would skate over" to where the boys were seated when they scored.
"I was so proud of the boys, because they just made every kid out there feel like they were the super star," she said.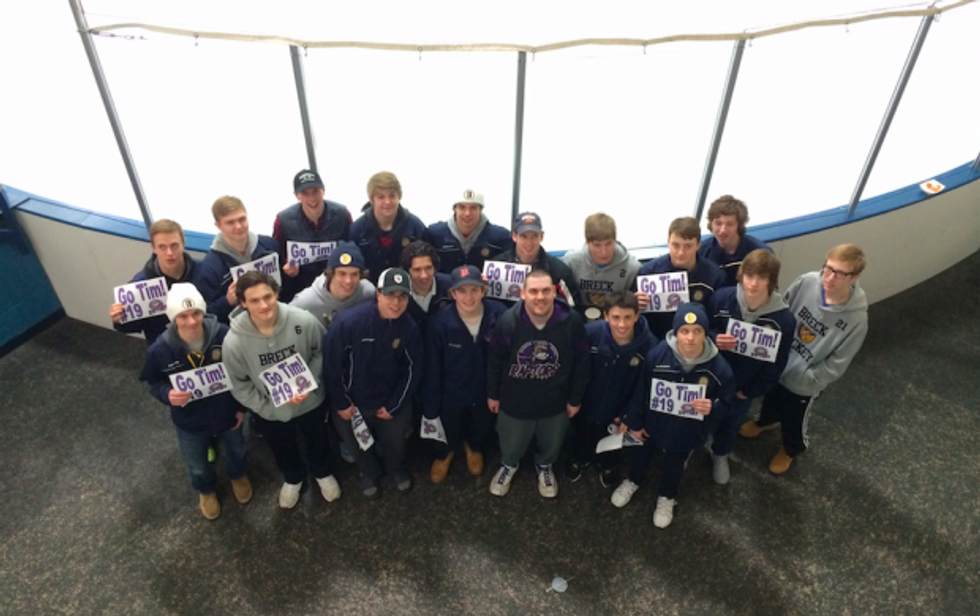 Photo courtesy Lisa Blake
Bob Miles, Tim's boss at Breck, said he "just [loves]" Tim and wishes he could "clone" him.
"He is very, very focused on making sure that we do everything necessary to take care of the kids, that they have what they need," Bob added. "He's on top of things. He's sharp ... and he's a lot of fun to be around. He's always upbeat, always happy."
Pat Michaels, Tim's father, said he doesn't often make it to the Breck games, but he jokingly calls his son Mr. ESPN because he'll call or text him throughout the game to update him on the score.
"The students, oh my Lord, to accept somebody like Tim, it's tear-jerking. You know?" Pat said. "Everyone treats him so great. And then when he gets [a jersey or] something like that, it's like, 'I'm part of the team now, they need me. I'm their super fan.'"
Pat said he doesn't know the full extent of what his son went through when he was younger, but there were days when he would come home sad and say, "someone's making fun of me."
"Tim loves it [at Breck] because everyone accepts him for who he is," Pat concluded. "And to have everybody show up like that ... he just looks forward to it so much."
You can watch WCCO-TV's report, which includes video of Tim's goal, below: