As the debate over Israeli Prime Minister Benjamin Netanyahu's March 3 address to Congress continues, a well-known figure has come out in support of the controversial speech: Holocaust survivor and Nobel Peace Prize laureate Elie Wiesel.
Wiesel, 86, author of "Night," a famed book that documented his horrific experiences in Nazi concentration camps, will be featured in a full-page newspaper advertorial that will run in both the New York Times and Washington Post, Reuters reported.
He says in the ad that he will attend Netanyahu's speech — an address that will focus on the dangers of a nuclear Iran — and urges American leaders to put politics aside and consider the difficult issues on the table.
"Will you join me in hearing the case for keeping weapons from those who preach death to Israel and America?" Wiesel writes.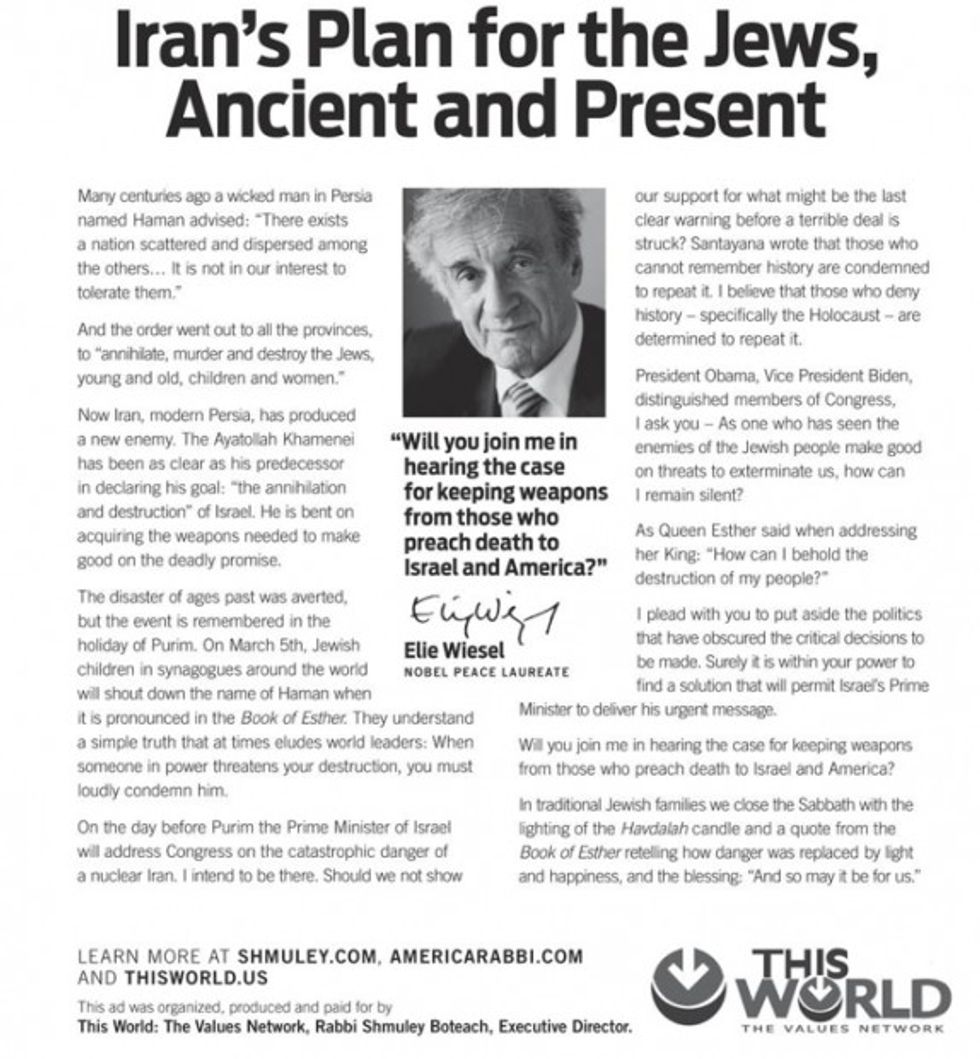 A portion of the ad that will be placed in the New York Times and Washington Post (Twitter via RabbiShmuley)
The ad, which consists of an op-ed from Wiesel that also reminds readers of past atrocities against the Jews and of the current threat posed by Iran, goes on to decry the "catastrophic danger of a nuclear Iran."
"On the day before Purim the Prime Minister of Israel will address Congress on the catastrophic danger of a nuclear Iran. I intend to be there," Wiesel says. "Should we not show our support for what might be the last clear warning before a terrible deal is struck?"
He continues, "As one who has seen the enemies of the Jewish people make good on threats to exterminate us, how can I remain silent?"
The Holocaust survivor's remarks and the full-page ad are being placed in the newspapers by Rabbi Shmuley Boteach, a well-known author, television personality and former Republican congressional candidate.
"There's no personality more respected in the global Jewish community and few in the wider world than Elie Wiesel. He is a living prince of the Jewish people," Boteach told Reuters. "He is the face of the murdered 6 million. So I think that his view on the prime minister's speech sounding the alarm as to the Iranian nuclear program carries a unique authority that transcends some of the political circus that has affected the speech.
Read more about the Wiesel ad here.
As TheBlaze previously reported, controversy has surrounded Netanyahu's planned address to a joint session of Congress, though he has defended the event as essential to his nation's very survival.
"I must fulfill my obligation to speak up on a matter that affects the very survival of my country," Netanyahu tweeted on Tuesday.
Netanyahu was invited without Democrats' consent, with some Democratic lawmakers saying they will not attend out of protest.