"'Til death do us part."
But for one couple, not even death could part them.
Archeologists digging in the Aleoptrypa in Diros, Greece, discovered two skeletons buried in a "spooning" embrace — a position the Greek Culture Ministry says is one of the oldest discoveries of its kind.
"Double burials in embrace are extremely rare, and that of Diros is one of the oldest in the world, if not the oldest found to this date," the ministry said, according to Art Daily.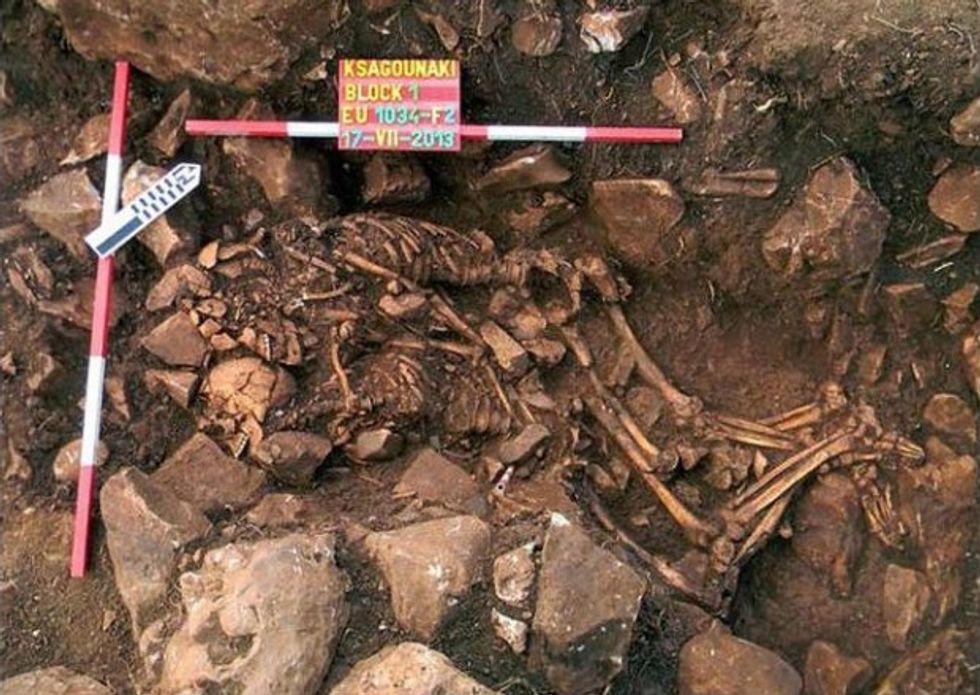 This undated handout photo released by the Greek Culture Ministry on Friday, Feb. 13, 2015 shows the remains of a man and woman in their early 20s, buried as they died nearly 6,000 years ago - locked in a tight embrace in Diros, southern Greece. Such double burials are very uncommon, and this is the oldest of its kind in Greece, archaeologist Anastassia Papathanassiou said. (AP Photo/Greek Culture Ministry)
Anastassia Papathanassiou, a senior member of the excavation team, said the team determined that the skeletons were a male and a female, both believed to have been in their 20s when they died.
The discovery was actually made in 2013, but researchers just published their findings last week. They also discovered an infant and a fetus, which could provide further clues about the relation of the two skeletons, Art Daily reported.
Further DNA testing will determine how the two were related and how they died, the Associated Press reported.
A study showed that the cave in which the skeletons were found, the cave of Diros, was known to have been inhabited as far back a 6,000 B.C., although researchers believe these particular individuals lived around 3,800 B.C.
Even though the discovery was made back in 2013, the culture ministry in Greece only this week released a study that revealed further details of the finding, such as the sexes of the two centuries-old skeletons.
(H/T: News.com.au)
–
Follow Jon Street (@JonStreet) on Twitter