WASHINGTON (AP) — Democrats are struggling to answer a simple question — "What's a Democrat?" — and must do a better job of explaining its core values to voters, according to a task force formed after the party's dismal showing in the 2014 election.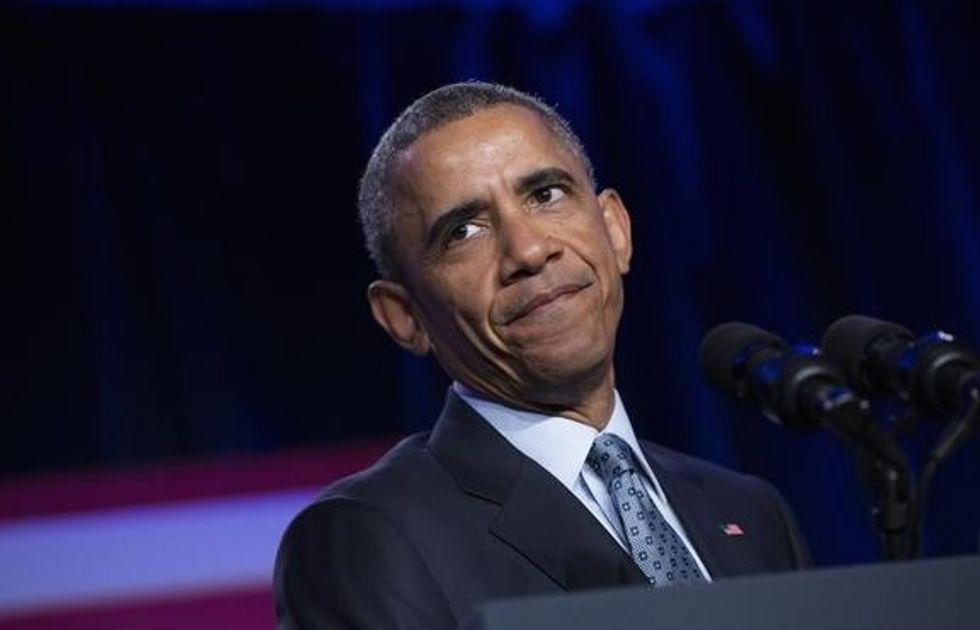 President Barack Obama pauses while speaking at the Democratic National Committee winter meeting in Washington, Friday, Feb. 20, 2015. (AP Photo/Evan Vucci)
The Democratic National Committee on Saturday released the interim findings of a review intended to examine problems in the midterm election. The report said Democrats lack a "cohesive narrative" and recommended that the party find ways to help it explain bedrock values such as fairness, equality and opportunity.
"So many people can rattle off easily and succinctly what it means to be a Republican. ... The perception of what it means to be a Democrat has really evolved to be a laundry list of policy statements and disparate ideas," said Rep. Debbie Wasserman Schultz, the Florida congresswoman who leads the DNC.
This Aug. 23, 2013 file photo shows Democratic National Committee chair, Rep. Debbie Wasserman Schultz, D-Florida. (AP Photo/Ross D. Franklin, File)
The work of a 10-person task force comes after Democrats were clobbered in November, surrendering control of the Senate to Republicans and allowing the GOP to pad its majority in the House. Republicans captured governor's offices in Massachusetts, Maryland and Illinois — all safe Democratic states in presidential elections — and strengthened its grip on state legislatures.
The losses have led to soul-searching among Democrats as they try to translate success in presidential elections under Barack Obama into midterm elections dominated by congressional campaigns. Many party leaders contend that Democrats should have run more aggressively on Obama's record last year and drawn sharp distinctions with Republicans.
"Whenever we let the other guys talk the way they talk about our president, about our leadership, about our values, we're going to lose," said Connecticut Gov. Dan Malloy told the DNC on Thursday. He said too many Democrats tried to be "Republicans lite."
The report recommends a multiyear effort to prepare for the next round of congressional redistricting after the 2020 elections, wary of Republican clout in statehouses that will determine the new boundaries for members of Congress following the next census.
It calls for more financial support and training for state parties in a return to the principles behind the "50-state strategy" promoted by former Vermont Gov. Howard Dean, who led the DNC from 2005 to 2009. That approach aimed to compete in state and local elections throughout the country, even in states dominated by Republicans.
The final recommendation focuses on voting rights. It supports a constitutional amendment to enshrine the right to vote and attempts in Congress to restore portions of the Voting Rights Act. The Supreme Court in 2013 removed from federal law an effective tool for fighting voting discrimination under the act and Democrats have tried to restore those protections.
The initial findings were based on hundreds of meetings with party leaders and members of Congress and included a survey completed by 10,000 Democratic activists, Wasserman Schultz said. A final report will come out in May.
The review offers parallels to a post-mortem by Republicans after the 2012 presidential election. That study urged the GOP to focus more on year-round, on-the-ground political organizing in states and recommended that Republicans embrace a comprehensive immigration overhaul, which has faced resistance by GOP members of Congress.
The DNC task force, which included Kentucky Gov. Steve Beshear and Google executive chairman Eric Schmidt, emphasize rebuilding the party's bench as Republicans aggressively recruit candidates for state and local office.
In one section of the report, the DNC panel notes that since 2008, Democrats have lost 69 House seats, 13 Senate seats, 910 state legislative seats, 30 state legislative chambers and 11 governors' offices.
"Look, I'll give the Republicans credit. They spent a lot of time and money working on this for years and it paid off for them," Wasserman Schultz said. "We've certainly recognized that we have some catching up to do."
___
Follow Ken Thomas on Twitter: https://twitter.com/KThomasDC