President Barack Obama told the nation's governors Monday that he will not ask Senate Democrats to stop filibustering a bill to fund the Department of Homeland Security without funding his executive actions on immigration, two governors told reporters.
Last week, Senate Democrats stopped the DHS funding bill from coming to a vote on three occasions.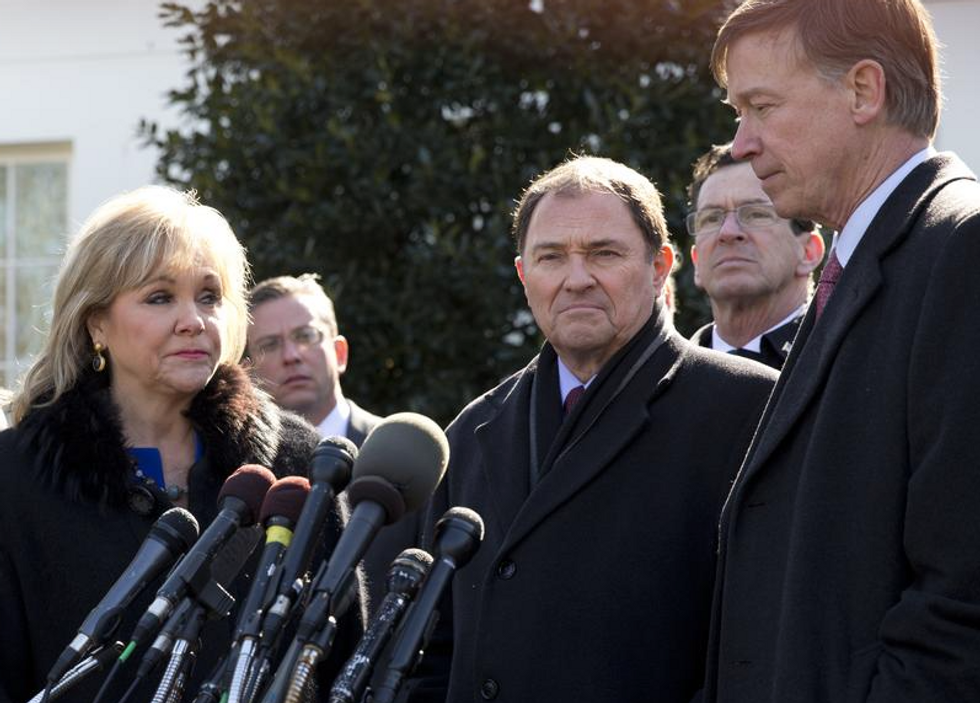 From left, Oklahoma Gov. Mary Fallin, Utah Gov. Gary Herbert, Connecticut Gov. Dan Malloy, and Colorado Gov. John Hickenlooper gather with other members of the National Governors Association to speak to media outside the West Wing of the White House in Washington, Monday, Feb. 23, 2015, after meeting with President Barack Obama. (AP Photo/Carolyn Kaster)
During a question-and-answer session with governors, Indiana Republican Gov. Mike Pence asked Obama about whether he would call on Senate Democrats to allow a vote. The National Governors Association has been having its winter meeting in Washington.
RELATED: Obama Makes Bottom-Line Pitch to Governors Over Homeland Security Funding
"Governor Pence said to the president that he might consider the Senate Democrats allowing a vote on the bill for DHS as an up or down vote, then see what happens in court and deal with immigration later," Oklahoma Gov. Mary Fallin told reporters.
Fallin was among a group of governors who spoke to the press in front of the White House after the meeting with Obama; Pence was not among them.
Obama issued executive actions late last year to shield about 5 million illegal immigrants from deportation. Republicans in Congress have sought to fund the Department of Homeland Security, which oversees immigration enforcement, without paying for the implementation of Obama's executive actions.
"The president did not agree to tell the Democrats to allow there to be a vote and he said he would veto the bill if it came to his desk with the language as its currently written," Louisiana Republican Gov. Bobby Jindal told reporters.
Colorado Democratic Gov. John Hickenlooper, the NGA chairman, initially didn't answer when the question came up about Senate Democrats, but tried to strike a balanced tone.
"The governors didn't take one slant or another," Hickenlooper said. "The governors said, we are fed up. Every single state is dependent on homeland security resources. As a temporary solution, a continuing resolution, doesn't address the grants. If someone does have a natural disaster, how do they use the traditional federal resources to start the resiliency and the rebuilding. We didn't get into who's right or who's wrong."