When author Joe Battaglia started seeing some troubling trends in politics, media and Christian culture, he decided to take action, penning a new book about the political correctness and "intellectual dishonesty" that he believes are running rampant in contemporary society.
Battaglia, who is attending the National Religious Broadcasters convention in Nashville, Tennessee, this week, and is the founder of Renaissance Communications, told TheBlaze that he's concerned that many people in today's society seemingly bend over backwards to avoid offending others, while sacrificing truth and facts in the process, laying out his views in the new book, "The Politically Incorrect Jesus."
"I was just really concerned about what I consider to be the intellectual dishonesty that many well-meaning people embrace unknowingly to mollify the self-appointed politically correct police in our midst," he said. "All of this is … intellectual suicide that asks us to accept things that we know aren't true or accurate."
Battaglia, who cited President Barack Obama's rhetoric surrounding the Islamic State terror group as an example, explained that his book is an effort to call out inaccuracies that are being reported on and perpetuated by leaders, media and churches, alike.
Photo credit: Shutterstock
"I think if we even look at this [debate] over how Obama attempts to define what extremism is and is very careful to not state or use the word 'Islam' or offend Muslims — because you don't want to politically offend anybody by stating the obvious — and so I think he tries to sidestep all of that by going through that verbal two-step, as I call it," he said. "And I'm not sure the misinformation or disinformation helps anyone."
Battaglia, who has worked as a journalist and broadcaster, said that reporters are called to be accurate above all else and that stating the obvious should be part of the journalistic process. Trying to be obsessively politically correct, he said, rarely squares with being accurate.
"I think it's important to state the obvious and not come across as a seething ideologue, but to, as much as possible, be accurate," he said. "To call things what they are."
It's not only among politicians and the media, though, that Battaglia warned that political correctness is running amok. Churches, too, have many times embraced this rhetorical tactic, he said — a development that he believes is theologically and practically problematic.
"A church should always have its eyes fixed on Jesus," he told TheBlaze. "And I say in the book that, whenever you raise the flag higher than the cross, you have a problem and the problem is that the cross is the level playing field for everyone."
Battaglia, himself a nondenominational Christian, said that houses of worship are at risk of improperly shifting their theology when they embrace political correctness and move aimlessly with society's whims.
"Churches that move with the culture risk the chance of moving in the direction that Christ says is not acceptable," he said. "So, a church has to decide who they're going to put they're faith in. Is it in every whim in whatever happens in culture?"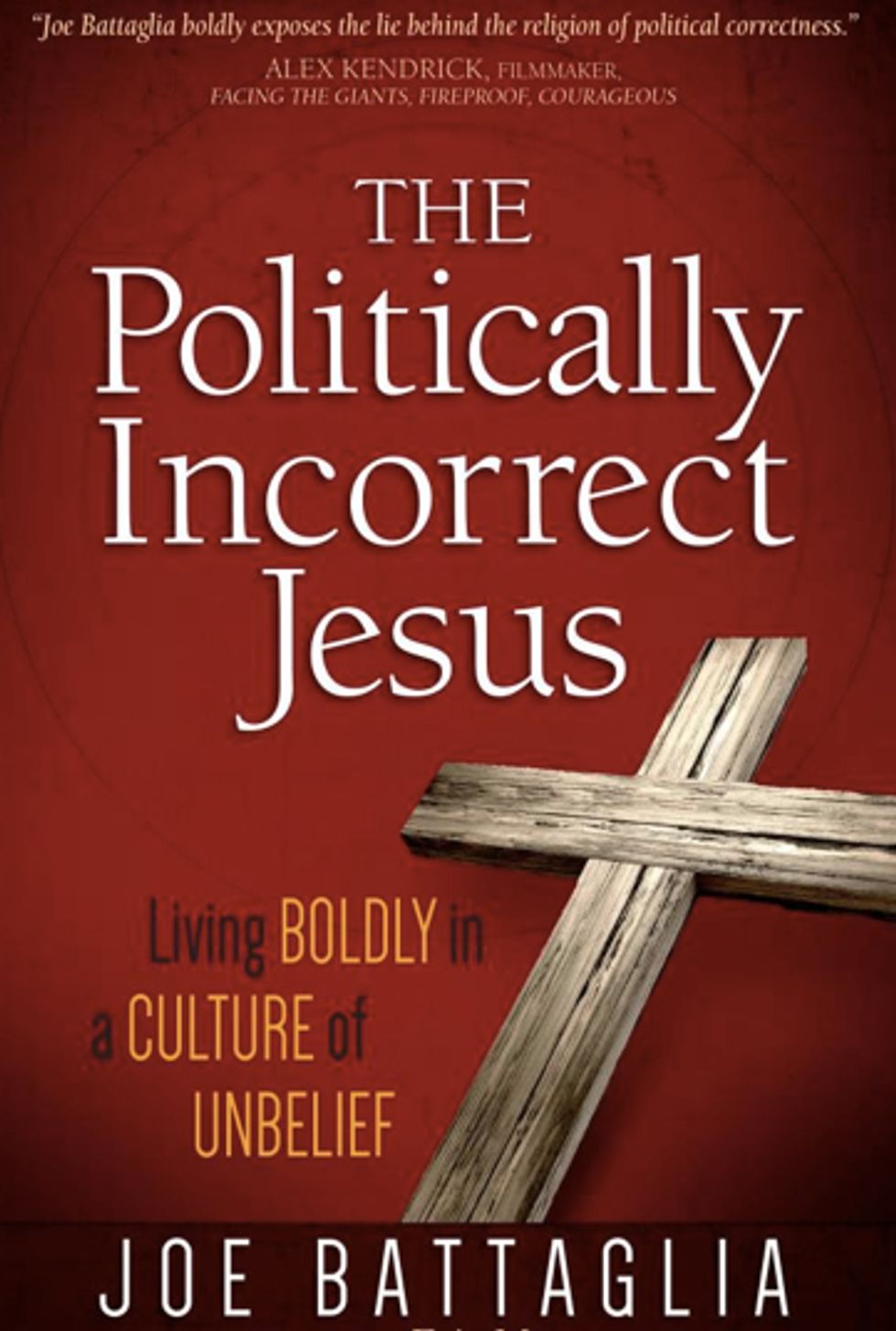 Broadstreet Publishing Group
Battaglia continued, "Christ called us to be salt and light, not chameleons. The church is not supposed to be moving in culture in terms of accepting everything that happens in culture."
As for Jesus, the author said that he believes Christ "was not politically correct."
"[It] got him into trouble, of course, with the PC police of his day — the Pharisees and the Sadducees," he said. "He just did not conform to what everybody said you had to say in order to stay out of trouble or appease the people of power."
Battaglia is encouraging Christians to be "counter culturalists" who are unafraid, when needed, to speak in absolutes. But he's also hoping that "The Politically Incorrect Jesus" will show readers how to properly interact with those with whom they disagree.
"I want [readers] to understand how Jesus might act toward his political adversaries," he said. "He still wants us to love and affirm people even in the midst of our disagreements."
--
Front page image via Shutterstock.com