The White House on Wednesday issued a veto threat for a House bill that would prevent the Department of Education from attempting to coerce or influence a state into adopting Common Core.
The House Education and Workforce Committee has approved the Student Success Act, H.R. 5, which focuses broadly on providing local control over education and includes a provision that would prohibit the Department of Education from pushing the Common Core State Standards on states through incentives or grants. It does not and cannot repeal Common Core, which has been adopted by the individual states.
The bill's language says it "prohibits the Secretary of Education from attempting to influence or coerce: (1) state adoption of the Common Core State Standards, any other standards common to a significant number of states, or assessments tied to such standards; or (2) state participation in any voluntary partnership with another state to develop and implement academic assessments and standards."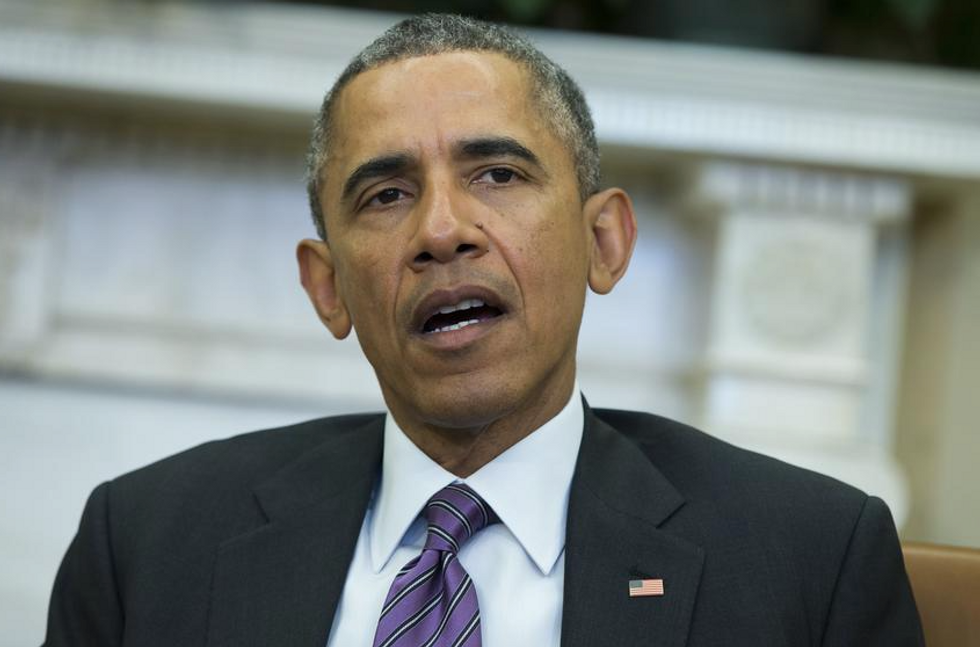 AP Photo/Evan Vucci
The White House Office of Management and Budget said in a policy statement Wednesday that the Obama administration "strongly opposes" the bill and that if President Barack Obama were presented with the legislation, "his senior advisors would recommend that he veto the bill."
The OMB statement doesn't mention Common Core specifically, but does seem to make a subtle reference.
The bill "fails to maintain the core expectation that states and school districts will take serious, sustained, and targeted actions when necessary to remedy achievement gaps and reform persistently low-performing schools," the statement says.
The veto threat comes one day after Obama made good on his promise to veto a bipartisan bill to allow the construction of the Keystone XL pipeline. He has issued numerous other threats this year, signaling that his last two years in the White House with a Republican-controlled Congress could be filled with vetoes.
The Student Success Act is intended to replace the Bush-era No Child Left Behind law, long the subject of bipartisan scorn. It calls for replacing rigorous testing requirements with state-led accountability system while eliminating 65 duplicative federal education programs.
The OMB statement criticized the bill for giving too much flexibility to state governments.
"Rather than investing more in schools, H.R. 5 would allow states to divert education funding away from the schools and students who need it the most through the so-called 'portability' provision," the OMB said. "The bill's caps on federal education spending would lock in recent federal budget cuts for the rest of the decade, and the bill would allow funds currently required to be used for education to be used for other purposes, such as spending on sports stadiums or tax cuts for the wealthy."
Despite the veto threat, the bill is not particularly popular among House conservatives because it only tweaks the No Child Left Behind law, Heritage Action spokesman Dan Holler told TheBlaze.
"The frustration is that the White House has a preferred view on how to handle education, which is Washington knows best," Holler said. "But we are not seeing enough a contrast to Barack Obama's world view with a conservative view of education reform."
Holler said the bill was too watered down and didn't push conservative education reform, Holler said such as provisions for school choice, while still putting burdens on states and local school districts.
"Republicans should start from a good strong legislative position and they will end up with a better end product, rather than negotiating with themselves," Holler said.