Record snowfalls have pummeled much of New England but it's not just the white stuff that has residents concerned.
Just ask Portland, Maine, resident and local bartender Adam Sousa, whose car was smashed by ice chunks measuring up to 4 feet and weighing as much as 100 pounds.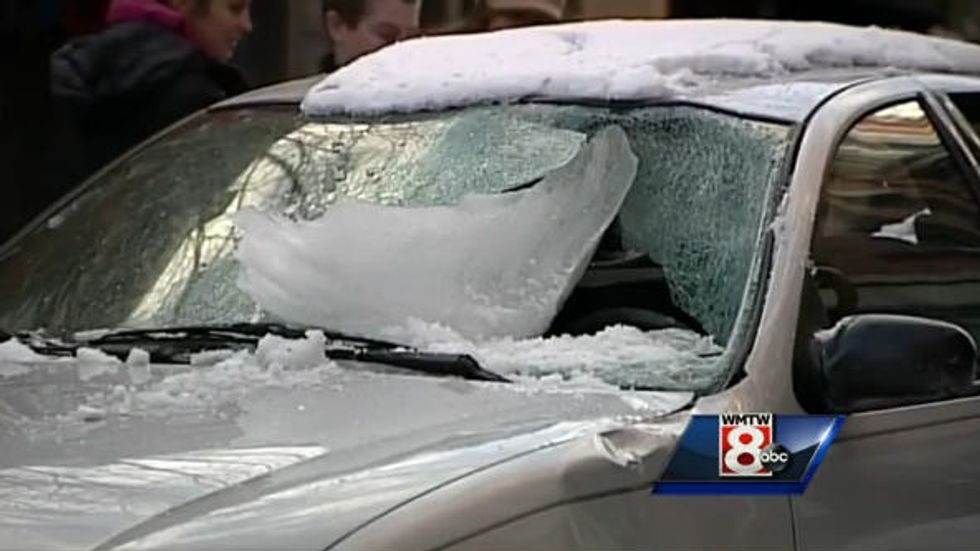 Image source: YouTube
It happened Sunday morning as Sousa parked his 2003 Chevrolet Cavalier in a Portland neighborhood and took the bus to Freeport. When he returned in the afternoon, he couldn't believe the damage.
"I thought maybe an icicle would fall off, not a whole car-size piece of ice," Sousa told WMTW-TV.
The sidewalk was roped off afterward for fear that more ice could fall. City crews inspected the building from where the ice fell Monday and found the building owner had violated an ordinance requiring him to clear the elements. Such violations carry fines of up to $250, the Daily Mail reported.
Sousa didn't have comprehensive vehicle coverage on his car, which he uses to drive about two miles to work and back. Building owner Joseph Soley, who also owns other buildings in the Portland area, does have liability insurance, which an insurance agency employee told WMTW should be enough to pay for at least some of the damages.
Sousa's friends and family have set up a donation page to cover any additional costs Sousa might have to pay out of pocket, which so far has raised about $3,000, the Portland Press-Herald reported.
And while he's without wheels for now, some of his friends have started giving him rides to work. One woman Sousa didn't even know contacted him via Facebook and offered to let him use her car. The U.S. Bartenders Guild has also offered to hold a fundraiser for Sousa.
"The amount of help that everybody has been putting forth is just unbelievable," Sousa told the Portland Press-Herald.
And despite the disaster, Sousa recognizes the situation could have been worse: "At least it wasn't a more expensive car. Then I'd probably be more upset than I am," he said.
(H/T: Daily Mail)
–
Follow Jon Street (@JonStreet) on Twitter