A new annual report from the Pew Research Center found that social hostilities involving religion across the globe decreased somewhat in 2013, but with one disturbing measure: anti-Jewish harassment actually reached a seven-year high.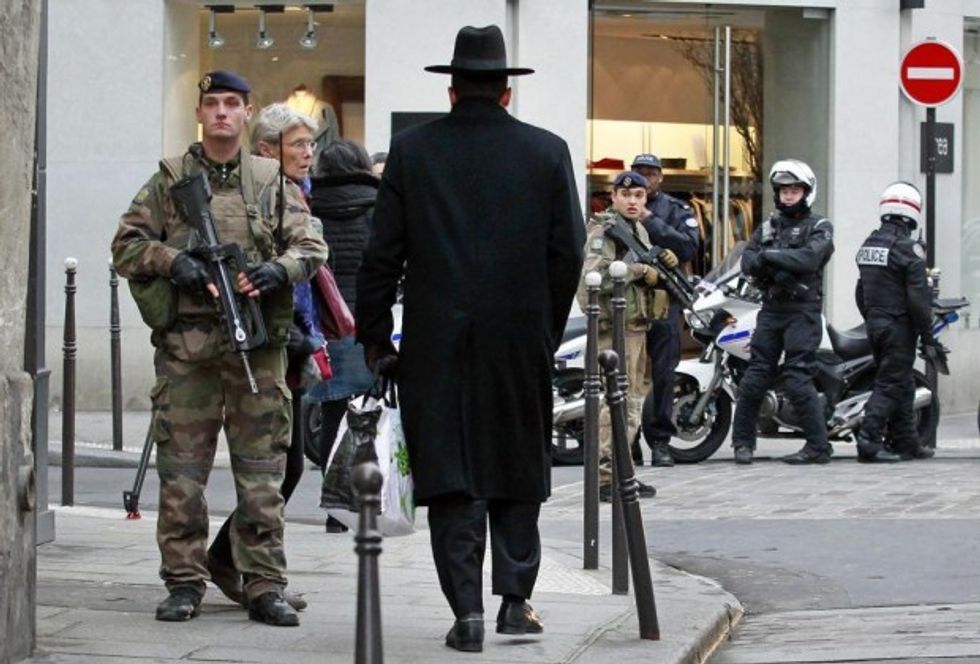 Police officers and French army soldiers patrol Rue des Rosiers street, in the heart of Paris Jewish quarter, Jan. 12, 2015, in the wake of terror attacks in the city, including an assault on a kosher market that left four Jews inside dead. (AP Photo/Remy de la Mauviniere)
Jews were harassed by either governments or social organizations in 77 countries in 2013 — a new high since Pew began measuring the issue in 2007. This persecution appears to come more from private individuals and cohorts than from public institutions.
"Jews are much more likely to be harassed by individuals or groups in society than by governments," the report reads. "In Europe, for example, Jews were harassed by individuals or social groups in 34 of the region's 45 countries (76%)."
Overall, Christians and Muslims saw the most harassment when compared to other cohorts, with Bible-believers facing hostilities by governments or private groups in 102 of the 198 countries examined — and with Muslims facing the same in 99 countries.
Despite observing an overall decline, Pew reported that nearly one-quarter of all nations grappled with "religious hostilities within their borders" in 2013 at the hands of private institutions, with the proportion of countries experiencing very high or high levels dropping from 33 percent in 2012 to 27 percent in 2013.
As for government restrictions on religion, the proportions remained consistent in 2012 and 2013, at 29 percent and 27 percent, respectively.
When you mix the restrictions together, though, it appears that 39 percent of the world's nations — representing 5.5 billion people — fall into the high or very high category, Pew said.
The study, which analyzes 198 countries and localities on 10-point scales known as the Government Restrictions Index and the Social Hostilities Index, is part of the Pew-Templeton Global Religious Futures project.
Read more about the results and the methodology here.