It was a vision rivaling Walt Disney's: grow a thriving industry and fundamentally transform Florida's economy.
But unlike Disney World, this project was a massive dud.
AP
When he served as governor of Florida, Jeb Bush helped pump more than $1.3 billion into the biomedical industry, but the investment failed to come close to any of Bush's projections, as Reuters reported on the failed venture.
In 2003, Bush pushed a $310 million incentive package through the Florida legislature, aimed at bringing California's Scripps Research Institute to the Sunshine State.
The target site: Jupiter, a small town in Palm Beach County.
The county pitched in another $203 million, Reuters noted, and Scripps established a facility in Jupiter — but while then-Gov. Bush made huge promises about the economic impact of the move, the long-term impact would turn out to be far less than he was touting.
Bush predicted the biomedical giant would create 6,500 jobs in 15 years, with Scripps Jupiter creating 2,800 jobs directly and spin-off companies creating another 3,700 jobs.
Florida's GDP would jump by $3.2 billion, and other biotech companies would flock to Florida and create tens of thousands of more jobs, he predicted.
When state, county and local money — including a $456-million "Innovation Incentive Fund" — are tallied up, Floridians shelled out some $1.32 billion to entice the biomedical industry, Reuters reported.
The jobs generated by that investment: 1,365 — far fewer than the tens of thousands predicted by Bush.
The high-paying jobs cost the Florida taxpayers roughly $1 million a piece.
Reuters reported that the direct and indirect boost to Florida's economy from the Scripps institute totaled $52.5 million in 2013, and the state acknowledges that Bush's Innovation Incentive Fund "does not break even" and is a money-losing proposition for the taxpayer.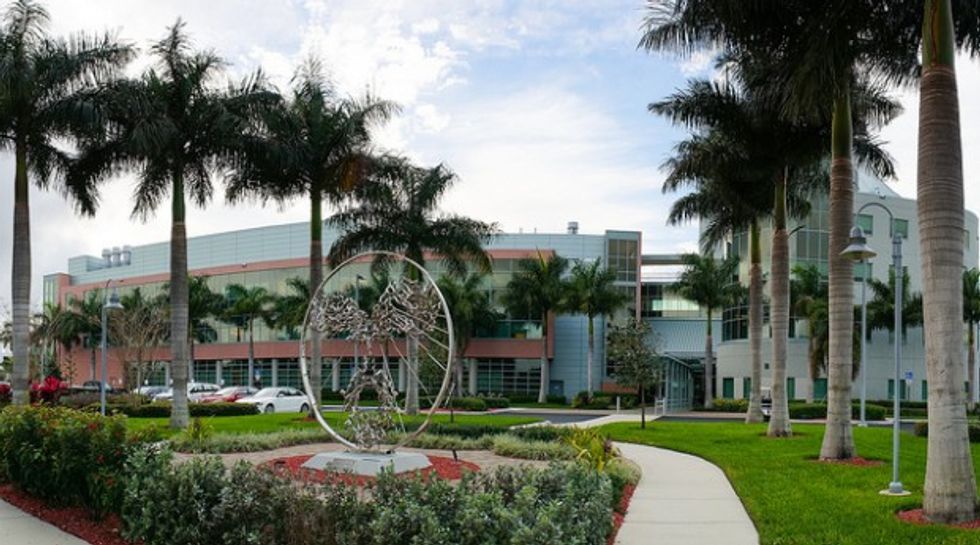 The Scripps Florida campus in Jupiter (Image via Feng Cheng/flickr)
The project echoes the failed state-intervention-in-the-marketplace schemes commonly associated with Democrats, such as President Barack Obama's drubbing over the supply of government money to failing solar panel company Solyndra, and Bush's current rhetoric would suggest he's against such intervention.
In a Feb. 4 address at the Detroit Economic Club he said:
I'm not here to take sides. And I don't think government should either. Because when government protects one business against another, or tilts the field of competition, there is a clear loser: …anyone who wants to innovate and shake things up…. And we know that in the end, standing against competition and dynamism is a losing battle.
When pitching the state's biotech investment plan in 2003, Bush described it as a "seminal moment" akin to Walt Disney World's 1971 establishment, which totally transformed Florida's economy as it became the world's most-visited resort, Reuters noted.
But unlike Disney World, Scripps Jupiter has been a government-funded "clear loser" for Florida.
—
Follow Zach Noble (@thezachnoble) on Twitter