House Speaker John Boehner (R-Ohio) has told Republicans that he would call up and pass a "clean" Department of Homeland Security spending bill this week, and give up the fight to use that bill to defund President Barack Obama's executive action on immigration.
The decision marks the end of a standoff that has lasted for several weeks — a standoff Republicans will lose to Democrats when the clean DHS bill passes.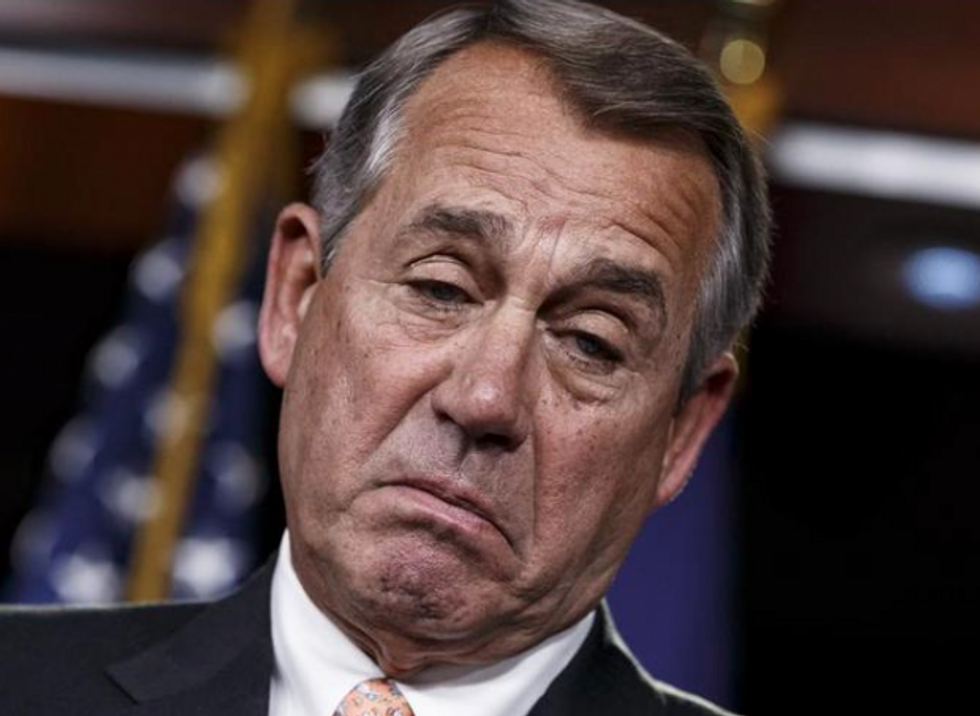 House Speaker John Boehner (R-Ohio) told Republicans Tuesday morning that the House would approve the Senate's DHS bill, and give up the legislative fight over immigration. Image: AP Photo/J. Scott Applewhite
Boehner met with other House Republicans in a closed-door meeting Tuesday morning, and as it ended, members indicated that Boehner announced that a vote on the bill could come as early as Tuesday.
This morning, @SpeakerBoehner announced that he will fund @BarackObama's unconstitutional amnesty. #tcot#DHS

— Cong. Tim Huelskamp (@CongHuelskamp) March 3, 2015
A House aide confirmed that Republicans will try to pass the Senate version later on Tuesday.
Last week, more than 50 Republicans opposed legislation that didn't defund Obama's immigration plans, and that many or more may oppose the clean DHS bill in the final vote. That means Republicans will need Democratic support to pass the bill, an easy request, since Democrats have been clamoring to pass a bill that doesn't attack immigration.
Earlier in the day, Rep. Tom Cole (R-Okla.), a member with strong ties to GOP leaders who sits on several key committees, said the House would soon pass the Senate bill to fund the clean DHS bill.
"I think a clean bill is coming back from the Senate, probably arrives tomorrow, no later than the next day, and I think it'll pass the House," Cole said on Morning Joe. "I think it'll go on the floor, and there'll be a significant bipartisan majority in favor of funding Homeland Security."
While House Republicans refused to pass the Senate version last week, it has been clear all week that GOP leaders had little choice but to approve the "clean" DHS bill. That has House conservatives angry because it will mean the end of legislative efforts to fight back against Obama's executive action on immigration.
Cole said Republicans should console themselves with the victory they had in federal court, which imposed an injunction on the most objectionable parts of Obama's November actions.
"There's an injunction out there," he said. "That injunction will probably be confirmed this week. So when you've won, every now and then it's time to pull your chips off the table, walk away from the game, and some of our colleagues are having a hard time understanding that."
"We've succeeded, and we've actually got it in an arena where we can win," he added. "We were never going to win in Congress."
"I think the Speaker's made it clear all along," he added. "He's not going to shut down the Department of Homeland Security."
It became clear over the last few days that once Senate Democrats voted to reject a House-Senate negotiation over the DHS bill, the House would be able to more easily approve the Senate's bill, even if Republicans still opposed that option. That's because House rules state that at this stage of the process, even House Democrats would be able to call up the Senate version, and likely watch it pass as long as 30 or so Republicans agree to it.
That prompted Rep. Steve King (R-Iowa) to seek a change to House rules, although it's unclear if enough Republicans would support that effort to continue fighting.