The House voted Wednesday to authorize another $7.2 billion in spending on Amtrak, the nation's publicly funded rail service that conservatives have criticized as a tax-guzzling entity that needs to be privatized.
Members were considering a bill to authorize Amtrak for another five years, through 2020, and while many Republicans have pushed for an end to the billions of dollars in subsidies that Amtrak gets, their efforts were rejected today. Instead, most Republicans joined every Democrat to maintain subsidies for the rail service at a level of about $1.4 billion per year, the same as the current fiscal year.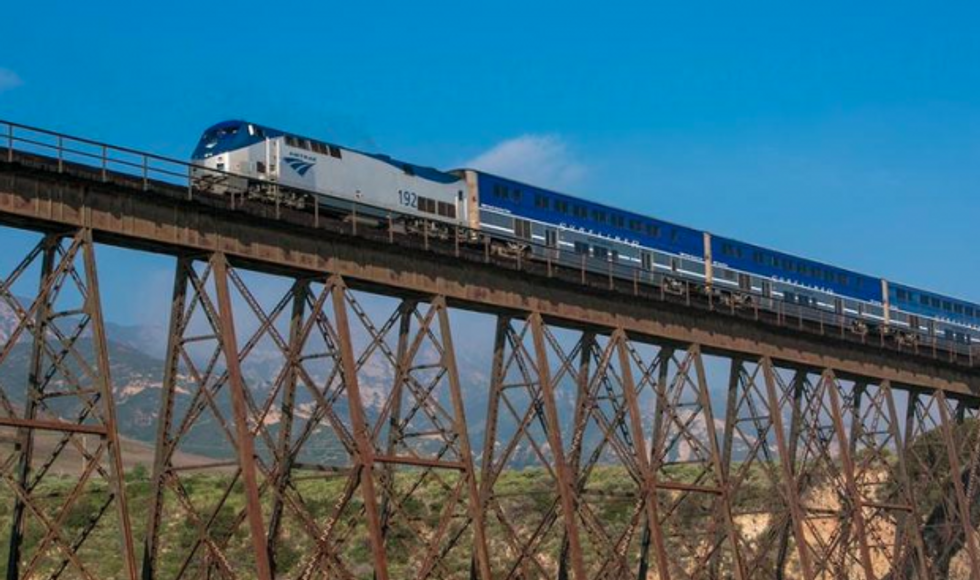 The House has authorized billions more in subsidies to Amtrak, at a pace of about $1.4 billion per year. Image: George Rose/Getty Images
In the final vote, 101 Republicans voted against the bill, which passed 316-101.
The bipartisan bill was pushed by House Transportation and Infrastructure Committee Chairman Bill Shuster (R-Pa.), who pitched the bill as one that would reform Amtrak.
"This bill focuses on reforms, transparency, and accountability for Amtrak," he said when he introduced the bill. "By compelling Amtrak to operate more like a true business, cutting red tape, and opening the door to more private sector resources, we can make some long overdue improvements to passenger rail transportation in the United States."
But dozens of conservatives balked at the bill, and noted that none of the reforms would go so far as to eliminate the billions in subsidies Amtrak gets. Conservatives have argued for decades that Amtrak needs to shed its unprofitable long-haul routes and focus on the Northeast corridor, where it actually makes money.
Rep. Tom McClintock (R-Calif.) is one of these members, and he proposed an amendment that would strike all federal subsidies. He said the subsidy program has become absurd, and it allowing Amtrak food and beverage salespeople to earn an average of $106,000 per year "for selling snacks on trains."
But his amendment failed 147-272, as 89 Republicans voted with every Democrat against him.
Heritage Action urged members to vote against the bill, and said deeper reforms are needed to stop the shoveling of subsidies to an entity that has proven year after year to be unprofitable as it's currently structured.
"[T]he bill authorizes $7.2 billion in spending for Amtrak and other rail programs through 2019 and claims to make numerous reforms, though those reforms are suspect," the group said in an email Tuesday.
Heritage Action noted that legally, Amtrak has not been allowed to lose money on its food and beverage service since 1981, but has continued to lose money anyway on food and beverage for the last several decades.
Aside from authorizing more Amtrak subsidies, the bill would have the federal government pre-pay Amtrak's debt payments, in order to obtain more favorable debt service rates. Amtrak has about $1 billion in debt.