The first time we heard about Jan Scheuermann, a quadriplegic woman, she was learning to use mind-control technology that allowed her to feed herself for the first time in more than a decade. Now she's kicked it up a notch, working with the military's research arm to control an F-35 flight simulator without touching a joystick.
In a discussion at the New America Foundation Future of War conference, Defense Advanced Research Projects Agency Director Arati Prabhakar used Scheuermann as an example to show how technology is shaping the future of prosthetics and beyond.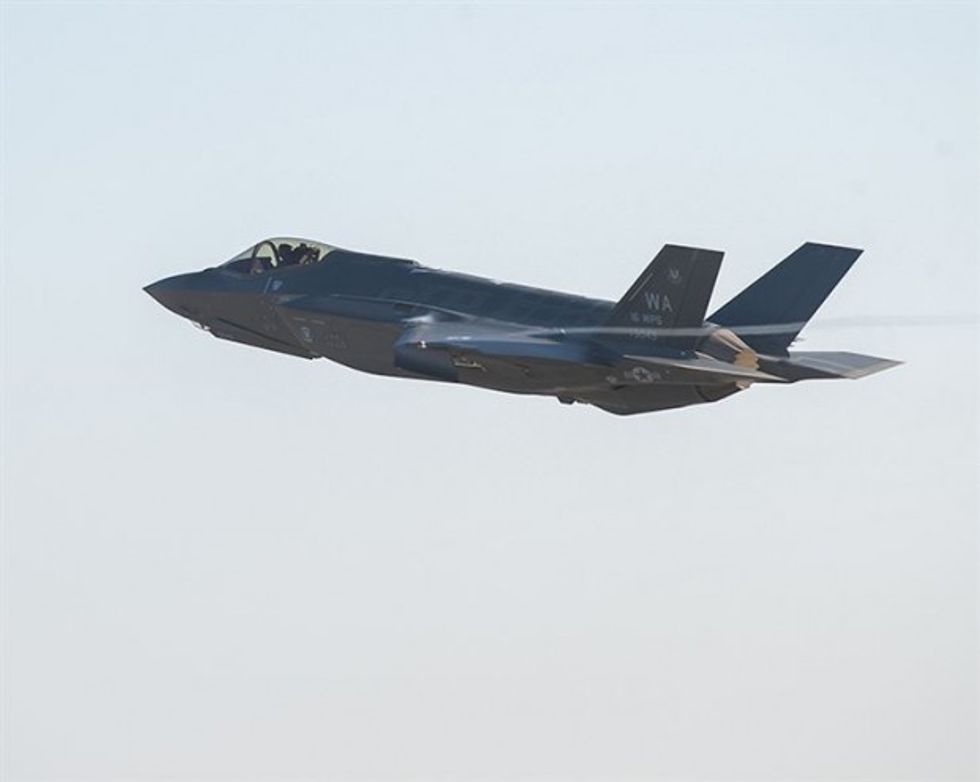 An F-35A Lightning II flew  from the Lockheed Martin plant Jan. 15, 2015, in Fort Worth, Texas. A paralyzed woman recently was able to fly an F-35 on a flight simulator using her thoughts. (Photo: Randy Crites, Lockheed Martin via U.S. Air Force)
According to Defense Tech, Scheuermann was able to control the flight simulator with "nothing but her thoughts" due to tiny implants on the left motor cortex of her brain.
"It's so moving to see what an impact it has on people to be even able to experiment with a technology like that from with the perspective of restoration," Prabhakar said. "In doing this work ... we can now see a future where we can free the brain from the limitations of the human body."
When DARPA started conducting experiments with Scheuermann, Prabhakar said she made a request.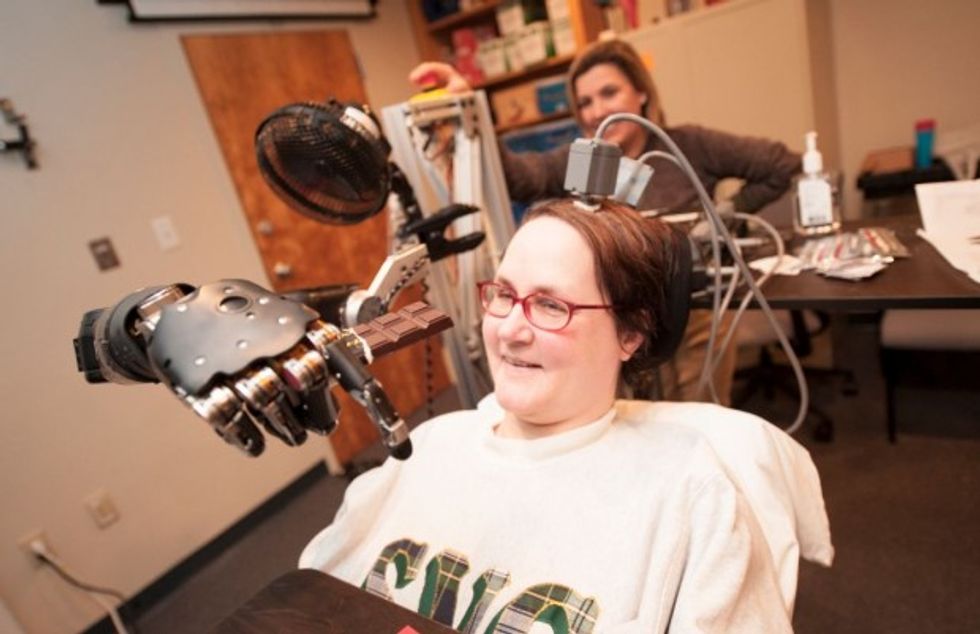 In 2012, Jan Scheuermann used her mind to control a robotic arm to feed herself. (Photo: University of Pittsburgh Medical Center)
"Then Jan decided she wanted to try flying a joint strike fighter simulator, so Jan got to fly in the simulator," Prabhakar said. "Instead of thinking about controlling a joystick, which is what our ace pilots do when they're driving this thing, Jan's thinking about controlling the airplane directly. For someone who's never flown — she's not a pilot in real life — she's flying that simulator directly from her neural signaling."
Watch the full discussion, which also includes information about technology being used against the Islamic State, in this video from the conference:
"This is been a fantastic, thrilling, wild ride, and I am so glad I've done this," Scheuermann said in a statement in December 2014 after completing a study with the University of Pittsburgh Medical Center. "This study has enriched my life, given me new friends and coworkers, helped me contribute to research and taken my breath away. For the rest of my life, I will thank God every day for getting to be part of this team."
(H/T: Popular Science)
—
Front page image via U.S. Air Force photo/Senior Airman Franklin R. Ramos.