A bipartisan group of leaders and committee chairmen from the House told President Barack Obama Thursday that it's time to arm Ukraine against Russian aggression, an option he has under a recently passed law that he's yet to fully implement.
"In the wake of a cease-fire agreement that appears only to have consolidated Russian and separatist gains since the first Minsk agreement, and in anticipation of the near certainty that Russia and its separatist proxies continue their efforts to destabilize Ukraine and seize additional territory, we urge you to quickly approve additional efforts to support Ukraine's efforts to defend its sovereign territory, including through the transfer of lethal, defensive weapons systems to the Ukrainian military," the group wrote. The letter was led by House Speaker John Boehner (R-Ohio), and signed by GOP and Democratic committee leaders.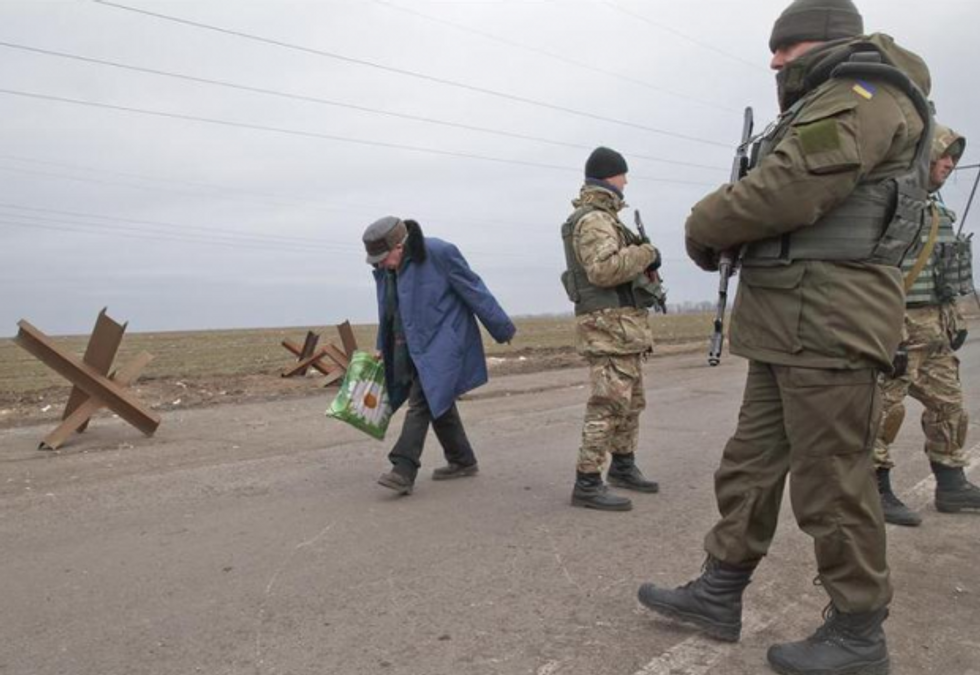 A man crosses a Ukrainian army checkpoint near Kurakhove, Ukraine, just a few miles away from the area controlled by Russia-backed rebels. House Republicans and Democrats say it's time to arm Ukraine against Russia-backed forces. Image: AP Photo/Vadim Ghirda
"We should not wait until Russian troops and their separatist proxies take Mariupol or Kharkiv before we act to bolster the Ukrainian government's ability to deter and defend against further aggression," they added.
Congress has already passed the Ukraine Freedom Support Act, which allows the Obama administration transfer defensive weapons to Ukraine. But as the letter pointed out, the administration hasn't used the law so far.
Russia, Ukraine and other countries agreed to a ceasefire deal that was supposed to take effect on Feb. 15, but since then, fighting has continued, and the State Department has confirmed that Russia is in clear violation of the agreement.
Despite that status, Secretary of State John Kerry said the U.S. would continue to give Russia several "days" to come into compliance with the agreement.
The letter said members understand Obama's desire to let Europe play a role in the dispute, but said U.S. leadership is needed.
"[W]e urge you to lead Europe in challenging this assault on international order, lest our foreign policy be held hostage by the lowest common denominator of European consensus," it said. "In the face of Russian aggression, the lack of clarity on our overall strategy thus far has done little to reassure our friends and allies in the region who, understandably, feel vulnerable."
In addition to Boehner, the letter was signed by Majority Leader Kevin McCarthy (R-Calif.), and the chairmen of the House Committees on Appropriations, Armed Services, Foreign Affairs and Intelligence. Top Democrats on Foreign Affairs, Intelligence and Armed Services also signed the letter — read it here: